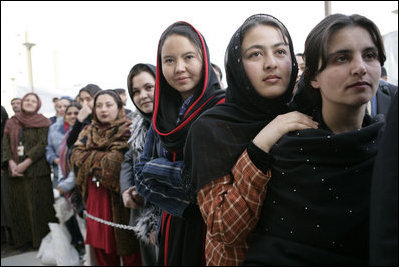 Image source: The White House
Celebrate! There are positive changes for women and girls all around the globe this International Women's Day.
In Iraq, women have been at the forefront of advocating for peace; reaching across political, ethnic, and religious divides to bring communities together; and addressing the root social causes that are causing a rise in violent extremism. On Feb. 6, 2014, Iraq became the first country in the Middle East to launch a National Action Plan on Women, Peace, and Security, which promotes women's equality and participation in all peace processes and decision making, recognizing that women's inclusion is necessary to achieving stabilization and security. And in this war-torn country Baghdad now has its first woman mayor.
In Syria, women have also been leaders in advocating for peace, including negotiating local ceasefires to allow access to humanitarian aid and for students to go to school.
In Afghanistan, women have made advances in education, health, and participation in public life. Women now form 27 percent of the parliament, and the government has adopted its own National Action Plan on Women, Peace, and Security.
In Pakistan, recent Nobel Peace Prize winner Malala Yousafzai did what few individuals of any age would dare to do: She stood up to the Taliban, who tried to take her life merely for claiming her right to an education. This teenager has become a symbol of resistance against suppression and for the rights of children and girls around the world. She has courageously drawn attention to the rising extremism and militarism in Pakistan, a growing trend nationally, regionally, and globally that must be addressed.
In the U.S., we recently celebrated the third anniversary of our own National Action Plan on Women, Peace, and Security, which commits the United States to "empower half the world's population as equal partners in preventing conflict and building peace in countries threatened and affected by war, violence, and insecurity."
This week the United Nations Commission on the Status of Women is reviewing progress made on women's rights since the adoption of the Beijing Declaration and Platform for Action 20 years ago at the 1995 Beijing Conference on Women, where then-First Lady Hillary Clinton famously declared that women's rights are human rights.
However, as Clinton said this week, "Today, two decades later, it's clear: We are not there yet. We still have a lot of work to do."
The "No Ceilings Full Participation" report by the Clinton Foundation shows that 20 years on, women are still "very much a minority" when it comes to holding political office, representing fewer than 30 percent of the world's lawmakers. Women have made progress as ministers, but they tend to have portfolios such as health, education, or welfare and are left out of defense and financial ministries. In the last U.S. elections we celebrated the fact that 20 percent of senators are women, a record high. But really, 20 percent? Is that reason to celebrate when women here make up over half of the population?
And despite evidence that when women are included in peace processes, they go beyond just the traditional division of power to address community needs such as health care, education, food security, personal security, and gender-based violence in order to establish stability and lasting peace, conflicts around the world are being addressed -- whether by diplomacy or use of force -- without the participation of women. As the U.S. attempts to find solutions to the crisis in Iraq and Syria, we ask: Where are the women? As talks on Iran's nuclear program continue, we ask: Where are the women? As the U.S. draws down its troops in Afghanistan, we ask: What about the women?
Women around the world are challenging narratives that support discrimination, marginalization, sectarianism, violence, and extremism. They have been at the forefront of bringing communities together and building peace. Their role in fighting against militarization, terrorism, and religious extremism is critical, and we must strengthen their networks and support mechanisms.
Reports indicate that without women as part of peace making and peace building, there will be no long-lasting peace. Recent news articles in this country show that our women in Congress are more often the ones who broker compromise and solutions. Both are attributes that are needed for making peace and security.
Let us stand together and make this a safer and more secure world for ourselves and for our children so that 20 years from now we can look back and say we've come yet another "long way, baby."