Quite a lot has changed for women in business since the 70s. Today's women are breaking through the glass ceiling, taking on male-dominated roles, and venturing into uncharted territory.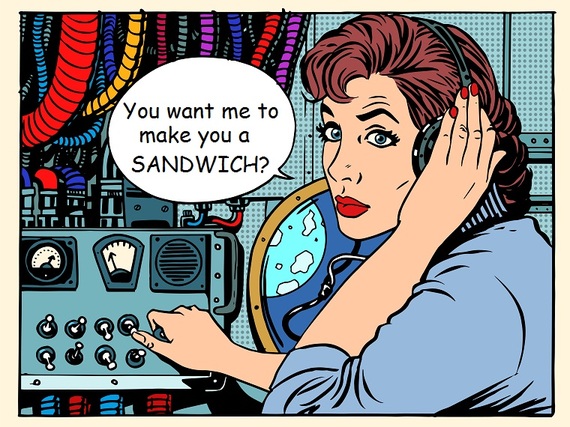 While women are still shamefully underrepresented in Fortune 500 CEO roles, we are making great progress...and making our own way. Here are stories and advice from six amazing women at the top of the game, running businesses and making new rules.
M. Lynne Robinson, President, Reliable Water Services
When Lynn Robinson recalls her early days as an accountant, a few stories come to mind. Like the catcalls and lewd remarks women faced in the hallways of manufacturing clients, and the clients who flatly refused to work with "girls." But the biggest insult was probably missing a meeting with an important client, the CFO of Phillip Morris, at the Bluemound Country Club...because women were not allowed in the dining room.
By the early 80s, Lynne says the tide had begun to change. Women were finding respect, equal treatment, and even other women in the meeting rooms. Meanwhile, her husband faced some challenges of his own. He was Mr. Mom in an era when that was not respected. He faced all kinds of "disses" from other men, most of whom were the bread winners while their wives were stay at home moms. He faced such disrespect at business functions, that Lynne started going solo.
Lynne now runs a profitable business, Reliable Water Services, in an industry still overwhelmingly dominated by men.
"While I do not believe that work/life balance actually exists, the attitude that life should be lived more fully and that experiences are important is a move in the right direction," she says. "The generation after me was raised with an outlook of abundance and that leads to embracing change and challenges. We were raised in a paradigm of scarcity and that has fear and protection of assets as the driver. I am working to change my paradigm to that of abundance.... but some things are so deep, you can't even find them to change them."
Anita Campbell, Founder and CEO, Small Business Trends LLC
"I'd rather be a business woman in the United States than in any other country in the world. Things aren't perfect, and inequities still occur, but it's better than it was when I entered the work force 30+ years ago. I'm going to say something that some may consider controversial and that is: I think it's important for our self-respect as women that we don't wear inequalities on our sleeves. You are what you think about. The more you look for inequalities, the more you let the sense of inequalities take over your mindshare, the more you will feel like a victim and powerless. Who needs that?
Don't think those who would not treat you like an equal get the satisfaction of knowing they've made you feel less than an equal. Hold your head up and march to your own drummer. If you're not getting the respect you are entitled to, move on to a place where others will respect you and treat you like you deserve.
I run my own business in part because I have more control over feeling fulfilled and in control of my destiny. I was in the corporate world for a long time, and was a General Counsel and held other roles in the C-suite. It was not easy and I sacrificed a lot. But it wouldn't help me if I felt like the world owed me anything, I figured that if I wanted more I'd have to do it on my own, so I started a business over a dozen years ago -- Small Business Trends. I'm glad now that I can provide opportunities for others including quite a few women. Always give back to other women."
Cathy Bukati, Owner, Laser Center of Orlando
Cathy Bukaty has been in the business of lifestyle changing services including laser hair removal, tattoo removal, and skin rejuvenation since 1986. When not running the Laser Center of Orlando, Cathy prides herself on being a fun and free-spirited woman, full of vibrant life and endless energy. She never let attitudes stand in her way, and at 57, she has no intention of slowing down. Her advice to women starting out in business is one of optimism and customer relationship building.
"Treat your business like it's your child. Nurture it and raise it up with everything you have because it is a reflection of you. Treat your clients like loved family members. Be attentive to their needs and follow through on your promises. They are your bread-and-butter. And remember - "Your smile is your logo, your personality is your business card and how you leave others feeling after an experience with you becomes your trademark!"
Lynn Brown Rosenberg, The Sinclair Institute and Author of My Sexual Awakening at 70
"Success is ageless. My journey as a woman encompasses a wide range of careers (professional pianist/vocalist, screenwriter, entrepreneur, memoir author, crime novelist). None have been as interesting as the journey I'm on now. Sharing intimate details of my journey to sexual and emotional freedom in My Sexual Awakening at 70 has been a triumph for me, and has resulted in others of all ages making shifts in their lives to express and receive greater joy."
Few things illustrate how far women have come as well as the freedom of sexuality.
Adrienne DeVita, Founder and CEO, Digital Media Cube
Over the past 30 years, Adrienne DeVita has had her share of struggles in many male-dominated industries, starting with the military. While serving as a highly qualified electrician on the USS Sierra AD-18, Adrienne was told many times that "the Navy is for men only. You should go home, have children and stay in the kitchen--barefoot and pregnant."
Today, Adrienne finds the Internet marketing world is dominated by men for the type of work she offers clients: SEO, AdWords, and conversion strategies. "The mindset of business owners and people in general is that women aren't very analytical and mathematical," she told me candidly. "To set Digital Media Cube apart from the competition, I've learned to go above and beyond - give clients a free screen share consultation, show them what I've done over the past 11 years, and educate them on what they need. Proof of results and testimonials help build the trust necessary to overcome their hesitation to hire a woman."
Gail Gardner, Founder, Growmap.com
In 1977, IBM decided to hire women as Customer Engineers (CEs, later SSRs) for the first time, and Gail was among them. To deal with this new circumstance, IBM created an entirely new way of training because they didn't feel women and minorities could be trained in the same way as white males. In the era before sensitivity training, the idea that men (particularly white men) were superior to women was so common it did not even raise an eyebrow.
While building GrowMap, Gail remembered the lessons learned from the disrespect she encountered. She makes it a point to recommend people on their merits, without regard to gender, color, or nationality. She says, "Even though some women write under male pen names because they get better pay and less flack, in today's freelance world I don't consider being female any hindrance at all. Consultants and freelancers are judged by their work and most work comes through referrals...I rarely encounter discrimination now. No doubt it still exists - it is just less common in certain circles."
Popular in the Community