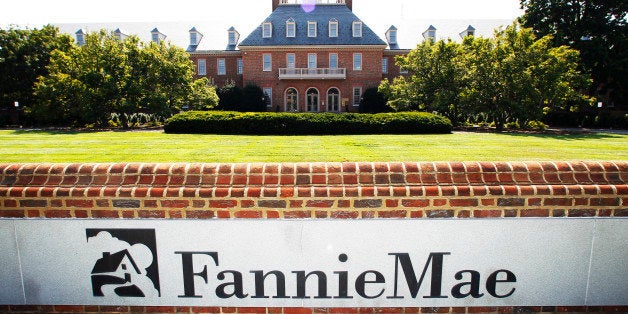 Since the 2008 financial crisis, the twin housing giants Fannie Mae and Freddie Mac have been in a conservatorship. Yet, the status quo in Washington seems to be dug into keeping them hamstrung in permanent confusion. In late February, Federal Housing Finance Agency (FHFA) Director Mel Watt in a pivotal speech acknowledged, rightly that a permanent conservatorship is not sustainable for taxpayers and certainly not sustainable for a robust secondary housing market.
In my view, it is long past time to recapitalize these enterprises, implement reforms that serve consumers and taxpayers, and release them from their current state of uncertainty - where much of their mission is bound by the limits of being risk adverse and the lack of capital.
One thing, for sure, must be made clear, no one is suggesting going back to the "bad old days." Consumer and civil rights groups, former government officials and others who advocate recapitalizing Fannie and Freddie and ending the conservatorship recognize that we should not recreate the taxpayer risk, regulatory uncertainty and a distorted mission for Fannie and Freddie that preceded the financial crisis.  In fact, we should build on reforms enacted in 2008 that will help make sure that a systemic crisis will not be repeated.    
    
As Government Sponsored Enterprises (GSEs), Fannie and Freddie have played an indispensable role in the mortgage finance sector for decades. However, beginning in the 1990s and continuing through the 2000s, Congress along with Administrations from both parties backed policies that distorted the traditional mission of Fannie and Freddie, and undermined their regulation. The 2008 financial crisis revealed the dire need to fix Fannie and Freddie, and that is why Congress passed the Housing and Economic Recovery Act (HERA).  
HERA abolished the investment portfolios at both companies that had ballooned in the run-up to the crisis, and that had allowed the companies to do significant harm to themselves.  These portfolios are now in the process of being extinguished.  Second, it created the current regulator, FHFA, as conservator. In FHFA, and under the leadership of Director Watt, we also have a more effective regulator of Fannie and Freddie.  As an independent agency, FHFA has more authority to control the companies and to prevent them from straying from their core mission.
 
Besides HERA, the Dodd-Frank Financial Reform legislation that passed Congress in 2010 also strengthened housing finance by imposing qualified mortgage (QM) rules and by imposing substantial changes to the servicing industry.  The net result of these changes is that higher quality loans are being produced and serviced in a way that reduce the credit risk to Fannie and Freddie.  Complimenting these reforms, states have also beefed up their licensing, oversight and regulation of the mortgage industry.   Ultimately, all of these changes are making individual homeowners and the GSEs less vulnerable to risk and exploitation.    
But there are additional steps that policymakers could and should consider in a recapitalization and release plan, including requiring Fannie and Freddie to retain a minimum of three to four percent that would protect the taxpayers from any future draw by the two GSEs.  There are other simple reforms that could be made as well that can further protect taxpayers, while keeping the housing market stable.
For decades, Fannie and Freddie served a vital role in helping working and middle class Americans create wealth by becoming homeowners. These companies performed their mission exceptionally well for most of their existence, and only got into trouble in the last decade before the financial crisis. 
In America, when something breaks, we usually fix it and make it better. We don't get rid of institutions that work well, as some current and former Administration officials, such as former FHFA Acting Director Ed DeMarco, continue to recommend. It is not clear that merging the two GSEs into a new entity is the right fix; as a group of economists and former administration officials recently proposed, this truly represents reform. However, clarifying the government's guarantee, as they suggest, would enhance certainty in the marketplace.
There's no doubt that reforms were needed to make them safer, and for the most part, those reforms have been enacted.  It's time to finish the job and to return Fannie and Freddie to their mission of preserving a pool of capital available so people from all walks of life can access homeownership and contribute to the economic benefits that accompany it. 
     
REAL LIFE. REAL NEWS. REAL VOICES.
Help us tell more of the stories that matter from voices that too often remain unheard.