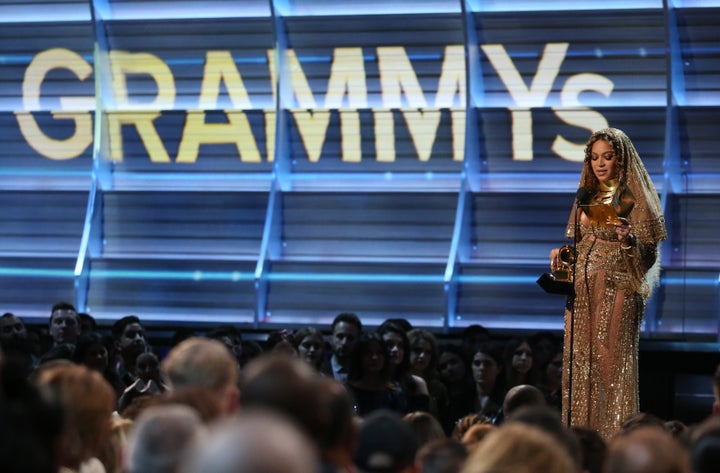 No. Those who expressed their disappointment in Beyoncé losing the Album of the Year Award at Sunday Night's Grammy Awards were not overreacting.
Yes, there are ostensibly "more important" things going on in the world than a multi-millionaire superstar losing one award on a night where she won two others, but it's possible ― and even necessary ― to care about more than one thing at a time.
And this is worth talking about.
On a night that opened with a very political message from Jennifer Lopez who quoted Toni Morrison and said that "at this particular point in history, our voices are needed more than ever," Beyoncé losing Album of the Year, the most important award of the night, felt like a much bigger loss than the usual award show snub.
If the criteria for Grammy wins was based solely on records sold, then maybe Adele's win for Album of the Year would make more sense, maybe it would be easier to accept. But even Adele herself said on stage that she couldn't "possibly accept this award,"(though she did) and that "The 'Lemonade' album is just so monumental."
She's right. Again, "25" was a good album! But "Lemonade," whether you enjoyed it or not, was a cultural event, a moment in which Beyoncé put all her personal, spiritual, and artistic cards on the table. It was a cohesive body of work that, as Beyoncé described it in her only acceptance speech of the night (for Contemporary Album) gave "voice to the pain," and strength, of black women.
"Lemonade" said something and meant something to so many people, especially young women of color who saw themselves reflected in the stories and tableaux crafted by Beyoncé and her team (both in video and in song). Arguably the most popular black singer in the world had not only churned out a stellar piece of work, she's also chosen for that work to be black as hell, specifically black, unavoidably black.
Because of "Lemonade," phrases like "Becky with the good hair" and "Jackson Five nostrils" and "hot sauce in my bag" entered the mainstream lexicon. While others tried to claim them, dismantle them, and rework them for their own use, they still remained to intrinsically ours, so intrinsically black. That was huge. That was a moment.
Lauryn Hill was the last black woman to win Album of the Year at the Grammys. That was in 1999. Since then, Beyoncé has become the most-nominated woman ever at the show, with a whopping 62 nominations. Of the three times she's been nominated for Album of The Year, she's lost out to Taylor Swift, Beck, and now Adele. As Adele said to the press Sunday night, "What the fuck does [Beyoncé] have to do to win Album of the Year?"
The disappointment and even the outrage flooding Twitter and Facebook in the aftermath of Bey's snub should really come as no surprise. The Grammys have a long legacy of using important and popular black artists like Beyoncé, Rihanna and Kendrick Lamar to boost ratings while failing to give them the big noms and awards of the night. But, damn.
If even Beyoncé can't get the top award of the night for a record like "Lemonade," after turning in an incredible performance (while pregnant with twins, no less), what exactly does that say about the black experience in America? Seriously? Yes, Beyoncé is the winner of many awards. She's rich and successful and has definitely benefited in the past from her light skin and bleached locks. It's interesting how, now that she's incorporated her blackness and her politics more explicitly in her music, no longer here to just grind and sing catchy love songs to the masses, the systemic realities of being a proudly black woman in a white-dominated industry have come to light.
What's important to remember is that Beyoncé is an artist. And that's what's so frustrating about America's love of black culture. So often, black entertainment is sought after and greedily consumed, but it's delegitimized as art because of its inherent blackness. Look at the histories of black musical art forms like jazz and hip-hop, cultural phenomenons that were looked on as nothing but fads until they were validated by white audiences and artists who consumed and regurgitated them for the mainstream.
That's why "Lemonade" has meant so much to so many black people who needed (and continue to need) an album like this to exist. It's nice that Adele said something in that moment up on stage. Though some chafed at her mention of what "Lemonade" meant not only to her but to her "black friends," the album's significance as a specifically powerful black cultural moment should have been acknowledged, and celebrated. It's sad that it wasn't the Recording Artists Academy that thought that was worth celebrating.
Popular in the Community