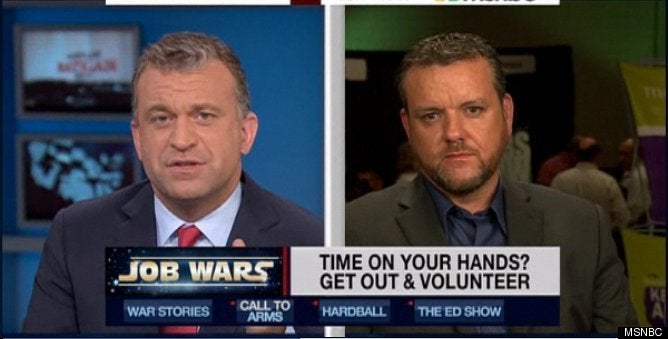 UPDATE: After appearing live on the "Dylan Ratigan Show" from the Dallas Job Fair yesterday, We've Got Time To Help founder Seth Reams flew home and found himself swamped with emails and voice messages from around the world.
"Holy smokes-- there were even people from Indonesia and China contacting us to say 'Way to go' and things like that!" Reams told HuffPost. "Before I left for Dallas, I'd told [girlfriend] Michelle that if I could just energize one person to do something in this country, it'd be worth it."
"Now we've gotten requests from over 10 cities wanting to start local chapters. The amazing thing is, some of these people are employed too," he says.
The sudden attention is forcing Reams-- who is so media-shy he says he only slept an hour the night before appearing on Ratigan's show-- to get organized. His girlfriend Michelle, whom he often credits for motivating him to form the community service organization, took a day off to help him make some plans, "This morning we're going to start figuring out how best to proceed from here. How to help people get started in their cities," he says.
"Our ultimate goal is not to be needed," Reams says. "Ninety percent of the volunteers we talk to are over 40 and say things like how doing this sort of work reminds them of the way life used to be -- where you could just walk down the street and ask your neighbors for help."
"This is probably not going to happen, but ideally our organization won't be needed one day because you could just walk across the street and ask your neighbors for help."
Based on the groundswell of responses so far, he is hopeful. "There are enough good people out there, wanting things to be different, and that gives us so much hope."
EARLIER: Reporting on the Dallas Job Fair today, MSNBC's Dylan Ratigan interviewed We've Got Time To Help founder (and Third World America darling) Seth Reams, a laid-off concierge from Portland who has been spending some of his new-found spare time to help people in his community. He mobilizes volunteer activities such as yardwork, moving furniture, and collecting used clothing for the less-fortunate.
After being flown down to Dallas by MSNBC this morning, Reams spoke to Ratigan via webcast (Ratigan was waylaid in New York due to poor weather conditions) about how to integrate volunteer work and unemployment:
"You can't job search 8-10 hours a day every day," Reams said. "So you do your job search and then you make a plan for your volunteering, whether it's helping your neighbor mow the lawn or coming onto We've Got Time To Help."
Since speaking to HuffPost last month, Reams and his girlfriend Michelle, whom Reams credits for motivating him to start the organization, have upgraded their online presence from a blog to a dedicated website. You can also now find them on Twitter and Facebook.
"My phone's been going off the hook with people inquiring about our organization. It's been such a whirlwind."
WATCH Seth's appearance on the Dylan Ratigan Show here:
Related
Popular in the Community