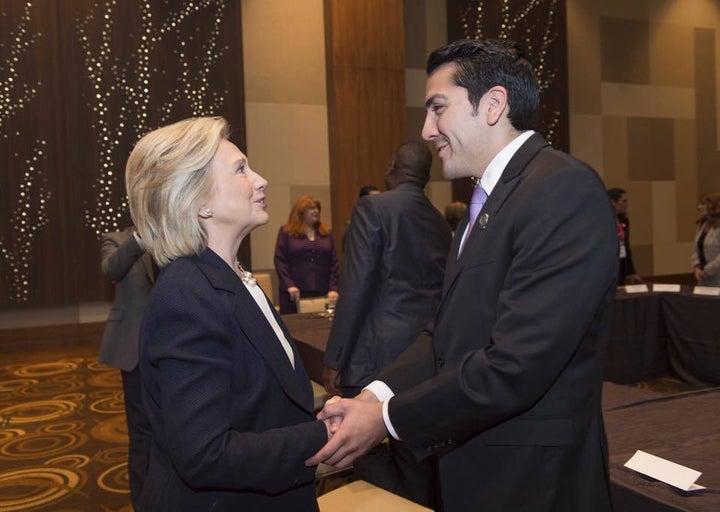 I'm a first-generation American, the son of an immigrant mother who fled the civil war in El Salvador in the early 1980s. I'm a millennial. I'm also gay. And this election has forced me to spend a lot of time thinking about how those various identities intersect and why it's so important for underrepresented communities to vote in 2016.
My mother didn't speak English and we had limited resources growing up. She worked tirelessly as a union housekeeper to ensure that I had the basic resources to be the first in my immediate family to finish high school and earn, not only my bachelor's degree but also my master's degree in public administration. And after many heart-to-heart conversations about my sexuality, she loves me for who I am and completely embraces my longterm partner.
I'm so grateful to be able to live my life authentically. Don't get me wrong—we have a long way to go to ensure that the laws that protect me are inclusive of our entire LGBTQ community. But up until now, it's been difficult to imagine a future where regression is the new progression.
In 2016, our rights as equal citizens are in the hands of whomever we elect as our next president—and one of the candidates is the most unqualified and outright offensive presidential nominee in modern history.
The mass shooting at Pulse nightclub in June was a powerful reminder that these communities that I am so proud to be part of—as well as the identities of many others—are being threatened. This year has been one long, unspoken declaration that our struggles and our oppression are intersectional.
So when Donald Trump makes racist generalizations about Mexicans, he's not just offending Mexicans—he's offending everyone who cares about equality, including the LGBTQ community.
When Trump proposes to ban Muslims from entering this country, he's not just offending Muslims, he's offending the LGBTQ community.
When Trump offends, objectifies and denigrates women, he's not just offending women, he's offending the LGBTQ community.
When the Donald mocks folks with disabilities, he's not just offending folks with disabilities, he's offending the LGBTQ community.
When the Donald has the audacity to attack the parents of an American soldier who died fighting for our country so that the LGBTQ community, Mexican Americans, Muslim Americans, women, and folks with disabilities can live in freedom—he's offending the LGBTQ community. And frankly, anyone with a shred of human decency.
Donald has casted himself as a champion of the gay community. Please. A leader who truly supports our community wouldn't try to capitalize on one of the most horrific hate crimes in our nation's history by trying to turn our community against another minority group with absurd tweets.
We need a president who has a real plan for our country to reach new milestones, and that person is Hillary Clinton. Hillary believes that gay rights are human rights. Hillary has fought for us and will continue fighting until we have reached full federal equality for LGBTQ Americans. She will end discriminatory laws that make it difficult for us to adopt children, pass legislation to combat bullying, honor and protect our LGBTQ Americans who serve in the military, protect transgender rights, and address the unique issues that our LGBTQ youth face.
Let me be candid here: Unless we vote for Hillary Clinton, the basic human rights of many Americans will be jeopardized. So if you are pro-LGBTQ rights, take the pledge to vote in this election. Do it for the LGBTQ community. Do it for the underrepresented communities whose futures are uncertain. And do it for immigrants, like my mother, who fought tooth and nail to raise me in a country filled with the great promise of hope and opportunity.
Election Day is one of the most important days in our lives because it's the gateway to change. We have in our power the ability to vote for candidates who can effect the change we want to see and vote against those who stand in the way of progress. Our vote is our voice, and it's time that we all speak up—now more than ever.
Nelson Araujo is running for reelection in District 3 of the Nevada State Assembly.
REAL LIFE. REAL NEWS. REAL VOICES.
Help us tell more of the stories that matter from voices that too often remain unheard.
BEFORE YOU GO
PHOTO GALLERY
31 Latinos Share Their Most Eloquent Thoughts On Donald Trump