Education is the most powerful weapon which you can use to change the world. — Nelson Mandela
"Western Governors University (WGU) was created to address the needs of contemporary students. It is nonprofit and fully online, but that has never been what distinguishes WGU. Being online makes WGU more accessible and flexible, but it is competency-based education that differentiates us. WGU pioneered the use of Competency Based Education (CBE) 20 years ago, and today, we have more than 80,000 graduates and 80,000 enrolled students." — Scott Pulsipher, President of WGU
Scott Pulsipher is the President of Western Governors University (WGU). WGU enrolls 4,000 new students per month. According to Pulsipher, WGU uses certain key metrics to ensure they are providing value and a return on investment for their students such as:
Student and graduate satisfaction and engagement - WGU's student engagement scores are consistently better than the national average as compared to National Survey of Student Engagement (NSSE), Harris Poll and Gallup.
Return on Investment: In the most recent Harris Poll survey, WGU graduates reported an average increase in income of $19,100 within 4 years of graduation. The average time to a bachelor's degree at WGU is 2 ½ years—a total tuition cost of $15,000, so our graduates are paying for their education in less than 4 years. According to Gallup's survey, 91% of WGU graduates feel that their education was worth the cost, compared to the national average of 67%.
Loyalty and attachment: 97% of WGU graduates say they would recommend WGU to someone else, and 94% say they would attend WGU again.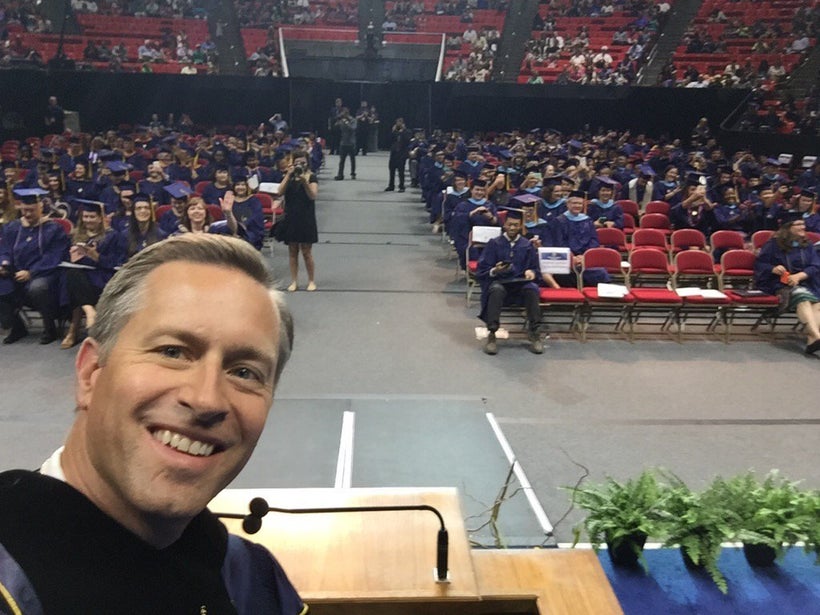 To learn more about WGU's incredible transformation and innovation success, Ray Wang and I invited Pulsipher to our weekly show DisrupTV.
Scott Pulsipher has served as president of nonprofit Western Governors University (WGU), the nation's first and largest competency-based university, since April 2016, leading all academic, operational, and organizational functions. Pulsipher blends a personal drive for making a difference in the lives of individuals and families through education and a passion for technology-powered innovation. At WGU, he is driving continuous innovation to improve student outcomes by focusing on rapidly advancing curriculum quality, new faculty models, data-driven learning, and a different cost model. Before coming to WGU, Pulsipher had more than 20 years of leadership experience in technology-based, customer-focused businesses, including Amazon, Sterling Commerce (now part of IBM), and two successful startups that traverse retail, supply chain, banking, payments, and manufacturing sectors. You can follow Pulsipher on Twitter at @scottpul.
Designing Higher Education with Students at the Center
What are the fundamental principles behind the WGU? According to Pulsipher, the foundation of WGB is built upon the principle of 'every can learn'. WGU's mission was to increase access and to improve quality of education.
"If you keep the standards for learning constant, and you let the time vary depending on the individual, then you can dramatically change the nature of higher education," said Pulsipher.
Like Amazon, e-commerce, and retail in general, where customers are the center of it all, WGU other guiding principle is to put the student at the center of everything that they do. The entire model of higher education with the student at the center has influenced the design of CBE models, curriculum, faculty roles, and overall use of technology.
New Business Model Innovation in Higher Education
According to Pulsipher, one of the core points of student centricity starts simply with the business process of teaching. Pulsipher believes that there are two fundamental purposes of higher education: 1. advance knowledge, 2. transfer knowledge. When WGU developed the concept of transferring knowledge, it was important to recognize that not all students come from the same knowledge, learn the same way, or at the same speed. The process of transferring knowledge needed to be personalized and unique for each student. In order to transfer knowledge in this new model, WGU needed to design a technology enabled framework with a new education business model.
The teaching model and transfer of knowledge to students was also too much for one faculty member. At WGU the work of designing the curriculum, delivery of content, and scheduling and managing the students is distributed to multiple faculty members. The process of admissions, evaluations and assessment, and proctoring was also radically different than traditional models.
Technology Enabled Transfer of Knowledge at Scale
WGU students and faculty have one-on-one engagements by leveraging technology to connect. More than 3,000 WGU faculty that are co-located everywhere, connecting with 80,000 students in a non-residency model, has created an educational delivery model where distance is not a factor for education.
It's About Singles and Doubles
Pulisepher reminds me of Billy Beane in the movie Money Ball. He is data-driven, an explorer, and courageous enough to invite and experiment with new methods in an industry that is quite traditional and a laggard in adopting new technologies and business models. Pulsipher has a deep passion for education and improving the quality of life for individuals and families. When you are child of a parent with a college degree, you are 10 times more likely to attend a university. Pulsipher left the technology industry as a very successful executive to pioneer innovation at WGU in order to improve the lives WGU's 80,000 graduates per year. Behind every good innovation is technology, according Pulsipher paraphrasing Clay Christensen's thoughts about innovation. It's getting the students on base by leveraging technology and data, validating outcomes and iterating to optimize results.
Certain Skills and Competencies Have a Shelf-Life
Pulsipher reminds us that most competencies have a shelf-life - for example learning a particular programming language with a 3-5 year shelf-life. Continues learning is key to success. This means having a more accessible, affordable, technology enabled model by which we can continuously access the skills needed is at the heart of CBE, distance based framework. Infusing general education - most transferable skills like critical reasoning skills, leadership and influencer skill set, written and oral communication, is also part of WGU's education model. Rather than a degree, micro credentials that are affordable and accessible will enable the continuous learning model that's most needed in the new digital economy.
Today, according to the National Center for Education Statistics (NCES), nearly 40% of college students are older, financially independent, and have lives and jobs that demand the accessibility and flexibility that online learning provides. And, while tradition frowns on referring to them as customers, they are our customers. As such, our primary focus must be on meeting their needs. — Scott Pulsipher
Pulsipher spoke to us about companies that advise WGU regarding the learning objectives and competencies that are most relevant in today's workplace. WGU has hundreds of partnerships with employers in order to develop a curriculum that best serves their students. Successful employers are funding and encourage their employees to attend WGU, so that they can develop the necessary skills to compete and grow. Please watch our video conversation with Scott Pulsipher to learn more from one of the most disruptive and innovative thought leaders in higher education.
Calling all HuffPost superfans!
Sign up for membership to become a founding member and help shape HuffPost's next chapter
This post was published on the now-closed HuffPost Contributor platform. Contributors control their own work and posted freely to our site. If you need to flag this entry as abusive,
send us an email
.