A four-year-old North Atlantic right whale is doing much better now than he was a week ago.
On Monday, biologists from the Georgia Department of Natural Resources and Florida Fish and Wildlife Conservation Commission partially freed whale No. 4057 of the 100-plus yards of lead-weighted rope he was dragging, according to a press release. After several attempts, staff disentangled the whale -- who also had injuries on his head and flukes -- from most of the rope with a cutting grapple.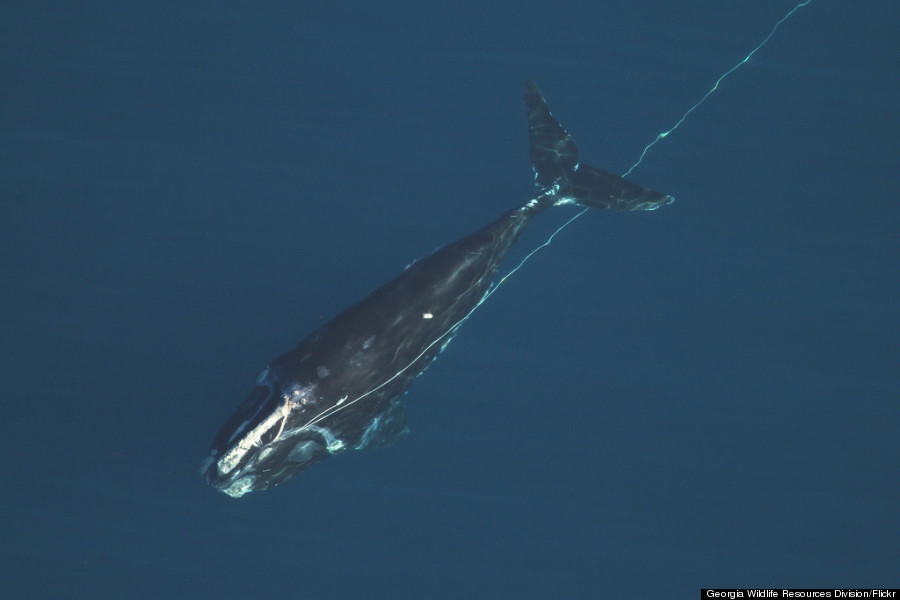 Whale No. 4057 is pictured on Sunday, February 16 dragging a heavy, thick rope. (Photo by Georgia Wildlife Resources Division/Flickr Creative Commons)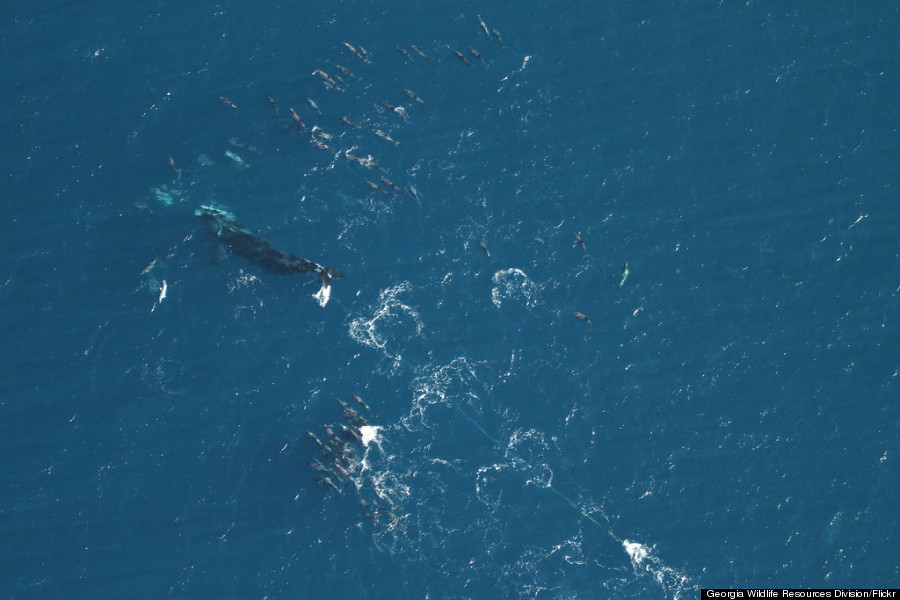 Whale No. 4057 is spotted dragging the rope again on Monday, February 17 as he swims with a group of Atlantic spotted dolphins. (Photo by Georgia Wildlife Resources Division/Flickr Creative Commons)
A small portion likely remains in his baleen -- the filter-feeding material that hangs from the upper jaw of baleen whale species. Biologists hope the whale will shed the remaining rope on his own, but they won't know until No. 4057 is seen again.
"Judging from its wounds, I suspect this whale had been hauling that rope for weeks or longer," Georgia DNR wildlife biologist and lead whale researcher, Clay George, said in the press release. "It's impossible to know if he'll survive, but at least we gave him a fighting chance."
The rescue was a highly-collaborative effort: he was originally spotted on Sunday off Jacksonville, Florida by UNC Wilmington researchers conducting an aerial survey for the U.S. Navy. A Duke University boat team, also doing research for the Navy, attached a tag to track the whale until the rescue team arrived. The whale moved northward overnight, and disentanglement efforts occurred about 40 miles east of Wolf Island, Georgia.
North Atlantic right whales are listed as endangered under the Endangered Species Act, and only about 450 individuals still exist, according to the press release. Entanglement with fishing gear is a tremendous threat to this large baleen whale species, as are shipping collisions, noise from industrial activities and habitat degradation, according to NOAA. "Disentanglement can't save every whale," George said. "The focus must be on prevention."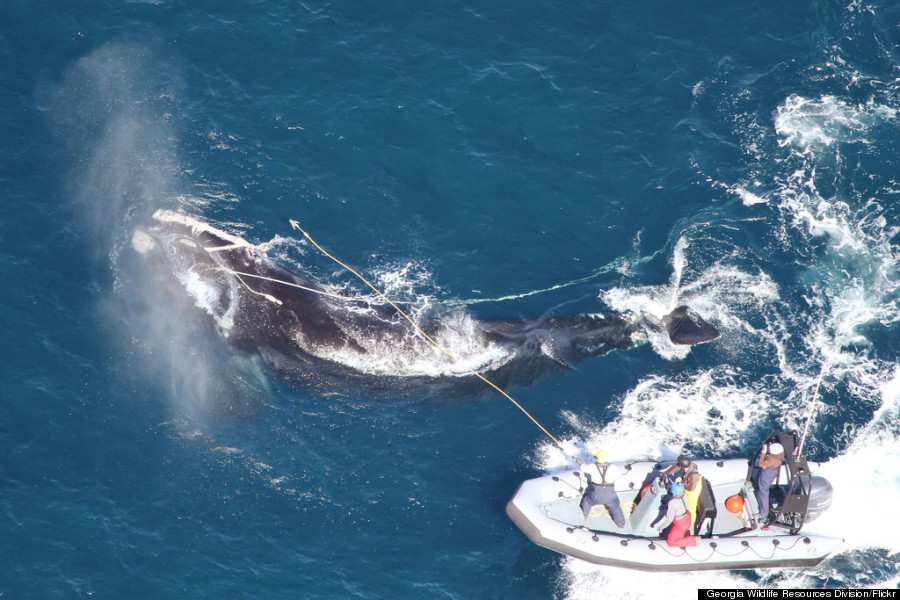 Biologists work to free the whale from rope using a cutting grapple on Monday, February 17. (Photo by Georgia Wildlife Resources Division/Flickr Creative Commons)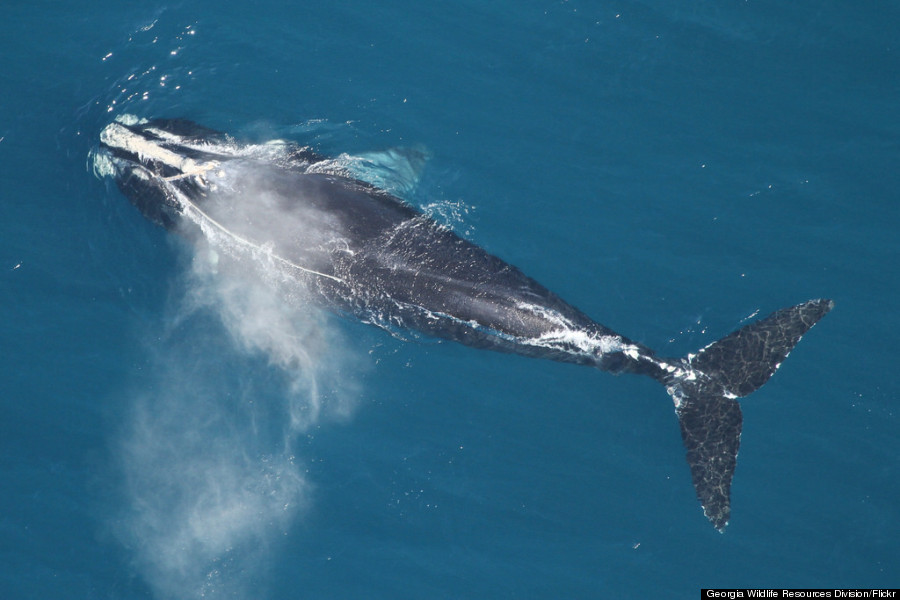 Whale No. 4057 is shown freed from most of the rope on Monday, February 17. (Photo by Georgia Wildlife Resources Division/Flickr Creative Commons)
Before You Go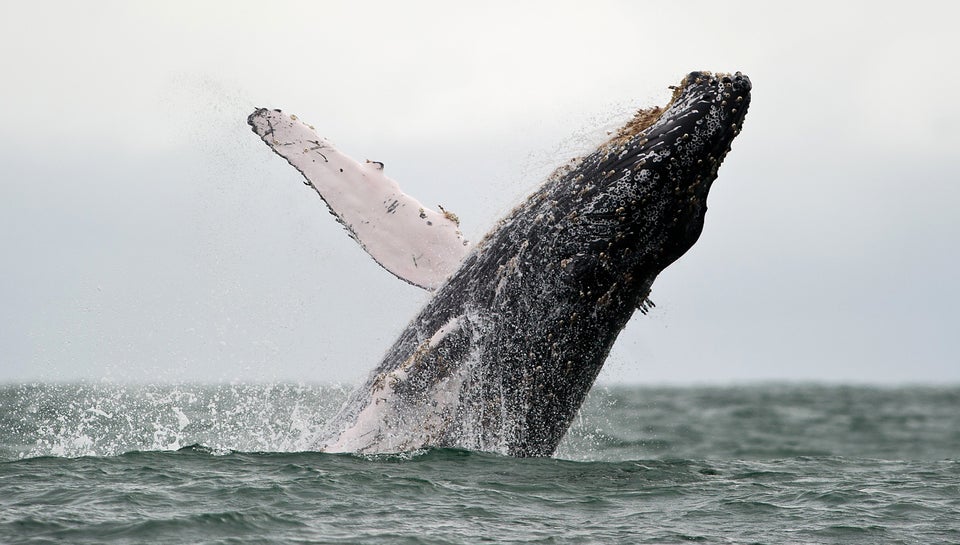 Whales In Action
Popular in the Community