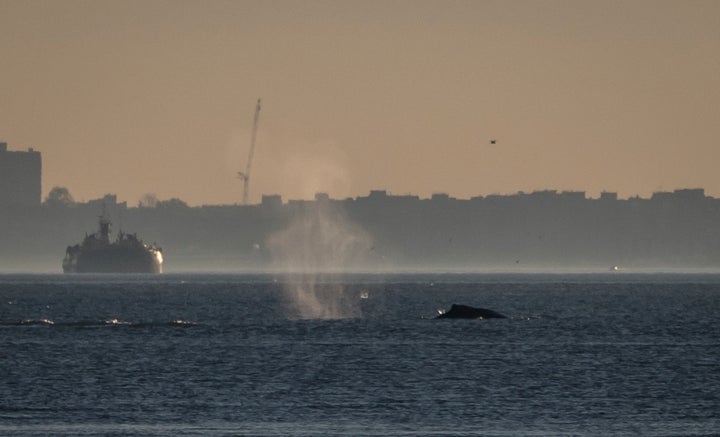 New York, New York. A big city for big dreamers and, apparently, big sea creatures.
People reported to the U.S. Coast Guard sightings this month of a whale swimming in the Hudson River, from the Statue of Liberty all the way to the George Washington Bridge.
And their eyes weren't fooling them, either.
Experts confirmed that there was, indeed, a whale wandering the urban river. Howard Rosenbaum, ocean giants director at the New York-based Wildlife Conservation Society, told ABC News on Nov. 17 that the swimming giant was likely a humpback whale.
City dwellers took to social media to share their encounters with the rare tourist, because how often does Mother Nature's beauty bless the bustling Big Apple?
One quick thinker even made the humpback a Twitter account, because it's New York City ― a place where everyone goes to be a star.
It's not clear if the humpback is still there. While whales are known to frequent the waters off the coast of New York, it's rare to see one in the Hudson River, according to The New York Times. Experts believe the whale may have swum up the famed river in search of a meal.
"In the past when we have seen these animals in and around these waters we become concerned that they are sick or injured because they are not typically found here," Rosenbaum told CBS. "So far with the images we have seen we don't have reason to believe that."
Water quality at the Hudson River has improved thanks to years of conservation and cleaning efforts, which may have led to a larger population of bunker fish, The New York Times reported.
In the month of November alone, songs from fin whales and right whales have been recorded near New York nearly every single day.
REAL LIFE. REAL NEWS. REAL VOICES.
Help us tell more of the stories that matter from voices that too often remain unheard.
BEFORE YOU GO
PHOTO GALLERY
Facts About Orca Whales In Captivity