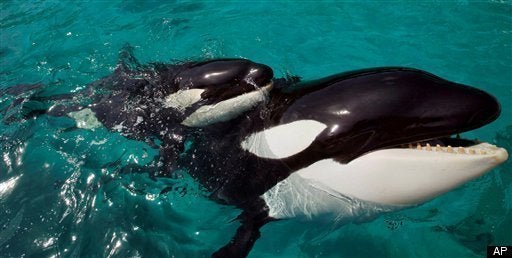 Nine pros and cons of animals in captivity as a discussion aid for our children
Free Willy is what kids today might deem an "old-fashioned" movie -- can you blame them, since there was not one text message in the script? But it might just have a revival at your local Blockbuster this weekend, given the tragic events in Orlando's SeaWorld last Wednesday.
As people, our hearts go out to the trainer's family and friends for their loss and to the families who witnessed the horrific event. As mothers, our thoughts go to our children (of course we're always looking for triggers for meaningful conversations) and trying to help them learn something from this, like the ongoing debate of freedom versus confinement, the environment, and everyone's (including our kids') responsibility to protect it.
Sure spots like the zoos, circuses, and water themed animal parks are on our wish list of must-sees for the kids -- what a wonderful way to show them the animals who are such natural wonders of our world. But is doing so simply self-serving and actually detrimental to the animals we are so admiring? Here, just a few of the key points we've rounded up from some of the top news sources (ABC news, BBC, CNN) and from experts (like Jack Hanna, director emeritus of the Columbus Zoo and Adam Roberts of Born Free USA, an animal protection advocacy group), and organizations on both sides of the debate to help you think about it and spark some conversation with your kids:
1. Animal viewings and shows are entertainment as well as education. People, especially children, learn to appreciate the animal as well as about its environment and the need to protect it.
2. Breeding in captivity might be the only way to save an endangered species.
3. Modern methods and facilities have improved over time so care of animals has gotten better than it used to be.
4. Percentage of funds earned from admissions tickets as well as from solicited donations at parks go toward rescues, saving other species, and restoring natural habitats.
1. Big animals, especially orcas, are way too big to be confined to a tank -- when in the wild they would have the "run" of the ocean or their habitat.
2. Animals may suffer from captivity related stresses that lower their resistance and make them more susceptible to disease, making lifespans in captivity significantly lower than in the wild.
3. Captivity related stress can also lead to aggressive behavior that may endanger professionals as well as visitors.
4. For social animals, captivity creates an unnatural, or forced, social environment
5. Releasing to the wild is not always a successful alternative
Dish with us: What do you think -- and what do your kids think?