An exuberant Earth Dr Reese Halter reporting the landmark court decision banning Japan from whaling in Antarctic waters.
For 10 consecutive years, Sea Shepherd has mounted direct-action campaigns to protect the remaining threatened and endangered great whales within an Antarctica's International Whale Sanctuary from bloodthirsty, ocean-killing, Japanese grenade-tipped harpoons. Sea Shepherd has saved 6,000 whales from torturous deaths, which can last as long as 50 minutes.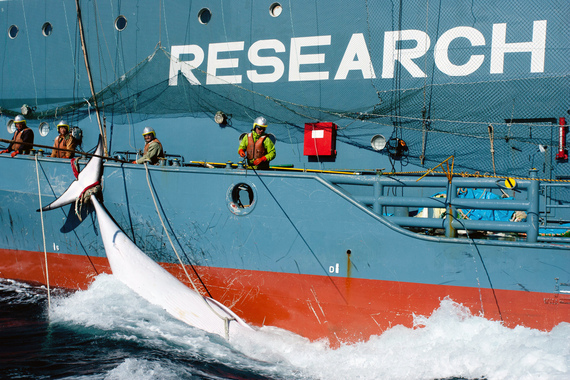 Since the worldwide ban on whaling in 1986 Japan, Iceland, Denmark and Norway have slaughtered more than 32,000 sentient creatures. Photo credit: Sea Shepherd Conservation Society.
On Monday, the International Court of Justice upheld Australia's bid to ban Japanese whaling in the Antarctic Ocean. The court found, 12 votes to 4, that Japan's whaling program was not scientific research as defined under International Whaling Commission rules.
"As a state that respects the rule of law... and as a responsible global community, Japan will abide by the decision of the court," Japan's Chief Negotiator Koji Tsuroka said outside the United Nation's (UN) top court in The Hague.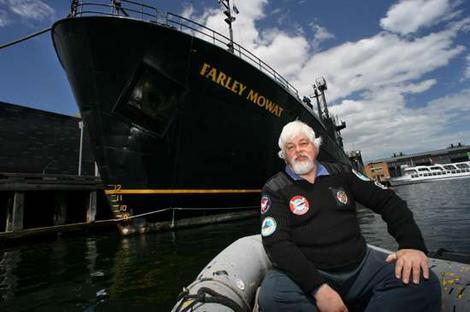 Captain Paul Watson is the founder of Sea Shepherd Conservation Society. Photo credit: Sydney Morning Herald.
This ruling is the result of Captain Paul Watson founder of Sea Shepherd, and his 37 years of relentlessly protecting all threatened and endangered sealife from despicable poachers by upholding international law under the 1982 provision of The UN's Charter for Nature.
Last year, when a U.S. court ruling forced Watson to step down as Antarctica's campaign leader of Operation Zero Tolerance, legendary conservationist, former leader of the Greens and Senator Dr Bob Brown, took over Operation Zero Tolerance, leading the most successful ever direct-action campaign to protect the great whales against the Japanese ocean-killers.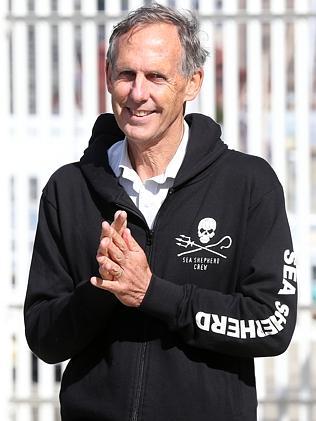 Dr Bob Brown championed the preservation of the Franklin River in Tasmania in the 1980s. He is indeed one of the greatest environmental heroes in the history of Australia. Photo credit: Mercury News.
Both of these remarkable men possess a unique trait of grit; the quality of being able to sustain their passion to protect our oceans and forests; and work incredibly hard, over really disappointing long periods of time. They are global heroes because they pursued protecting our planet against all odds.
Sea Shepherd depends upon tens of thousands of global volunteers, captains and crews, and philanthropic donors like the congenial Bob Barker, poker whiz-kid Sam Simon, renowned biologist Farley Mowat, the late great naturalist Steve Irwin and many, many other nature-loving supporters.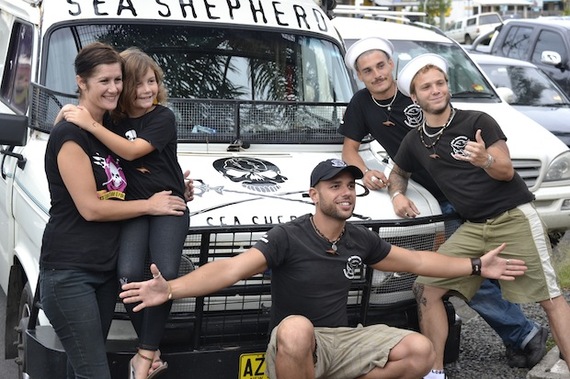 Volunteers and supporters from around the globe rejoiced at the news of freedom for the great whales within the Southern Ocean International Whale Sanctuary! Photo credit: Sea Shepherd Australia.
Millions of people were elated by this historic and momentous day when the tide turned in 'The War Against Nature.'

Earth Dr Reese Halter is a broadcaster, biologist, educator and author of the forthcoming book 'Shepherding the Sea: The Race to Save Our Oceans.'
Related
Popular in the Community