Originally posted on the Wharton China Business Society blog

On Saturday, January 30th, the Wharton China Business Society held its annual forum event in Steinberg-Dietrich Hall. The theme? Disrupting the competitive environment in China. Organized by the Forum Committee of WCBS, the event played host to a number of important figures in the Chinese business world and was broken up into four segments: 1) the Business of Culture panel, 2) the Finance panel, 3) a presentation by a Keynote Speaker, and 4) an exclusive networking session for attendees.

BUSINESS OF CULTURE PANEL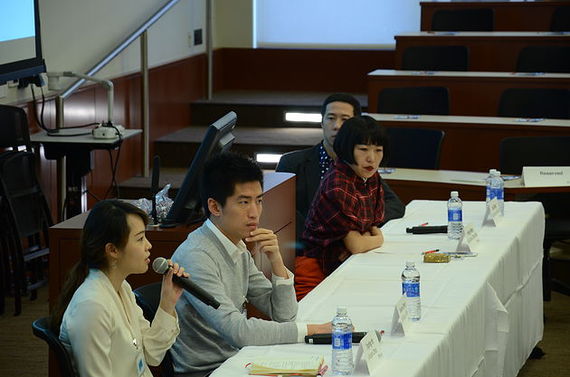 The Wharton China Business forum started with the Business of Culture, which revolved around one central motif: how have Chinese culture and enterprises influenced the West? The invited speakers were Tingting Ye, a business development analyst at Groupon China; Vincent Zheng, a senior assistant manager at DFS Group/Louis Vuitton and former forecasting analyst at L'Oreal; Yi Ming Wang, the wife of fellow speaker Xian Zhang, a former employee at the NYT and Citigroup and Xian Zhang, a former employee of KMPG and Morgan Stanley who started the Michelin-star winning restaurant Café China with his wife Yi Ming. The panel discussion was moderated by Wharton Management Professor Marshall W. Meyer.

The first question was aimed at Wang and Zhang and centered around the marketing of authentic Chinese culture and cuisine to a predominantly non-Chinese consumer base in NYC, where Café China is located. Zhang commented on the dearth of Chinese restaurants in the United States that actually resemble genuine cuisine, referencing take-outs and higher-end fusion restaurants as an Americanization of the culture. Having both delved into the world of banking, Wang and Zhang were able to construct a successful business model for their restaurant. Wang believes one factor of the restaurant's success was how she served as its "pickiest customer" in terms of taste and authenticity. In her opinion, "food should be an experience," not just a means to sustenance.

The next question posed by Professor Meyer asked the panelists to address the cultural differences between the U.S. and China. Zheng said that in order to succeed in any cross-border business ventures, one must be able to capture the differences in cultural standards and cater to regional preferences while maintaining a centralized management model. This hybrid model, according to Zheng, is a staple of multinational corporations and is equal parts centralization and the granting of semi-autonomy to managers.

Ye followed up with a broad explanation of how Chinese and American cultural differences have helped to shape firms' management structures. In the U.S., everything needs "building up." Individuals work in a bottom-up structure that encourages communication and consensus between multiple levels before giving the greenlight for any initiative. In short, the team collectively executes. In China, Ye postulated, companies tend to stick to a top-down approach. Workers aren't meant to challenge their seniors, so ideas can go from conception to implementation relatively quickly.

Professor Meyer proceeded to direct the discussion toward the domestic success of both Alibaba and Amazon and their failure to gain success in the overseas market. Zhang stated that comfort level was a primary factor in Alibaba's inability to disrupt the American e-commerce market and vice versa for Amazon. The respective competitors are and have been entrenched already, maintaining oligopolies domestically and preventing foreign competitors from gaining traction.
FINANCE IN CHINA PANEL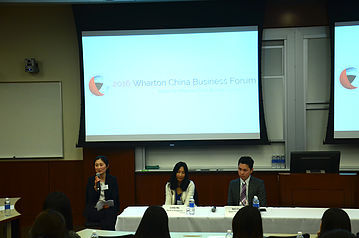 Next, the Finance in China panel focused primarily on the 2015-2016 Chinese stock market crash, specifically its causes and its reverberating effects. Moderated by Wharton Management Professor Minyuan Zhao, this panel canvassed the views of Will Chen (WG '07) of Apax Partners, Joyce Li (WG '13) of MPA Capital, Linda Ma, former President of the Singapore Bank, and Sofia Theophilus (C '00) of China Merchants Bank.

Immediately foregrounded at the outset of the panel was the recent stock market crash in China. Calling attention to the bursting of the investment bubble which precipitated the crash, the panelists discussed the different policy-based factors that undergirded the bubble. Ma notes that in its attempt to embrace "the new normal" of slower economic growth, the Chinese government promoted a host of initiatives to shift its economy from one focused on infrastructure and manufacturing to one contingent on reform of state-owned enterprises, which involved pursuing RMB internationalization and greater use of technology. Chen attributed the crash to a disconnect between China's economy and its volatile markets. He believes that a "massive bubble was created until mid-2015 because of excess liquidity due to years of monetary policy," which resulted in businesses finding fewer places to place their capital. Identifying the participation of capital controls and retail in the stock market as culprits of the bubble, Chen furthermore stressed that the there must be a "normalization of values as they should be; tech names are overvalued compared to their Western counterparts." Agreeing with Chen, Theophilus added that the biggest takeaway from the crash was that one needed to be a "policy analyst" when analyzing the economy, specifically by interpreting what the "government policy signals to the market." Li remarks that Asian markets have "always been volatile; they are just getting more attention now," and listed two challenges that China currently faces: its overcapacity and its debt burden.

Shortly afterward, Shao shifted the forum towards a discussion of China's currency market, citing China's "shocking attempt" to liberalize RMB. Li remarked that the decision to include the RMB's in the Special Drawing Rights (SDR) was surprising as it deviated from what the Chinese government's normal policy actions. Moreover, she also articulated experts' concerns about capital outflows. Cautioning the audience to "question the scale," Li concluded that we must consider "how much is a legitimate paydown of USD." Theophilus noted the volatile RMB/USD rates and added how a "weak RMB is not bad," because a weak currency makes China's exports more competitive. Chen considered how the Chinese government hopes to see a stable currency, which would benefit them but not be nearly as positive an impact as that a purely export-driven country would experience. He also discussed how the internationalization of the RMB would entail a long process, and forecasted that full internationalization will be likely within the next five to ten years. Ma followed up by saying that China's inherent motivation to join the SDR was twofold: firstly, that China hopes to "let market forces play," and secondly, to support exporting businesses.

Finally, Shao opened the forum to a conversation about the ever-expanding role of venture capital and private equity investments in scaling startups and developing technologies, posing questions about the future of entrepreneurship in China. Chen believes that there is a lot of innovation in China and that this innovation stems from a confluence of factors, in particular a K-12 education that produces qualified engineers, a large market conducive to quick scaling of businesses (as exemplified by Tencent with Wechat), and robust capital. This has caused a "venture bubble," which Chen perceives can sometimes result in "pain for certain investors." Ma continued enthusiastically, sharing her views that it is a promising time for young graduates, as the government is prioritizing innovation so much in places like Beijing, Shanghai, and even Wuhan. She emphasized the importance of technology to upgrade industry and branding. She concluded that Haier's acquisition of GE Appliances does not reflect its desire to "show muscle or capital," but more significantly its desire to acquire technology and branding.

KEYNOTE SPEAKER

The Wharton China Business forum culminated with a presentation from keynote speaker Patrick Chovanec (WG '05), who serves as the Managing Director and Chief Strategist of Silvercrest Asset Management. Currently overseeing $16b in investments, Chovanec simultaneously serves as an Adjunct Professor at the School of International and Public Affairs at Columbia University. Before his career as an investor, Chovanec was the Director of Institutional Investor's Asia Pacific Institute and its Global Fixed Income Institute.

During his presentation, Chovanec discussed key challenges that China's economy is facing, including the collapse of the overinvestment bubble, the ensuing economic adjustments, and worries about China's currency. In particular, Chovanec highlighted how the end of the investment boom caused a fall in commodity and input prices, which catalyzed a reflationary effect on other sectors. Moreover, he mentioned that China's economic decline is occurring in sectors that are overbuilt, specifically ones that involve steel, cement and housing, but that some sectors like TMT are still booming. Dispelling misguided notions that "any slowdown must be bad," Chovanec clarified that slowdowns "are not necessarily bad, just like not all growth is good." He also cautioned that reining growth in is not necessarily "a good thing." When elaborating on his views related to China's currency, Chovanec noted that the US is performing reasonably well, and that the Fed should raise interest rates modestly. Unlike the US, other economies remain unconvinced that their economies are doing well, a sentiment that is underpinned by adoption of easy monetary policy in these countries. Chovanec discussed the European Central Bank and Japanese Central Bank's imposition of negative interest rates as a means to stimulate growth and demand. What is even more concerning, Chovanec believes, is that the contrast between the tightening in the US and the easing elsewhere will cause capital inflows into the US, which causes the dollar value to increase and the US goods to lose competitiveness - what he deems a "headwind to US growth." Chovanec did not mention his opinions on China's currency, and maintained that "a lot of people think China should go with market forces and devalue its currency."

Photograph Credits to Katie Zhao
Nelson Dong is an undergraduate student at the University of Pennsylvania and a prospective Economics major. He's an artist at heart, performing with the Penn Hype dance team and singing with the University Choral Society in his free time on campus. He is deeply impassioned about the economics of business, human rights, government and environmental conservation.
REAL LIFE. REAL NEWS. REAL VOICES.
Help us tell more of the stories that matter from voices that too often remain unheard.