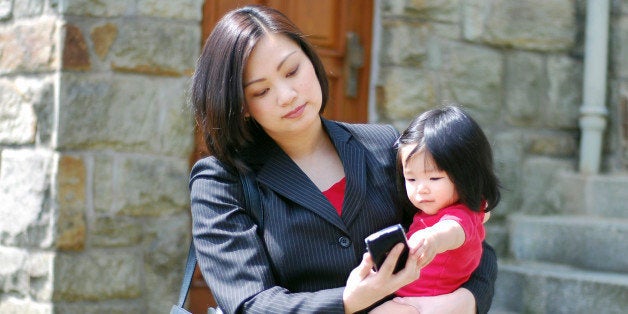 Since becoming a mother, the solicitations have been endless --
Want to sell make-up, books, jewelry, plastic nails, plastic toys, plastic anything?!
"Do it all" opportunities abound as idealized jugglers showcase their many feats, claiming I too can join the parade. Now, instead of Carol Bradys, it seems women with children aspire to always be more -- not just playdate planners or PTA presidents but mompreneurs, lifestyle gurus, and dare I say it, moguls. No problem, I'll just finish moguling in between making organic vegan baby food and getting ready for date night; then check my half dozen social media accounts after blogging and before yoga. I'm also writing a book, of course. Look at me -- doing it all. I'm finally empowered.

I've heard it called a trap. I call it an epidemic that appears to plaque working mothers and stay at home mothers alike. It's true that some may be quite convincing, basking in multitasking perfection and lauding feminism as victor. However, far too often I run into women thoroughly exhausted from a slapdash effort to check everything off the list. What drives this madness? Authentic desire, society- or self-imposed expectation? What are we trying to prove? We can so we must?

In my case, there has been nothing more empowering than carrying, giving birth to and raising my daughter. For the sake of transparency, I should reveal that in addition to my role as mother, I am a wife and seven-year small business owner. I could tack on a few more titles but what purpose would it serve? These roles, in many ways, have been mutually exclusive, and after a decade of discovery following a quarter-life awakening, I have come to believe that's the only path to emotional wealth -- in other words, sanity. From time to time I fall victim to faux feminist propaganda and try to do it all, be it all, all at once. Then I return to the blessed realization that I can ineptly do it all or one thing well, very well even; thus, everything in pieces.
So I propose a new movement. How about we stop selling the idea of doing it all and start telling each other the truth? Much of motherhood is all-consuming. If you don't have the time, energy or mere desire to start a business, run a blog/lifestyle website/marathon or even cook dinner, that's okay. Mothering IS a marathon. For me, being a good mother makes me a good feminist, and real feminism is acknowledging that I can't do it all, that support is not only necessary but deserved. Thanks to the incredible efforts of the feminist movement, to aspire to something beyond or besides motherhood is generally accepted and often celebrated. But does the victory end there? What about those mothers lost in feelings of too much or less than? To them I assert that you don't have to do it all, now or ever. Feminists may make movements, but loving mothers, little by little, also change the world. That, my fellow feminists, is the legacy I want to leave.
Calling all HuffPost superfans!
Sign up for membership to become a founding member and help shape HuffPost's next chapter