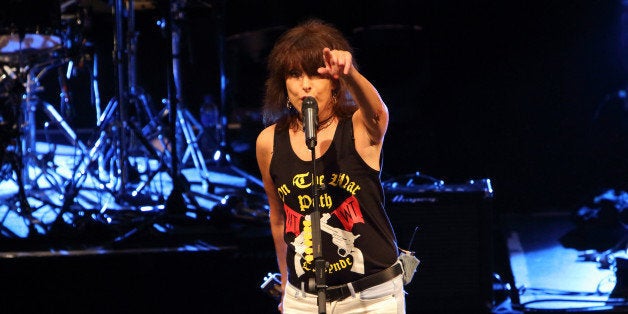 When Chrissie Hynde wanted to get into the world of rock 'n' roll, moving from Akron, Ohio to London, England was only the beginning. In 1973, rock was a young man's game, and Hynde was an adult woman with no musical training. Yet within a few years she was fronting The Pretenders, a band that would eventually be inducted into the Rock and Roll Hall of Fame.
Chrissie Hynde's early success had little to do with the size of her mailing list or power of her elevator speech.
During a recent interview with Mark Maron of the popular podcast WTF, Hynde talked about how one of her first jobs in the UK was working at a clothing store owned by future music and fashion impresarios Malcolm McLaren and Vivienne Westwood. While there, McLaren introduced her to a young man named John Lydon (Rotten), who would go on to front a band called the Sex Pistols. McLaren also connected her with David Johansson of the New York Dolls, which led to her first major gig. And when she needed someone to help architect the Pretenders' recorded sound, Hynde connected session player Chris Spedding with her old friend Johnny Rotten, who in turn introduced her to legendary producer Chris Thomas. And so on.
Although Hynde has stated that she "is the most hands-off businessperson in the history of the business," she has always instinctively grasped a key tenant of success that eludes many professionals: Reaching the pinnacle of your field is a function of getting to know the kind of people who can accelerate your growth in the shortest possible amount of time.
So how can you follow this literal rock star's example and use the power of relationships to electrify your own career?
Make Excitement The Basis of Your Relationships
Upon landing in London, Hynde jumped head first into the thriving music scene and impressed everyone who mattered with her in-depth knowledge and abiding love of rock 'n' roll. While social networks like Twitter, LinkedIn and Facebook give unprecedented ability to connect with influencers, many businesspeople spend far too much time using these platforms to push their sales messages at the expense of forming real relationships. Instead of beating people over the head with business-speak the first time you meet them, start with a conversation topics you both care deeply about. You'll be surprised by how often getting to know someone over an area of mutual excitement leads to a remarkably meaningful bond.
In the early Seventies, there was really only one role available for most women who wanted to be involved in the rock scene -- the groupie. Groupies were known for collecting X-rated encounters with famous musicians and judged their "success" in terms of how many of these encounters they had. This was a game that Chrissie Hynde was not willing to play. Rather than aiming to put additional notches on her bedpost, Hynde went out of her way to build deep friendships with members of the scene she found interesting and talented. In turn, these friends helped her build her career.
The business world is not all that different. Plenty of networking "groupies," social and otherwise, spend their days collecting Followers and business cards, only to wonder why these fleeting acquaintances fail to call them back the next day. Truly successful people, on the other hand, focus on the depth of their relationships.
Building relationships is a fantastic thing but the question still remains: What do you do with these newfound friends once you have them?
Keep in mind that despite her ambition, Chrissie Hynde asked sparingly for favors from her friends. Instead, she looked for ways to help them -- by introducing them to new bands, new musical ideas and each other. As a result, rock's most influential people were always rooting for her to succeed and regularly volunteered to help her out.
Follow Chrissy Hynde's example. Introduce your newfound friends to each other. If you have a blog or podcast, interview them on it to give them exposure. Offer to review their works-in-progress and share your ideas with them. The more generous you are, the more likely it is you'll have an army of influencers behind you helping to make you a star.
Related