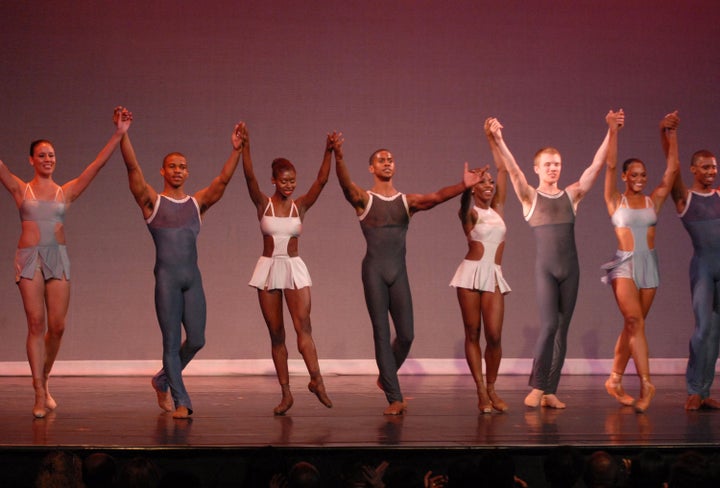 In this series, The Huffington Post profiles some of the best ballet dancers in the world, working in some of the rarest and most unusual work environments imaginable, to try to understand how they deal with the same workplace issues that confront the rest of us mere mortals.
Most of us don't get literal standing ovations from hundreds of people when we do good work. And most of us don't have to visit the physical therapist at the beginning and end of every work day. But no matter what sector we're in, the big questions are the same:
To look at her, you'd swear that Stephanie Rae Williams is in love. She's dancing with a man, and from the way that she's glancing at him as she flits around, and the way he gazes up at her as he sweeps her in his arms, you just know that they're deeply in love. From the way their bodies almost seem to be talking to each other, you suspect they're desperately in lust, too.
But they're not. They're just rehearsing.
It's Easter Saturday, and while the rest of the city is resting up or preparing their Sunday feasts, Williams and her colleague Da'von Doane, along with half a dozen of their fellow Dance Theatre of Harlem artists, are holed up in a studio at the iconic company's headquarters on 152nd Street. As exhausted dancers lean against the studio's brick walls, sweating and drooping from the previous rehearsal, Williams and Doane seem to disappear into their own little world. They're rehearsing a piece called "When Love," a pas de deux choreographed by Helen Pickett, which they'll perform at their City Center engagement in April. The music is by Phillip Glass, with multiple spoken-word pieces laid over the violin and choral singing, and between the angelic voices and the pair's alternately delicate and sweeping movements, that little world appears transcendently beautiful.
The Dance Theatre of Harlem was founded in 1969 and has since become one of the nation's finest companies, and one of its most important forces in the slow, crucial, and ongoing fight to carve out a place for African-Americans in the landscape of American ballet. Along with outfits like Alvin Ailey American Dance Theatre and the Bill T. Jones/Arnie Zane Dance Company, it has long been a crucible for African-American dancers and choreographers, and a testament to how art and artists can blossom, even when they're starved for resources and denied deserved mainstream prestige. In addition to a performing company, DTH runs a school and a community education and outreach program, a multi-pronged approach to the mission of bringing ballet to people and people to ballet.
That American ballet is overwhelmingly white will not be news to anyone who has observed the rise of Misty Copeland, who became American Ballet Theater's first black woman principal ballerina just last year. Dance Theatre of Harlem, however, has spent decades demonstrating that there's no real excuse for that overwhelming whiteness: DTH has had black principal ballerinas since the beginning.
Not that it's always easy to find them; the pipeline from ballet schools to ballet companies doesn't contain that many black ballet dancers, for myriad reasons. Many black aspiring ballerinas run up against preconceptions -- held by teachers, company directors, competition judges, choreographers, and fellow dancers -- about what kind of dance they're best suited to. They're told that they have an abundance of explosive strength but a dearth of grace and delicacy, that they don't have arched enough feet, that they lack the long elegant lines that the art form arbitrarily demands, and find themselves slowly but surely funneled out of ballet and into other disciplines (to say nothing of the way ballet companies that emphasize racial diversity struggle to survive; in 2004, DTH ran into financial difficulties so dire that the company stopped performing for almost a decade). Williams, like Copeland and other black ballet dancers, had teachers tell her that she might be a better fit for contemporary dance rather than classical ballet. She was told that she was too muscular to dance the girlish, gamine roles that are the staple of grand story ballets like "Giselle" and "Romeo and Juliet."
Williams, who is biracial, started ballet when she was 8, and says she was the only black student in class at her Houston ballet school. "There were two of us in the studio, maybe three but the other girls were older. There were no black men or black boys either, so it was just the three of us, and in my class I was the only one," she said. She was one of the only ones in her elementary school class, too, so ballet class felt familiar, even if it didn't feel great. Because she's biracial, "I was always a little bit not-white or not-black, I'm in the middle, and I didn't really fit in anywhere," Williams said. "So I understood that I was the only black girl in the class, but I never felt like, 'Oh, I want to be with more black people,' I just thought it was normal."
But being the odd one out started feeling abnormal, and like something that could really hamper her chances of being a successful ballerina, as she grew older and started training more seriously. "The older I got, the more I realized that I really like to dance, and my teachers would always tell me, 'You should look at a more modern company,' the typical, 'You have a more muscular body type, so maybe you should look at [contemporary] companies like Hubbard Street [Dance Chicago] or Alvin Ailey [American Dance Theater],'" she explained. She persisted on the classical path, though, and it was when she got her first job, as an apprentice at the Texas Ballet Theater, that she came to see just how narrow that path was going to be for her.
She was the only black dancer in the company -- in fact, she was the only non-white dancer, period, in a 30-person company. "I really felt it. You don't feel like you can relate to people and it was hard because I was young, it was my first job, so of course I was really shy." Teachers and choreographers would critique her dancing in ways that drove home that sense of difference. "I got corrections like, 'You stick out and I don't know what it is, but you need to try to fit in more,' which is a terrible correction to give someone," she said. "I just really think it broke me down a bit."
Still, she was cast as Clara in "The Nutcracker," a starring role in the production that, for most companies, is the most popular event on the performance calendar. It was a big deal, especially in Dallas, she said, "in a city that's so white." But, she said, "I think it was too progressive"; when the new season started, she wasn't cast in anything, "and in February the ballet mistress came up to me and said, '[Artistic Director] Ben Stevenson doesn't like you anymore.'"
Her contract wasn't renewed, and, having missed out on audition season, she had to scramble to find a new job. She concedes that there are multiple explanations for her negative experience in Dallas. "Maybe it was a little bit of my dancing, maybe it was also because I wasn't a good fit, but a lot of that had to do with my skin color," she said, sounding matter-of-fact but understandably hurt almost a decade later. "And that's when I really started to realize that, oh, it's going to be a bit different for me than for other girls I grew up with."
After Texas Ballet Theater let Williams go, her mother encouraged her to try her luck in New York. Actually, she told her it was her only option. "She put me on a plane, like, 'Bye! There's no where else for you to go, if you want to keep dancing!'" She spent time training at Alvin Ailey, where she looked more like her classmates, but still felt like an outsider. "That was the first time I ever danced with more black people than white people, and I still kind of stuck out, but I wasn't very used to being around black people," she said, laughing. "So I think I held myself like I was really uncomfortable, because I was."
But once she relaxed, she said, Williams made lasting friendships with her fellow dancers, and was able to launch a career dancing for small, intentionally diverse companies. She went to London and danced with Ballet Black for several years, and then joined DTH, where she's been for six seasons. "I really thank my mom for pushing me on that plane," she said, grinning.
And she's thriving at DTH. Despite an injury that sidelined for a year -- she blew out her knee and is still working her way back to full strength -- she's found a place where she fits in. That sense of belonging has given her the tools to become a stand-out dancer, away from the homogeneity and cookie-cutter pressure of mainstream, that is, overwhelmingly white, classical ballet. "Being here has shown me that there are so many other dancers who aren't even black who are having a hard time because they're tall or they're short, and not getting into professional companies," she said. "Because in ballet you have to have the look: you have to have the body, the beauty, the legs, and I think that DTH is not only diverse in color but in body types -- we're all individual, and we're all beautiful."
Back in the studio, artistic director and former long-time company member Virginia Johnson is critiquing Williams and Doane's run-through of "When Love," talking through her corrections and giving them a chance to rest after dancing for an intense five-minute stretch. Williams' feet -- clad in pointe shoes she painted herself, with CoverGirl foundation, because most pointe shoes are made in a "flesh" tone that doesn't actually match her flesh -- start to cramp, and she shakes them out as Johnson gives the pair a critique disguised as a compliment: "The two of you are really good at being people in this ... I want you to go back to being dancers in a few places."
They're almost too good at appearing in love, too complete in losing themselves in the dance. Johnson wants a little more technical accuracy, but once she's had Williams repeat a particular pirouette about six times, until it's just the way she wants it, she goes back to the emotional heart of the piece. At one moment, Williams had put her hand over her chest, twisted it into a fist, and stretched it out toward Doane. "Is that your heart that you're giving him?" Johnson asks. "Spend more time with your hand on your chest, that's your moment for you. Then you give it to him. It lets us know that it's your real heart, not just some decoration."
The sustainability and vitality of ballet depends on diversity of the kind that DTH has mastered. That means "more Mistys," Williams says, singing Copeland's praises. "I'm so happy for her. She's the sweetest person, she's so amazing." And Williams is happy about the shift in audience demographics that Copeland's rise has inspired. The usual audience at Lincoln Center and at the Metropolitan Opera House, where American Ballet Theater performs, well, "it's a lot of older white people, and it's, like, this one demographic." But not when Copeland is performing. "Misty brings out a different crowd," Williams says. "It's really great. I love it. I got to see her do Juliet last summer, and the audience just got me so pumped up -- it's the most black people I've ever seen at the Met, ever. I've been going to the Met for a really long time, and there's never black people at the Met, and all of a sudden, they come for Misty, and it's so amazing."
Still, Williams wants to ensure that Copeland's appointment doesn't lull people in or outside of the ballet world into a false sense of security, or create the impression that the forces that held Copeland back have been eliminated by her success. "I don't want them to be like, 'OK, it's done,'" she says. And, she doesn't want ballet to fall prey to a scarcity mentality, the sense that there's only one spot at the pinnacle of American ballet for which all black ballerinas are competing. "There's not only room for one at the top. There's so much room."
And while she loves DTH and is grateful for all it's given her, in the future, she said, "Hopefully it's not black dance and white dance. It's just dance."
Dance Theatre Of Harlem will perform at New York City Center April 6-9 and in Norfolk, Virginia, and Princeton, New Jersey, in May.
Before You Go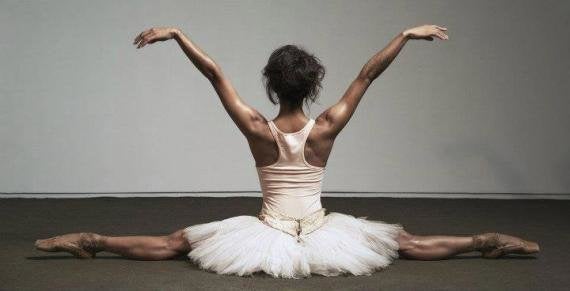 Ballet Dancers Changing the Landscape