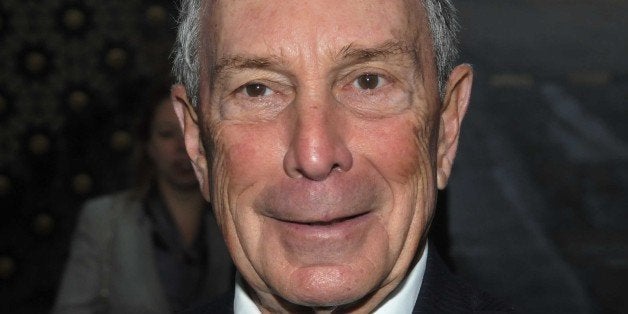 On Monday, the former mayor of New York City Michael Bloomberg, who has a net worth of around $37-39 billion, confirmed recent reports that he is indeed considering an independent run for president in 2016. In an interview with The Financial Times, the billionaire said that he finds "the level of discourse and discussion distressingly banal and an outrage and an insult to the voters," adding that the U.S. public deserves "a lot better." The New York Times reported last month that Bloomberg was considering spending up to one billion dollars of his own fortune for what can only be called a vanity run.
There has been speculation that Bloomberg would only run if Sen. Bernie Sanders (I-Vt) and Donald Trump ended up being their respective parties nominations. And as a corporate-friendly centrist who strongly supports gun control and abortion rights, he would almost definitely end up taking more votes from Sanders than Trump. According to the latest national survey from Quinnipiac University, in a three way run between the two New York billionaires and the Vermont anti-billionaire, Trump edges Sanders by one percentage point -- 36-35 percent -- while Bloomberg captures 15 percent of the vote. In a matchup between just Sanders and Trump, the democratic socialist wins by ten points, 49-39 percent.
The Chair of the Democratic National Committee, Debbie Wasserman Schultz, who has been criticized for her apparent effort to lock up the nomination of Hillary Clinton, said last week that she believes, ultimately, Bloomberg will find that a third-party run "won't be necessary."
This all comes at a time when the race between Sanders and Clinton is heating up. According to the same national polls from Quinnipiac mentioned above, the two candidates are virtually tied nationally, at 44-42 percent, with 11 percent undecided (compared to 60-31 percent in December). It also comes at a time when the "electability" question is being rammed down the throats of Democratic voters. The Clinton campaign has taken up a bit of a fear mongering approach, advertising that Sanders would inevitably lose to a Republican challenger, and that only Clinton can stop whichever reactionary the GOP nominates (For the record, polling currently shows that Sanders defeats Republican challengers in a general much more handily than Clinton, and does much better with the independent vote). Even though some of Clinton's top advisors lobbied against the Affordable Care Act for the healthcare industry, Clinton has billed herself as the guardian of Obama's legacy, and has more or less promoted the idea that a vote for Sanders would be a vote against Obama's accomplishments.
While many progressives may prefer Sanders over Clinton, they also fear a Trump or Cruz presidency. According to entrance polls in Iowa on the qualities of candidates, 83 percent believed that Sanders was "honest and trustworthy," 74 percent that he "cares about people like me," but only 17 percent that he could "win in November" (77 percent gave that quality to Clinton).
Bloomberg's threat to run as a spoiler and the endless pondering about the electability of Sanders are both good reminders of how much better the American electoral system could be. If, for example, an instant-runoff system was adopted, where each voter had the ability to list his or her preferred candidates in order, Bloomberg would not be such a threat, and Sanders could eventually run on a third-party ticket without guaranteeing the election of a Republican (the Senator has already said that he will not pursue an independent run for this reason, i.e. he doesn't want to be the new Ralph Nader, whose third party run most likely gave the 2000 election to George W. Bush). As Nicholas Stephanopoulos, professor at the University of Chicago Law School, writes in The New Republic:
"Under [an Instant-runoff voting system], voters are able to rank their choices on their ballots (for example, Nader first, Gore second, and Bush third). If no candidate receives a majority of first-place votes, the candidate with the fewest such votes is eliminated. The second-place votes of the people who ranked the eliminated candidate first are then allocated to the remaining candidates. The process repeats until someone gets an outright majority. In other words, all three candidates still could have run in Florida, but Gore, not Bush, would have won the election."
A popular theme of the 2016 primary season has been that America is more of an oligarchy than a democracy, with hundreds of millions of dollars being spent on political candidates. But it is also a political duopoly. Republican or Democrat, the voters have a limited choice. And today, according to recent Gallup polls, more voters identity as Independent (44 percent) than either Democrat (29 percent) or Republican (26 percent). People seem to crave a third party, but no third party could ever become a force in American politics without major electoral reform. This includes eliminating big money from politics and creating a proportional representation system, as opposed to the winner-take-all system that currently decides most elections in America (fair representation would also eliminate gerrymandering).
It is still very likely that Clinton will get the nomination and Bloomberg will sit out, but a three- way race between two billionaires and a democratic socialist would certainly be ironic; not just because the socialist would be facing two billionaires, but because one billionaire would probably hand the other billionaire the election, further exposing how the political system favors the very rich.
Calling all HuffPost superfans!
Sign up for membership to become a founding member and help shape HuffPost's next chapter