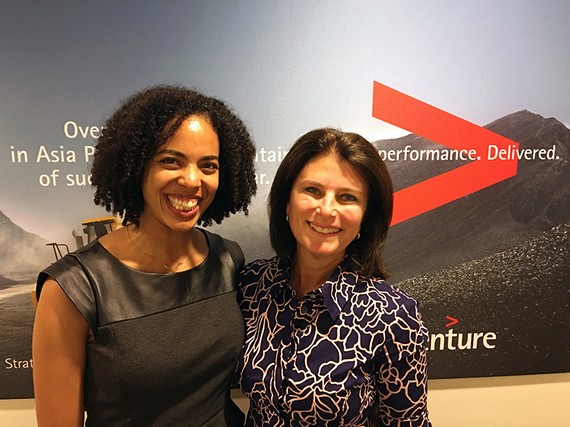 My birth year straddles the Baby Boomer and the Gen X boundary so depending on what chart I look at I could be either. I kind of like that actually -- because I think we over generalize the traits about generational groups and end up with even more bias.
Earlier this year, I moderated a panel on "millennial myths" at the HR Policy Association conference, a gathering of CHROs from around the country. We brought together four millennials from different companies to talk about myths and truths about their generation. It was eye opening.
The most important lessons I learned? Take the time to learn more about each other as individuals instead of putting people in a box. And, that a "what can I learn/what can I teach" mindset is extremely productive.
One of our panelists was Daniella Patrick. Daniella is a product manager at Accenture's Talent Innovation Lab - a creative team within HR that is charged with researching, ideating and developing innovative solutions that improve employees' experiences here at Accenture. She is a valued colleague of mine and I check­-in with her often to bounce ideas around.
In the spirit of our "what can I learn/what can I teach" philosophy, I thought it would be fun and insightful for us to co-author a blog together--blurring the generational lines to share what we've learned from each other.
Thank you, Daniella, for adding your voice to mine ... over to you!
Daniella: Things I've Learned from Ellyn
Be willing to teach and learn. One of my earliest "Accenture Adventure" experiences was when Ellyn and I coached a client together on ways to attract and inspire top talent. Ellyn modelled what it means to teach and to learn. First, she actively involved me in the conversation and asked for my opinion. And, afterward we discussed how the meeting went and she offered invaluable insights that I carry with me today on the importance of establishing collaborative and trusting professional relationships.
Meaningful Connections. I've seen Ellyn work collaboratively with others inside Accenture as well as with other CHROs to ideate and bring solutions and experiences to life. Take Hackfest 2016 for example, where Ellyn is collaborating with LinkedIn's CHRO, Pat Wadors. This upcoming hackathon gathers students from all over India to solve complex human challenges in the workplace. It's clear from seeing them work together that Ellyn and Pat are friends first and coworkers second. Putting people first and connecting with them in a genuine way is what Ellyn is all about.
Love what you do! I don't think anyone loves their company and their work more than Ellyn. It's infectious. While her demanding schedule and frequent travel are certainly challenging, her high energy and passionate way of working show that she simply thrives here at Accenture.
Lead from Within. Ellyn takes on great challenges and brings bold ideas to life, which inspires others to take on greater challenges and be their best. In her few years as the Chief Leadership and HR Officer at Accenture, Ellyn launched Performance Achievement and in a very bold move shared Accenture's diversity stats with the world to push us all to do better.
Thank you, Ellyn, for being the inspiring leader, mentor and colleague that you are, and for letting me co-author this blog with you!
Ellyn: Things I've Learned from Daniella
The bottom line is that Daniella helps me look at old problems in a new way. Here are some of things I've learned from her:
Importance of being tech savvy - even when you aren't solving technology challenges. Daniella brings a technology lens to every problem, which is essential in the digital age. It's very important to bring both the human and digital perspective when looking at solving complex challenges. And, with her and others' help, I'm also very proud that I've become very tech savvy and active on social media.
Straight talk. One of the things I value most about Daniella is that if asked for her opinion she shares it - unvarnished. Hierarchy does not get in the way. We view each other as equals. We listen to each other, share ideas and ultimately co-create together.
Give people a voice. In this spirit of collaboration, it's important to give people an opportunity to step up -- early and often. Nine times out of ten they will grab ahold of that challenge and knock it out of the park. Daniella is proof of that. Hierarchy doesn't have a place in the workplace of the future. Collaboration across levels and tapping people for stretch assignments fuels innovation and helps people flourish both professionally and personally.
Diversity brings greater creativity. We have an unwavering belief at Accenture that our diversity makes us smarter and more innovative. The relationship that I've forged with Daniella is a prime example of that. The different perspectives we bring because of our age, life experience and ethnicity all contribute to new ways of viewing the world. Talking things through with Daniella opens my eyes to things that I wouldn't have otherwise seen. And that is a really beautiful thing.
It all starts with a meaningful conversation. Think about how you can broaden your circle to include older and younger colleagues and simply reach out. It comes down to connecting with each other as individuals to break through the myths and learn from each other.
Daniella mentioned Hackfest 2016, planned for September 24-25 in Bangalore, where students will innovate solutions that elevate human performance at work. And, breaking down generational barriers at work is an important issue because for the first time in history, we have five generations together in the workplace. This presents a tremendous opportunity to innovate - by leveraging the unique strengths we each bring to the work environment. I'll share the great ideas that the hackers come up with in a future post.
How do you break down generational barriers at work? Share your comments below and let's start a meaningful conversation now.
Calling all HuffPost superfans!
Sign up for membership to become a founding member and help shape HuffPost's next chapter