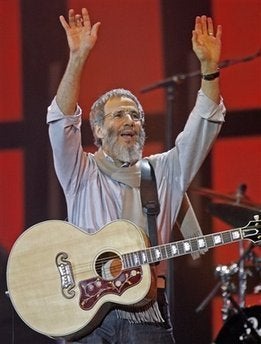 They say that you should never meet your heroes, but what do they know anyway?
Years ago I met one of my all-time heroes, the late great Roy Orbison and Roy turned out to be not only a great artist, but a true gentlemen as well. Recently, I've been hosting my new music and interview series show on the Bio Channel called The Chris Isaak Hour -- which is a good thing because it might be awkward for anyone else to host a show with that title. Already we've had on some of my longtime favorites, people like Glen Campbell, who my brothers and I grew up admiring, and Stevie Nicks who we grew up admiring and lusting after too.
Tonight our guest is Yusuf -- the Artist Formerly Known as Cat Stevens. He's someone who I figured I would never even meet much less sing with, especially since he left the music world behind after his conversion to Islam back way in the 70s. I've been a fan of Cat Stevens' music since my own days in the old schoolyard, so this was an exciting moment. I know that for a time Yusuf was controversial figure for some, but to me, he's first and foremost an amazing singer-songwriter, as he demonstrates once again on our show while singing such past classics as "Moon Shadow," "Father & Son," "Wild World" and even on of his earliest songs "I Love My Dog" that he generously crooned to my scene-stealing canine side-kick Rodney. Yusuf also sang some fine new songs from his upcoming album entitled Roadsinger, and even let me chime in with him on the title track, as well as on a brand new take on one of his most enduring classics called "Peace Train Blues."
At one point, I asked Yusuf about the fact that a lot of people loved him for being Cat Stevens, and I wondered if he thought people disliked or resented him for taking that away when he went on his famous quarter century coffee break. "The way in which I kind of unplugged and walked away was abrupt, and it needn't have been that way," Yusuf told me. "And perhaps that was because of my naiveté. I was always a little bit naïve. I thought people would understand that when I'd written a song called 'On The Road To Find Out,' that if I happened to one day find something out, they might expect, 'Well, he might disappear then.'"
Please watch the show and you'll see that great music doesn't disappear, even if sometimes musicians would sure like to try.
Calling all HuffPost superfans!
Sign up for membership to become a founding member and help shape HuffPost's next chapter