He is known as "The Freakish Mimic" among his friends for his ability to imitate any voice. Are you thinking he's a superhero? He might as well be. Hank Azaria has proven time and time again to be one of greatest character actors of his time. So genius at disguising himself from role to role, even industry insiders get continuously lost in his performances. A true master at manipulating his voice, Azaria is reigning royalty in voice-over entertainment and has won four prime-time Emmy's for his work on The Simpsons where he brilliantly lends his voice to well over a dozen extremely diverse fan favorite characters.
Showing that he can offer more than laugh out loud comedy and the uncanny ability to mimic, he also scored an Emmy for a more subdued performance in the television movie, Tuesdays With Morrie. He has repeated this kind of work consistently as he shows that he can truly do it all with his amazing portrayal of the sociopathic Ed Cochran on Showtime's Ray Donovan- another role he should be getting Emmy praise for.
With a career that has spanned over twenty-five years filled with characters all across the map from every genre that Azaria constantly aces, he has proven time and time again that he is one of the best in the business. Here, he sits down to talk about the diverse characters he's played, his love for The Simpsons and voice-acting, what roles stand out to him, acting on Ray Donovan, and his tight relationship with the cast of Friends!

You have said The Simpsons is one of the best jobs of all time. Talk about that a bit.
I've grown to appreciate it on so many levels because I've really had twenty-eight years to love it in different ways. As a young man, it was really my first big job and it helped me support myself as an actor. It was such a tremendous laugh and I got to really try out all these voices and learn my craft while watching brilliant people like Dan Castellaneta and Harry Shearer, and get to perform such great writing. And then it became this cultural phenomenon that became so exciting to be a part of. But, mostly I'm just a big animation fan and always was, so to be part of something on this scale that still let's me be free to do whatever else I want is a blessing in every way.
Do you have a favorite character to voice?
I guess probably Moe is closest to my heart. It changes over the years. Professor Frank is just so silly and I get a big kick out of him- you can't be sad while doing that silly voice. I was a huge Jerry Lewis fan as a kid and that's a direct impression of him.
What kind of voice or dialect have you not done yet on screen that you would love to do?
Well, I'm currently in Atlanta filming a comedy series for IFC called Brockmire that will be on next year. It's based on a short I did for Funny or Die about a baseball announcer. [He launches into an amazing baseball announcer impression that would blow you away, changing his voice on the spot.] I've been imitating guys like that since I was a kid- those kind of classic baseball announcers like Lindsey Nelson or Bob Murphy with the golden-throats. And that's really been a dream of mine. I've been trying for years to get this made. I'd love to play more mature, horrifying bad guys- that's why I like Ray Donovan. I'd love to play a gangster. [He launches into another spot-on Godfather impression.] That would be fun.

Julia Roberts' smile is insured. David Beckham's feet are insured. Is your vocal instrument insured?
Yeah, I insured it about fifteen years ago when I was screaming and yelling and my voice went out for a few days. My voice goes out pretty easy, but always come back pretty simply as well. But, this particular time scared me so I did get it insured. I'm not sure for how much. But, it's definitely insured!
You're really one of the greatest living character actors- to the point where sometimes people in the business don't even recognize you from role to role. You've mentioned this can be a blessing and a curse. Touch on that.
The older I get and the more I do the more I realize this is much more a blessing than a curse, probably because as an actor you're just around so long that people do know who you are. And also because I do enjoy doing just so many different things. And once you're known for doing different things, people want you to try different things- so I definitely enjoy my career more as I go along. There were times in the past I felt typecast, like after The Birdcage, for a while people only saw me as playing accented roles or outrageous comedians and it used to frustrate me. But, you get to the point where you become just so grateful that people know you for anything. I feel so fortunate.
Let's talk about your amazing portrayal of Ed Cochran on Ray Donovan- a role you've expressed tons of joy in playing. One thing that makes Ed really interesting is his antisocial personality disorder. You've mentioned that if you weren't an actor, you would love to be a therapist- is Ed's sociopathic side what draws you to him?
Yeah, I guess the easier way to say that is that he is a bad guy, and that is fun to play! You know what really prepared me to play this and what I think about a lot before going into this role? I had the good fortune to study under a great acting teacher in Los Angeles in my 20's, a guy named Roy London. In his class, he sort of got on to my ability to do voices and be funny- and he never really let me do that. He would tell me, "Look, I know you have this gift but I want you to just be yourself and I want you to just be real." And I found that excruciating. I'm a mimic at heart, and I became an actor to not be myself- if I am going to analyze myself as a therapist. [Laughs] It was really to my horror to discover that even great character actors are great when they are within their own character and willing to reveal themselves. So, in his class he would teach what was called a "power scene." He would say that most scenes are love scenes, but every once and a while you run into these power scenes where people really only give a shit about getting power over one another. GlenGarry, Glen Ross is a great example- it's just a bunch of guys trying to beat each other out. And in those scenes it's all about keeping another actor off balance. I think that's what is such a joy for me in this role, that after all these years I can approach the character in such a way with a lot of ease and comfort having been seasoned as an actor. It's been really fun to do.

Talk about being why it's fun to able to play a sociopath like Ed.
I think the fun is that it's about being given permission to act in ways you never really do. It's just about honestly trying to figure out the three or four ways this guy might try and get what he wants at any given moment- whether that's getting furious, or trying to cajole a person. When you're playing a character that's not constrained by societal norms, or caring about what people think about him? You're just free to do whatever you want within reason.
In many ways, you could technically be considered the seventh Friend. Fans might not know that you auditioned for the role of Joey Tribbiani- which would have been very meta because you are close friends with Matthew Perry in real life. You then came on the show to play one of the most memorable guest stars, Pheobe's scientist boyfriend, David. You then continued to work with both Matthew Perry and David Schwimmer on other projects. Talk about your beloved role on Friends and your relationship with the cast.
Matthew [Perry] was the first friend I made in LA. We did a pilot that never saw the light of day. We became inseparable for ten years and we've remained good friends, and then I got close with David Schwimmer and I've worked with them both on a couple of other things. I felt really lucky that I got to be a part of that. I will never forget walking on that set and it was like a Beatles level of fanaticism, and that was fun to participate in.

You've been in so many films and shows and played such diverse roles, does any role really stand out in your mind... And what role would you love to play?
The Birdcage is what I'm most known for- it seems to have given people so much joy. I sure did love doing it and I loved Mike Nichols very much, he was really the Godfather of my career. But, I don't know if everyone didn't love that movie so much and didn't talk about it so much if it would've remained as big in my head, but it's always what I get reminded of. The role I'm doing right now- Brockmire- I really love that. I've been trying to get this thing made for six or seven years and I can just tell you right now that I really love working on this thing. It's a nice marriage between the vocal trick I can do and this great writer I hooked up with who really gets the emotion beneath the character.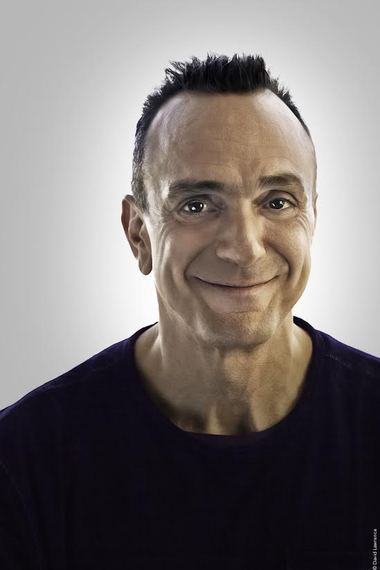 What else do you have coming up next that fans can see you in?
I did an HBO film with Robert DeNiro and Michelle Pfeiffer where they play the Madoff's. I play the COO of Bernie Madoff's nefarious company. I'm really looking forward to that. And I have a movie coming out called Oppenheimer Strategies with Richard Gere. I loved working on it. I think the filmmaker, Joseph Cedar, was really wonderful. I'm back for next season on Ray Donovan- and I can't say anything about it. And another project I've been working on for years that I hope comes to fruition is a musical for Broadway based on The Honeymooners! I'm very hopeful that will be on Broadway the early part of next year!
How could Broadway say no? If anything could be proven just by Azaria's diverse projects in one year alone, it's that he could play anything. Heck, forget a year- Azaria can prove that fact in under a minute!
Ray Donovan premieres Sunday, June 26th on Showtime.