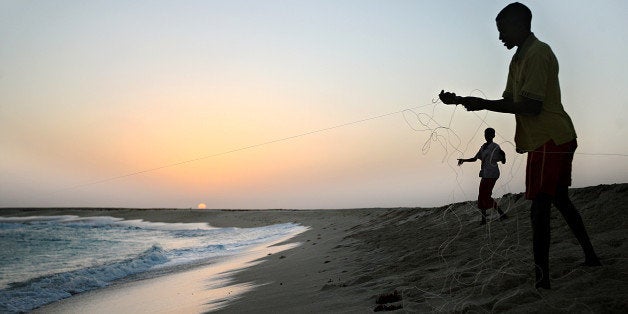 Today would have been Nelson Mandela 96th birthday. Back in 2012, I was driving across the late South African leader's homeland, the beautiful Eastern Cape. Mandela was home in his nearby birth village, spending his remaining time close to his family. As for me, I was in South Africa to help with a pressing problem: access to clean water. Some colleagues and I were checking out sites to deploy of an energy-efficient water purification technology.
We were specifically in clinics built and managed by Africare, which addresses the AIDS epidemic by focusing on preventing the transmission of HIV from mother to child during pregnancy. To do that effectively, the clinics need clean water.
We arrived armed with an incredible technology and more than a little ambition to make a difference. But we left the clinics asking many questions:
Was the primary water challenge one of supply, such as decreasing water levels in local rivers, or to quality due to contamination of local water resources?
Was it possible to address both challenges?
Were our solutions dependent on other resources that were also limited, such as reliable energy to pump water?
How would we deal with conflict of interest between the clinics' needs and agricultural interests (food is basically water in a solid form), both of which are vitally important in the area?
How did political and societal norms and conflicts make it all even more difficult since in many areas access to water equals control?
I was pondering these questions in obscure villages far from home, but they reminded me of another road trip I had taken a couple years prior with some Stanford pals back in the U.S.
On that trip, we followed the California aqueducts that transferred water from Sacramento to Los Angeles, trailing the sprawling mess of water and energy madness in the American Southwest. We were hoping -- with that same borderline-irrational confidence that led us to South Africa -- to unravel and solve the puzzle of intertwined water and energy shortages experienced in region. By the end of that California road trip, in the eighth largest economy in the world, I was asking myself the same questions I ended up mulling halfway across the world.
Those questions remain pertinent today. If South Africa seems too abstract, just look at our home-grown tug of war over shale drilling and protecting the water supply. Often, it can seem like these debates and the problems spurring them are intractable, binary situations creating either winners or losers with no hope for compromise.
It is easy to give up -- or pick sides -- in such situations. But on a day commemorating the life of a leader who did not back down when faced with hard problems, it is worth remembering that we have the tools to address the important problems affecting the management of resources, like water, food and energy.
One big question is -- just how should we use those tools. Today, it often seems that we choose the grandiose or convoluted path to address these challenges rather than a more straightforward plan. For example, what good does it do to sell fancy, "smart" appliances to Americans merely to have them installed in sloppily designed, energy-wasting homes? And what do we achieve if we shut down coal-fired power plants across the country just so we can ship American coal overseas to burn in stations spewing their emissions into an atmosphere that doesn't recognize borders?
I arrived in Mandela's homeland thinking I had something to offer, but left feeling like I had just been given an education by some wiser friends. As a trained civil engineer, it is natural for me to think that grand infrastructure projects are the ideal way to solve problems, I will never stop marveling at things like bridges that span stupefying depths and power plants that keep operating in extreme situations to keep the lights, and much else besides, on.
But my time in South Africa taught me that distributed systems for critical resources like water and power could get the job done faster and cheaper than simply taking the conventional approach. Leapfrog solutions are so often what we seek today, helped along by an investment climate that favors all-or-nothing bets. But when it comes to wires and plumbing, you need to connect the dots a little bit more.
I still remember standing outside of a small remote clinic on a gorgeous African hilltop reached only after a three-hour drive on slippery mud roads and over crumbling bridges. As we waited there for someone to open the front gate, a group of goats trotted by serenely, taking a right turn at the intersection of two dirt roads. A few minutes later, a little laggard galloped past bleating as it turned the same right hand corner without any instruction, following some internal homing instinct.
At that moment, those goats were more organized and focused than my ragtag team of travelers and technologists trying to solve some really glaring global water problems.
Nearby, a person was resting and ending his days after having truly had an impact on the lives of millions of people. Among many other things, Mandela called education "the most powerful weapon which you can use to change the world."
My years of formal studying gave me the toolbox to think about how I could help address the problems of resource management and climate change that beset our world. Through visiting places, like those South African villages, I have been able to re-examine those tools, grasp how they might be used in a way that results in tangible change, and get schooled all over again.
REAL LIFE. REAL NEWS. REAL VOICES.
Help us tell more of the stories that matter from voices that too often remain unheard.