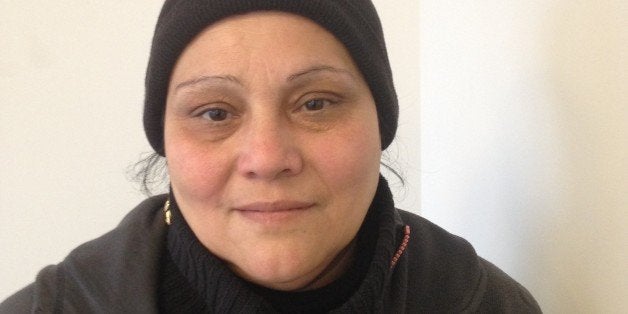 WASHINGTON -- On Dec. 4, Rosa Velasquez went on strike to protest low wages in the fast food industry. The following day, the 52-year-old grandmother lost her job at a Qdoba restaurant inside the Pentagon.
Velasquez says the greatest indignity wasn't being fired from her $8.75-per-hour position. It was being publicly escorted out of the food court by police at her manager's request, as if she had broken the law.
"They humiliated me," the Honduras native told The Huffington Post, speaking in Spanish through an interpreter.
Velasquez's situation tells us a lot about the fast food strikes that have cropped up in cities across the country over the past few years, with workers demanding, among other things, a minimum wage of $15 an hour. Detractors have dismissed these protests as little more than union-orchestrated stunts, filled with labor activists rather than actual workers. Unions, meanwhile, have tried to publicly keep their distance from the strikes, in an effort to make them look organic.
In reality, though, the worker strikes are not stunts, nor are they spontaneous. Real workers like Velasquez are at the center of this campaign, taking the risks that give the strikes meaning. Unions, for their part, are standing behind the workers with the institutional support that makes the strikes possible.
Velasquez is a mother of three and grandmother of four, and has no history as a rabble-rouser. During her 18 years living in the United States, she's bounced from one low-income job to the next, from cleaning offices and homes to prepping Mexican food. All the while, her wages have tracked closely with the country's minimum wage, which has not been keeping pace with inflation. But earlier this year, through some of her colleagues at Qdoba, Velasquez fell in with a worker group called Good Jobs Nation.
For two years, Good Jobs Nation has been organizing low-wage workers under federal contracts to demand higher pay, better benefits and union representation. The group is backed by several labor groups, including the Service Employees International Union, a powerful union of nearly 2 million members and the leading organizer of the ongoing fast food strikes.
Why, after nearly two decades in low-wage America, would Velasquez now put her name on a strike notice that was headed to her boss's desk? Because she'd never seen workers speaking out like this before, she said.
"I got involved because some of my co-workers got involved," Velasquez explained. "My co-workers don't earn enough to live. We need better wages. We need better benefits."
According to Velasquez's account of events, she skipped her scheduled shift on Dec. 4 to attend one of a number of fast food protests that took place around the country that day. Good Jobs Nation says it gave a written notice to her Qdoba location, informing the restaurant which workers would be taking part in the strike. The group considers such strikes legally protected activity under the National Labor Relations Act, the federal law that lays out collective bargaining rights.
But at work the next morning, Velasquez alleges, her boss told her she no longer had a job and pulled her name tag from her shirt.
Velasquez says she sat in the restaurant's office and cried. Her manager came back with a colleague who could translate, she said, who told her she had to leave. A Pentagon police officer soon showed up to walk her out of the building.
It's unclear what the precise rationale was behind Velasquez's dismissal. A manager at the Qdoba restaurant told HuffPost he would not comment on the firing. A Qdoba spokeswoman said the company wasn't aware of the incident, pointing out that the location in question is franchised, and not actually run by the Mexican food chain. The president of the company that franchises the location, Seven Hills Restaurant Group, which also operates several other Pentagon eateries, did not respond to two calls seeking comment.
A Pentagon spokesman confirmed, however, that a Qdoba manager called the police on Dec. 5 about a fired employee. "The manager informed [police] that he just terminated the employment of one his staff, and that the employee was not leaving the premises," the spokesman said in an email. He added that Velasquez cooperated with the escort and "there were no issues."
SEIU has downplayed its role in the fast food strikes such as the one that preceded Velasquez's firing. The union has remained largely behind the scenes and deflected press inquiries to the workers themselves. But as Velasquez's story shows, workers couldn't strike with any confidence without the legal backing afforded by something like a labor union. If the strikes don't seem purely organic, it's because they can't be.
Shortly after Velasquez was fired, the legal team at Good Jobs Nation filed what's known as an unfair labor practice charge with the National Labor Relations Board, the federal agency that enforces labor law. In the charge, the group accuses Seven Hills of illegally retaliating against Velasquez for taking part in a strike. If the labor board finds merit in the claim, it can force Seven Hills to the negotiating table and possibly win reinstatement and back pay for Velasquez.
Good Jobs Nation has already had some success battling Seven Hills in front of the NLRB. In May, the worker group pressured Seven Hills into a settlement in which the company agreed to pay $205 in back pay to a worker at a different Pentagon eatery. In the same settlement, the restaurant also reimbursed workers for free lunches they had been denied for two weeks. The settlement document indicates that the employees customarily received lunch at work, but were stripped of the privilege, allegedly as a punishment.
In addition, Seven Hills agreed to post a two-page notice at the restaurant in question for 60 days, laying out all the ways in which the company promised not to violate workers' rights. (Good Jobs Nation claims Velasquez's firing was in violation of this agreement.) It was just the sort of outcome that gives workers like Velasquez enough assurance to take part in future strikes, but it couldn't have happened without robust legal work on behalf of Good Jobs Nation and its backers.
So far, Good Jobs Nation's efforts have yielded some concrete returns. In their early protests, workers with the group called on the Obama administration to issue an executive order setting a minimum wage for workers employed under federal contracts. Within months, the president promised to sign just such an order, even putting the proposal at the center of his State of the Union address. Later, he announced a different executive order that would strip contracts from companies found to have committed wage theft -- another proposal that Good Jobs Nation had championed.
Now the group is calling on the White House to issue yet another order, one that would give contracting preference to so-called "model employers" that pay at least $15 per hour and offer benefits. Progressive members of the House of Representatives have taken up the cause.
"I want to go back to work at Qdoba," she said, "and show my co-workers that I was fired unfairly."
Related
Popular in the Community