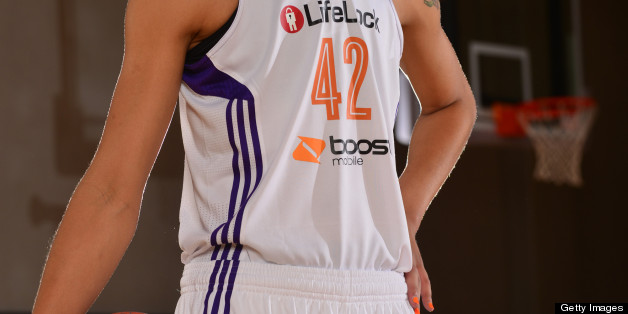 Since being drafted a little over a month ago by the Phoenix Mercury, life has certainly been a whirlwind. I've been from the East coast to the West coast on media tours, have done countless interviews and met a lot of new people -- and I've loved every minute of it. I feel very fortunate to be in the position I'm in, playing for the best organization in the WNBA.
I've been in Phoenix for a while now, and I think the city suits me well. I love to be outdoors and with the sun shining practically every day, there is always something to do. People ask me if I've busted out my skateboard on the streets of downtown Phoenix, but I haven't done much boarding -- I promise! My main focus is staying healthy and focused for the season.
I've really enjoyed being on the court with my teammates over the past month. Diana Taurasi has been a huge influence and I've already learned so much from her. She has elevated the intensity of practice and helped my game become more versatile. I've also been able to rely on my teammates for help navigating the waters of being a professional basketball player -- there have been many things they've helped me with such as taking care of my body and eating right (I still need to work on that quite a bit -- bacon isn't the most healthy food).
In terms of actual basketball, I couldn't be more excited for the season. I'm pumped! Phoenix is known for their run-and-gun style of play, and I've come to find out that there is a very good reason for that! We do a lot of running up and down the floor, and I'm proud to say that I'm in the best shape of my life thanks to Head Coach Corey Gaines (who has been a great teacher for me).
Seeing these players up close like DeWanna Bonner, Penny Taylor, Candice Dupree and Sammy Prahalis has been awesome. I think we'll have a successful season if we keep working as hard as we have been in practice.
There has been a lot of attention on this year's WNBA Draft class -- which is good for the league -- but we all are here to do one thing: play basketball. We have our home opener on Monday and it's going to be a packed house inside U.S. Airways Center. I'm looking forward to playing my friend Elena Delle Donne of the Chicago Sky in her professional debut as well.
The fans (we call them the 'X-Factor' here) have been amazing in Phoenix and I know they will be cheering as loud as possible to help us hopefully snag a home opener victory. Definitely be sure to visit my blog on PhoenixMercury.com all season long. But first, watch our home opener on Monday on ESPN2 at 5pm EST -- it's going to be a great game.
REAL LIFE. REAL NEWS. REAL VOICES.
Help us tell more of the stories that matter from voices that too often remain unheard.