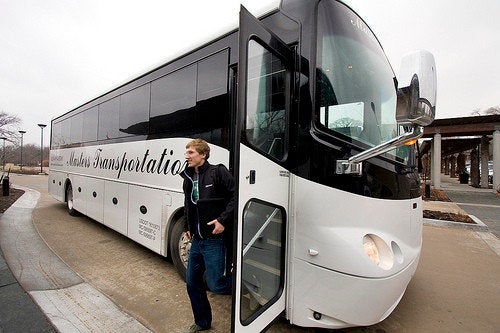 In the flurry of a mass orchestrated adrenaline rush, busloads of previous strangers had formed 38 teams on the road and, as described by Cleveland bus conductor Anthony Broad Crawford, "gone through the complete life cycle of a startup," including conception, front-end design, back-end code, functioning web sites, press releases, practice pitching, etc. Team Lemonade Stand of New York City had even set up a toll free information number, voiced by a bona fide radio announcer, and launched their working mobile app on the Android marketplace upon arrival.
At their Austin landing point, Vast.com had opened up their offices to provide a workspace for the groups, and most took immediate advantage, cranking out code (due by 11:59 pm), editing their promotional videos (due by 6 a.m. for posting on the Startup Bus website), and ordering marketing swag for the next phase of the adventure: Getting attention for their startups, and maybe interesting real investors, amidst the seething cacophony that is SXSWi. They had four days to get public votes and encourage stock investment on the Startup Bus website before Sunday's semi-finalist announcement.
Looking in from the outside, one would expect the intensity of the competition to balkanize the teams -- or at least the regional buses -- into enemy camps. But each team spoke glowingly of a culture of sharing and cooperation, with people from opposing teams lending a hand to each other, from help with a particular coding language to guest appearances in pitch videos.
This dynamic is in keeping with founder Elias Bizannes' main goal, which is to build a life-changing network of individuals who are drawn closer after going through the same experience. Although real financial backing actually appears to be in the cards for a few of the (yet to be publicly named) teams, it's the close connection forged amongst all the participants that matters most.
The rivalries that did spring up were of a playful nature, as with the New York City and Miami groups, who on the second day were scheduled to arrive together in Baton Rouge for an overnight pit stop.
As the New York City bus neared Austin, they were astonished to suddenly find themselves surrounded by police motorcycles with flashing lights. "We thought we were being arrested," recalls Justin Isaf, conductor of the group. Turns out the encounter had been arranged in advance as a prank by the Miami bus, which was trailing 20 minutes behind them. But the New York City bus had the last laugh when the faux intimidation evolved into a rock star style police escort into the city -- where an enormous party and a full floor of donated hotel rooms awaited both groups.
Hotel rooms with "beautiful comfortable beds that nobody slept in," says Derina Man of Lemonade Stand. Most of the teams worked through the night. At one point in the middle of the night, one of the buspreneurs stepped outside the hotel and noticed that all the room windows were dark -- with the exception of their floor, which was completely lit. The next morning, Derina witnessed a fellow holding a full cup of coffee walking straight into a glass wall. Such is the no-pain-no-gain life.
When the teams hit the ground they polished up their pitches, and infiltrated the seething mass of SXSWi to make a name for themselves. Certain startups that had launched their product, like San Francisco's Bouncr, a service that provides shortened, anonymous email addresses, had received over 500 sign-ons at their web site. Lemonade Stand set up a literal lemonade stand outside the convention center to get their product in front of as many people as possible.

So far, no rest for the weary. At least until Monday evening.
The field narrowed to six on Sunday night, after presentations by 15 semi-finalists -- two from each city bus and three wild card teams. The winning six who will pitch their startups to a group of venture capitalists and industry executives at Monday evening's grand finale are: Bouncr (San Francisco), a "bit.ly for email addresses"; Mom and Pop Co-ops (Cleveland), a system for empowering small businesses to compete against retail behemoths by pooling resources; MyNewman (Miami), an "anti-social network" offering an online environment to interact with "frienemies"; Shotput (Chicago), a simplified email and SMS mailing list service; TripMedi (New York City), a site providing a trustworthy source of information for medical tourism; and WalkIN (Silicon Valley), a mobile app for managing on-site reservations and wait times for restaurants.
Popular in the Community