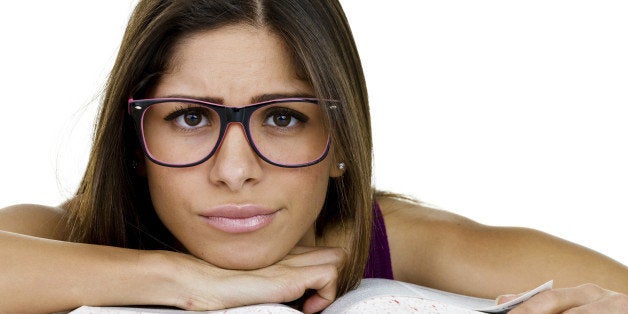 A year ago a friend suggested I should interview Nicole Suarez for my bilingual/bicultural blog Mismore. The site is now defunct but from there, a friendship with Nicole grew.
A week from now she'll be competing on Univision's Nuestra Belleza Latina -- a reality tv show similar America's Next Top Model, which translates to Our Latin Beauty. Nicole is a knockout beauty but one of the best things about her is what's on the outside doesn't compare to the beauty and intelligence she holds on the inside.
In anticipation of the show's premiere (where "beauty" is in the show's title) I thought I'd dig up her January 2015 interview where she shares her thoughts on what it's like to be Latino and shows she's more than just a pretty face.
Here it is in its entirety:
What is your racial background?
Latina... specifically 100 percent Colombiana!
How do you self-identify when someone asks "what are you?"
Colombian
What does being Latino mean to you?
Having been born and raised in the United States, it means that I am privileged to live with both cultures in my life. We're a colorful community that loves, and stays united. We are passionate about every single thing that we do. Even though it certifies many people's stereotypes about Latinos, I couldn't be prouder to roll my rrrr's and salsa dance!
How has it helped you? How has it hurt you? Describe your current career role and the path it took to get there
Personally, being Latina has helped me greatly! My parents always taught me to love my culture, and within that, to love Spanish. I have been working in Hispanic media during the last 4 years, and if it weren't for knowing the language, I probably wouldn't have had so many amazing opportunities. Stations are now realizing that diversity is key in any newsroom.
Tell us how your cultural background factors into your career and professional goals?
My cultural background is necessary to complete my daily tasks. Not only do I have to write and speak in Spanish, It is my job as an anchor to make sure that stories are compelling and identify with our viewers. Luckily, I live in Chicago and have had the opportunity to interact with people from so many different countries.
How do you define yourself/want to be remembered?
I want to be remembered as a person that wasn't afraid to live and take chances. Yes, it might sound cliché, but I think that part of being a great journalist is jumping into stories whole-heartedly, living and empathizing with what the person is going through, and conveying that to the viewer.
Describe the toughest (personal or professional) challenge you've faced, how did you overcome it?
One of the toughest challenges in my career has been sharpening-up my Spanish. Even though I always spoke it at home, it was completely different having to write and speak for minutes on end. It took a lot of reading, and help from friends, family, and amazing mentors. I also had to overcome my fear of being on camera. You would've thought I would've chosen a different career with how shy I was!
What does the future for Latinos look like?
I believe that Latinos will be spearheading this country in the very near future. We're a community with the drive and the will to succeed in anything.
What is one question you wish we would have asked you?
What are your hobbies? I love to dance. I danced Colombian folklore for 13 years. I don't have time to do it anymore, but I still get out to exercise my dance moves! I also love hanging out with my dog Gordo, who's also Colombian.
What advice would you give a 16 year-old version of yourself?
I would tell myself that it's never too early to begin exploring career opportunities.
Name the top three people you admire and why
There is no other person that I admire in this world as much as my mother. Well, my whole family really. I was the first to be born in the U.S. in my family that migrated here in the 80's. My father worked on the farms, while my mother worked cleaning offices. Finally, they were able to open up a restaurant that ended up opening the doors for my siblings and I to get an education. They are the hardest-working people I know.
What are the words you live by?
"Reach for the moon... Even if you miss, you'll land among the stars." My mom has always recited this quote, and it always stuck. Don't ever be afraid to dream big.
Share three (personal or professional) items from your bucket list.
Travel the world producing my own show. Be an anchor on CNN. Cuddle with a Lion.