Long before Mamma Mia! and Jersey Boys gained fame as "jukebox musicals," the great John Gielgud was offering his own version of an evening in the theater comprised of "greatest hits." An accomplished classical actor, his one-man show entitled Ages of Man featured Shakespeare's greatest speeches arranged in the order of a man's life (from youth to adulthood and, eventually, old age). Today, as I celebrate my 65th birthday, it's worth revisiting some of the wit and wisdom of William Shakespeare.
From adolescence to the final stages of life, three new films focus their attention on a character's sense of identity in startling new ways. While each has its unique moments of despair, a ribald sense of optimism courses through each filmmaking effort. It's too bad these films have such limited potential for distribution. My hope is that each finds a wider audience.
The San Francisco Jewish Film Festival is presenting the Northern California premiere of My Dad Is Baryshnikov. Written and directed by Dmitry Povolotsky, this comedy will be of special interest to ballet fans.
Set in the Bolshoi Ballet Academy in 1986, the film revolves around scrawny young Borya Fishkin (Dmitry Vyskubenko), a day-dreaming no-goodnik who, although he can barely lift an aspiring ballerina, knows how to milk a bow with such grand balletic affectation that the Queen of Spain laughs out loud at his antics and tells Fishkin's horrified school principal that the boy deserves to dance with the Bolshoi!
When Borya develops a crush on an aspiring ballerina he tries to woo her with assurances that he can get her some American jeans. However, the school's headmistress has assured students that perestroika does not -- and never will -- exist at the Bolshoi Ballet Academy and that they are expected to observe the school's strict traditions without fail.
Life is less than rosy outside of ballet class. As a budding young entrepreneur, Borya works with a friend who sells Soviet souvenirs on the black market to American tourists. With no father at home, Borya's mother is frequently sending her son to visit his grandparents so she can have the apartment free to entertain gentlemen callers.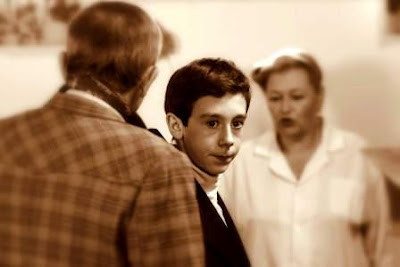 Dmitry Vyskubenko as Borya Fishkin
One day, as he passes a line of Russians waiting in line for food in the bitter cold, Borya spots a golden opportunity when he sees the back door to the butcher shop open. That night, he brings a rare treat to his delighted grandparents.
When Borya's mother produces a bootleg VHS tape showing Mikhail Baryshnikov dancing, Borya's black market friend tells his young accomplice that he looks exactly like the famous Russian defector (whose name must not be mentioned). The ballet student quickly begins to fantasize that Baryshnikov must be his real father and embraces this speculation as a sign that he, too, is destined to become a famous dancer.
Borya works his potential link to Baryshnikov for maximum effect, but soon gets into trouble with the ballet school's administration. Once he is kicked out of the Bolshoi Ballet Academy and his biological father returns home, Borya Fishkin's glory days are over. My Dad Is Baryshnikov is a delightfully subversive comedy set during a crucial period of transition in Russian history. Young Dmitry Vyskubenko shows great potential as a comic actor who will undoubtedly enjoy greater success in film than in ballet.
Those who remember 1988's Who Framed Roger Rabbit? will no doubt recall how deftly it mixed live action with animation (not to mention its shocking premise that cartoon characters have real lives offscreen). Here are Bob Hoskins and the legendary Stubby Kaye in two wonderful scenes from the film:
In a fascinating Spanish short entitled Unanimated, a cartoon character who feels as if he can't fit in with the "live action" world goes to therapy to address a curious personal problem. As filmmaker Emilio Marti Lopez explains:
I created Unanimated while in the Master of Artistic Production program of the Faculty of Fine Arts of Valencia, as part of a final project based on the theme Animation and Homosexuality. The goal of the project was to make an introductory theoretical investigation of the issue and to produce works of animation that illustrate this theme. The starting point was the intuition that the versatility that animation shows in many ways was not present when dealing with the sexual and emotional versatility that exists in our species. The relevance of this is magnified when bearing in mind that, although animation cannot be reduced to being child-oriented, the relationship between cartoons, children, and their education is undeniable.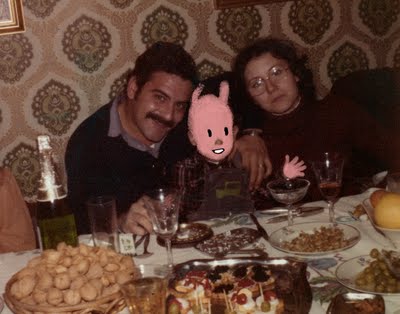 My friend and teacher during my studies in Fine Arts, Guillem Miquel, guided me as adviser of the project, helping me through my various short film scripts, suggesting works of other authors who could inspire me, and facilitating various aspects of the production. We discussed a lot about how to best represent homosexuality -- and all different sexualities -- in animation and were amazed at the limited animated production on the topic (even among the most independent character animation and art) given the infinite possibilities of the medium and the endless ways to narrate love. The ascertainment of the initial intuition was surprising but not shocking. I decided to leave out other potential issues and ways of telling about the 'gay experience' (the development of affection and sex different from the 'heterosexual norm') to focus my story on the relationship between the animated media itself and (homo-)sexuality. Unanimated is born of the relative lack of cartoons representing the LGBT experience in a dignified and realistic manner.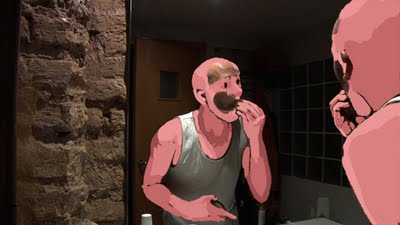 With a great deal of wit and charm, Lopez's short film does a beautiful job of upending the "coming out process" so that it becomes easier for a mass audience to understand while remaining quickly (and quite comically) recognizable to LGBT viewers. Here's the trailer:
Often, when viewing shorts programs at film festivals, one has to wade through a bunch of mediocre material to get to the gold. When the real thing fills the screen (a brilliant short with a message to share that absolutely demanded to be filmed), you can feel your heart leaping up with excitement and, in some cases, gratitude.
In a 24-minute short entitled Life As A Collage, a half dozen students in Washington, D.C. worked with a beloved long-time volunteer in the final stages of his life. As the film's student director, Forrest Penrod, explains:
The film is our attempt to give a local collage artist and teacher, Tim Gabel, a last chance to speak words of wisdom as he struggled with terminal liver cancer in 2011. In Life As A Collage, as part of a documentary production class, youth from the Sitar Arts Center interviewed and documented Tim's reflections and worldview during the last stages of his life. Throughout production all of the crew, most of us in high school (though our youngest team member was nine years old), came to know Tim and, for some, became quite close to him. Midway into filming, however, Tim succumbed to his cancer, something that all of us on the crew dealt with head-on. For some, this was their first experience with death. For others, they had lost family and friends and the process of telling Tim's story helped them heal from past experiences. Everyone involved in the making of the film came to terms with the fact that the person we had come to know so closely had passed away. Our feelings about Tim's death became a core theme in the film, primarily expressed through my voiceover as the film's director.
The documentary started as a class at Sitar Arts Center in collaboration with Meridian Hill Pictures to teach students documentary filmmaking. As we decided to explore Tim and his life through making the film, the class became something much different. Not only did we learn about the technical aspects of making a documentary, we grew emotionally through the experience. As much as we learned about art and life from Tim, we also learned how to deal with death and how to use art, specifically documentary filmmaking, to help navigate challenging life circumstances. We met Tim's family and friends, students and co-workers. As students, we learned how to feel new emotions. But most importantly, we learned that even though death is the end of life as we know it, it does not mean that it's the end of the story. Tim reached so many people that he will continually be remembered and his legacy will live on. Now that you will be watching our film, you too are a part of that legacy.
This film is a remarkably mature and unflinching piece of work for such a young group of aspiring filmmakers. It gives viewers some astonishing new perspectives on how art plays a role in our daily lives. To watch a slideshow of the students making Life As A Collage, click here.
Calling all HuffPost superfans!
Sign up for membership to become a founding member and help shape HuffPost's next chapter