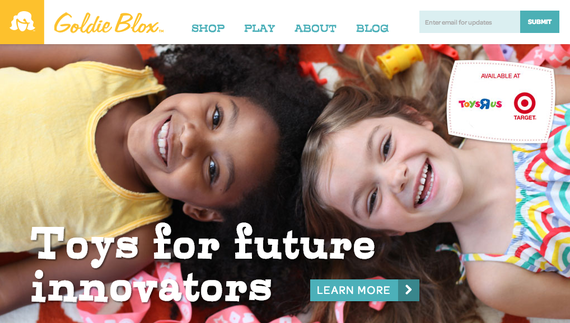 Millions of people tune into the Super Bowl every year to watch the big game - but also to see the specially crafted Super Bowl commercials.
This year, one of those ads was from GoldieBlox - a company that creates engineering toys specifically designed for girls, and sells them on their Shopify store.
Their commercial aired in the third quarter of the game, and led to an 18,000 percent increase in traffic to their website immediately after.
In November, GoldieBlox also released a video showing three playful young girls setting up an elaborate Mouse Trap-style apparatus to the tune of the Beastie Boys' classic hit, Girls.
In under a week, the video garnered more than six million views on Youtube.
GoldieBlox won Shopify's Build A Business competition in 2013 for the category of Design, Art & Home, securing the tutelage of entrepreneur and mentor Tina Roth Eisenberg as well as a $50,000 investment.
We recently chatted with Debbie Sterling, CEO of GoldieBlox, to chat about their Super Bowl ad slot and what it meant for their business.
Q: What did it feel like when you found out you'd won the Super Bowl ad slot?
A: We were absolutely blown away when we found out we had won Intuit's Small Business Big Game competition. The chance to spread our message and empower girls before one of the largest national audiences was beyond our wildest dreams.
Q: How did you prepare for the lead-up to the SuperBowl commercial?
A: Leading into the big game, we knew there was going to be a ton of demand for GoldieBlox so we did everything we could to ensure fulfillment would run as smoothly as possible. We ramped up production and enlisted the help of our partners (including Shopify) in order to provide the best customer service possible.
Q: Where did you watch the Super Bowl?
A: Intuit hosted a beautiful viewing party for all four finalists of the competition at the Gramercy Park Hotel in New York; the Super Bowl host city!
Q: Explain the feeling and atmosphere when you saw the ad go live.
A: Our entire team literally threw our hands in the air when we saw our commercial on the big game. It was thrilling to think about how many eyes were watching us at that moment and how many new people were tuning in to the GoldieBlox mission. Everyone was overwhelmed with joy and there wasn't a dry eye in the house. I still get chills thinking about it.
Q: How did Shopify handle the resulting traffic on your website?
A: Shopify did an amazing job working with us to make sure everything went smoothly on the big day. As a result, our commercial aired, traffic soared, and everything went off without a hitch. We couldn't be happier with how Shopify handled everything.
Q: What role do you feel Shopify played in the establishment of your brand?
A: I was thrilled to be paired with Tina Roth Eisenberg, founder of Swissmiss (a popular design blog and studio), during my time in the Shopify Build A Business competition. Tina taught me so much about running a business. She helped me strategize and, most importantly, prioritize. As business developed rapidly, I sought her guidance to sift through all of the opportunities and stay focused. Tina also reminded me to pause and reflect upon our successes, and celebrate the moment at times when I felt the most overwhelmed.
Q: What are the biggest lessons you learned after producing a commercial for such a lucrative time slot?
A: We are still incredibly thankful for what winning the Intuit competition did for our business. We're continuing to act like a sponge, absorbing any bit of feedback we can in order to grow our company and improve our product. We hope an even broader audience will be excited by our commercial and will join our movement to encourage the next generation of future innovators.
Q: What can we expect to see next from GoldieBlox?
A: We recently launched our third toy, GoldieBlox and the Dunk Tank, which is available in Target stores nationwide. As for the year ahead, we'll be introducing a whole lot of new... everything! From new colors to textures, characters and engineering concepts, GoldieBlox is poised to continue disrupting the pink aisle until we've put a tool belt on every princess!
Take a look at the GoldieBlox commercial that aired during the Super Bowl: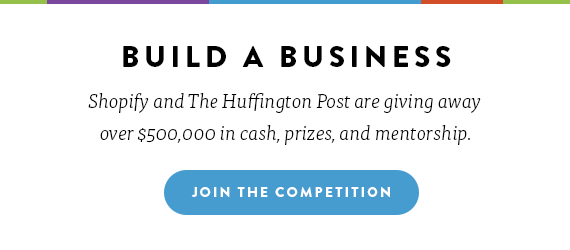 This year, Shopify's Build A Business Competition is bigger than ever. Shopify is giving away more than $500,000 in cash, prizes and mentorship in its fourth annual competition. Contestants create a store and try to sell the most in their category for a chance to win $50,000 and a VIP trip to NYC to meet their mentor.