U.S. President Elect Donald Trump came in to the Presidential race as an underdog, but came out on top. Hillary Clinton won the popular vote by a small margin, but Trump had a massive lead on Clinton in the electoral votes. In the end, Trump had 279 electoral votes versus Hillary Clinton's 218, and he only needed 270 to win.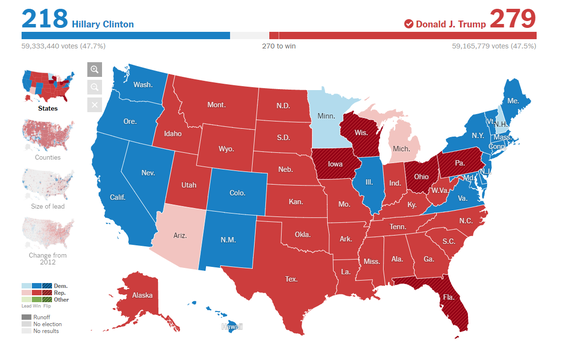 Now, when Trump was taking the lead, the overnight futures market went into panic mode, not knowing what's in store for the U.S. The S&P 500 and Dow Jones Industrial Average futures were down over 4 percent at one point overnight on November 8, 2016. The Nikkei 225 closed down over 5 percent and the Hang Seng Index closed down 2.16 percent.
After the market opened, market participants were able to digest the U.S. Presidential election results and buyers stepped in. Despite the S&P 500 futures being down over 4 percent at one point while electoral votes were being tallied, the futures rebounded and the SPDR S&P 500 ETF (NYSEARCA: SPY) opened up down only 0.81 percent on November 9, 2016. By 10:35 AM ET, the SPDR S&P 500 ETF was down less than 0.50 percent. Additionally, the SPDR Dow Jones Industrial Average ETF (NYSEARCA: DIA) was down only 0.15 percent at 10:35 AM ET. The markets ended up higher by over 1 percent across the board after the election, a welcoming surprise for the economy.
Despite Trump being largely unpopular with many Americans and the media, the markets are taking this news quite well. There are some sectors that should thrive under Trump's presidency, which include the biotechnology and pharmaceuticals industries, as well as the precious metals industry over the short term. However, Mexico-related companies and renewable energy companies should see weakness under Trump's presidency.
Biotechnology and Pharmaceuticals Industry
Prior to the election, Hillary Clinton was against price gouging in the biotech and pharma industry, which added a high degree of volatility to some big names in the industries. The iShares Nasdaq Biotechnology ETF (NASDAQ: IBB) tracks biotechnology and pharmaceutical equity securities listed on the NASDAQ, and it was down over 20 percent over the past year as of October 31, 2016.
The news of Trump securing the U.S. Presidential candidacy was great for the biotech and pharma industry. If you recall, in 2015,Clinton tweeted about reforming the industry after Martin Shkreli raised the price of Daraprim from $13.50 per pill to $750 per pill. Additionally, she tweeted about Mylan raising the price of its two-pack EpiPen to over $600. Now, these companies don't have to worry as much about the price gouging scrutiny that would have stemmed from a Clinton presidency.
The iShares Nasdaq Biotech ETF was up over 7 percent by 11:00 AM ET. The strong upside move was led by IBB's largest holdings, Celgene Corporation (NASDAQ: CELG), Biogen Inc. (NASDAQ: BIIB) and Gilead Science Inc. (NASDAQ: GILD). Celgene was up over 8 percent, Biogen over 6 percent and Gild nearly 6 percent at 11:00 AM ET. Some may call this a positive black swan event for the biotech and pharma industry.
Precious metals are usually a good hedge for political risk. With Trump as the U.S. President elect, market participants may be looking to the precious metals industry to hedge some of the risk associated with his candidacy. The SPDR Gold Shares (NYSEARCA: GLD) opened up over 2 percent higher the day after the election, and investors could be piling into gold-related companies. Some ETFs and names to keep an eye on are: GLD, VanEck Vectors Gold Miners ETF (NYSEARCA: GDX) and VanEck Vectors Junior Gold Miners ETF (NYSEARCA: GDXJ). Additionally, you may want to keep Barrick Gold Corporation (NYSE: ABX), Newmont Mining Corporation (NYSE: NEM) and Newcrest Mining Limited.
Trump poses large risk to Mexico, after the comments he made leading up until the election. He's now the U.S. President elect, and Mexico-related ETFs and the Mexican peso will see weakness. USD/MXN spiked up over 13 percent at one point on November 9, 2016, but gave back some of its gains and remained up just over 8 percent by 11:00 AM ET. One of the largest ETFs tracking Mexican stocks, the iShares MSCI Mexico-Capped ETF (NYSEARCA: EWW) was down over 9 percent due to the news that Trump will be the next U.S. president. EWW aims to track MSCI Mexico IMI 25/50, an index composed of Mexican stocks. Trump's proposed policies on trade and immigration, in relation to Mexico, are severe risks to Mexico's economy, which could send EWW lower. By the end of trading, EWW was down over 8 percent.
Trump's view of global warming as a hoax will hit the renewable energy market and cause those stocks to fall. Saying global warming is a hoax is one of Trump's most senseless comments, and now that he took the win from Clinton, climate change could be put on the backburner of issues to be taken care of. With this thinking, money will flow out from renewable energy companies, a negative for the global climate.
The Guggenheim Solar ETF (NYSEARCA: TAN) tracks the MAC Global Solar Energy Index and invests in stocks of large solar companies, such as SolarCity, First Solar, Canadian Solar and Trina Solar. Trump's presidency will reduce innovation in this industry, leading to negative effects on climate. The Guggenheim Solar ETF was down over 5 percent due to Trump's noxious view on global warming.
The banking sector remained strong due to the implications of a Trump presidency. Banks surged higher after the results because Trump may reduce regulations in the industry. Trump's presidency is thought to be more business-friendly, which is a plus for the financial services industry. Banks have been largely vilified since the global financial crisis, and Trump's presidency could breathe new life into this industry as it hits multi-year highs. The iShares U.S. Financials ETF (NYSEARCA: IYF) is an exchange-traded fund that invests in some of the world's largest financial services companies, such as Berkshire Hathaway, JPMorgan Chase, Wells Fargo, Bank of America and Citigroup. The iShares U.S. Financials ETF gained over 2 percent due to Trump's business-friendly nature.
We still don't know what Trump will do until he does it. His comments have been filled with false promises, and he may not follow through with everything he said he will do. For now, Trump's candidacy is good news for some industries, but bad news for others. Specifically, the biotech and pharmaceuticals industries are poised to rebound now that there's no risk of Clinton changing regulations for the industry. Moreover, the precious metals industry could thrive depending on the political risk that Trump may add. Financial services companies benefit from a Trump candidacy since he could reduce regulations.
However, Mexican stocks should see weakness, and there could be short opportunities in EWW and other Mexican-related stocks. Trump's presidency is bad for companies aiming to fight global warming, particularly solar ETFs.
Calling all HuffPost superfans!
Sign up for membership to become a founding member and help shape HuffPost's next chapter