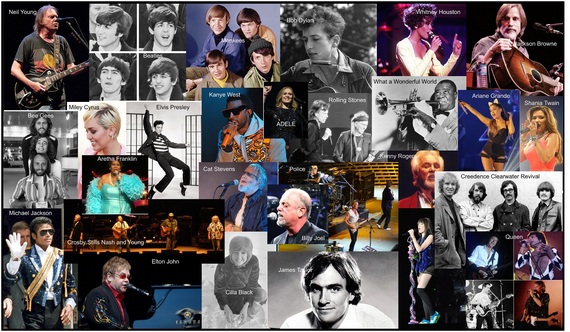 The 1st round of the 59th Annual Grammy Awards is now over. For Grammy members who have had their latest albums submitted for an Award, the nail biting begins. Members from around the world have filled in their official ballots with their choices and now will have to wait patiently until early December to find out whether their picks have been chosen for a coveted Grammy Nomination. All of us know the odds, but we spend our time (in spite of the long odds) writing and producing albums, not so much for the glory of winning but more because of our deep abiding passion for music. So sit back while you wait and enjoy a tale of passion and intrigue.
"Music is a moral law. It gives soul to the universe, wings to the mind, and flight to the imagination." Plato
A great song can't be written One Moment In Time. It's always about Respect and with patience I could become a Party Rock Anthem It's important to understand How I Live, when I've Got A Feeling that just won't quit, especially when things turn Physical. You see...when I look into your eyes I realize that You Light Up My Life, you're My Girl, my sweet little Doo Wah Diddy Diddy because I can't Imagine life without you. I've been Running On Empty for so long now that without question We Belong Together. You're my Uptown Funk baby my little Ruby Tuesday. You'll never Unbreak My Heart, oh you with those Betty Davis Eyes.You're my sweet lovin' Dock of the Bay, My Girl, but God Only Knows, that When a Man Loves a Woman There Ain't No Mountain High Enough, but baby You Are the Sunshine of My Life, my True Colors so I Say a Little Prayer. for you ...Sadly though........the harder I tried, the more I realized. Our love was dead.
Life went back to normal, and became an American Pie moment. I started to write again, at first depressing poems about lost love but finally coming to a point of being proud of my work again. I wrote a new song that was (little did I know it at the time) going to change my life. I spent All Night Long writing it and knew...yes I really knew that this song was THE one. OH BABY BABY It's a Wild World and then I realized that We Will Rock You, because as the great poet Wordsworth once said, She's Only a Woman To Me. I was drawn to a frenetic emotion...... slipping away, wanting as always to Keep On Rocking in the Free World, but then with out warning I bounced back and suddenly was singing You Raise Me Up. Wow...it truly is a Wonderful World
Good luck dear GRAMMY friends and colleagues. May your songs be great, your dreams come true, and your passions remain strong. One of the songs we mentioned in our little story will hopefully bear your name one day. Keep writing, keep dreaming. Music Matters.
Calling all HuffPost superfans!
Sign up for membership to become a founding member and help shape HuffPost's next chapter