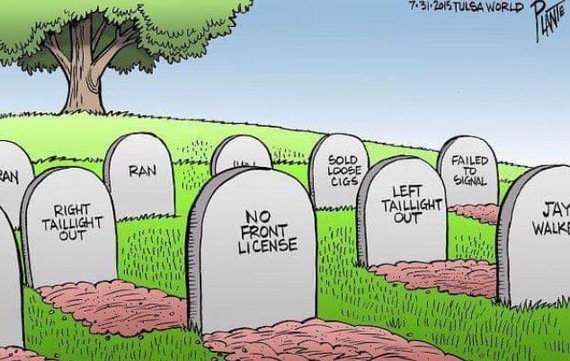 To the misguided black folks, who use legalized murder of black men as an opportunity to publicly chastise the black community, shame on you! Valid concerns or not, the timing of your crusade will never be appropriate. It's akin to a pastor lecturing gang members during a eulogy of a lost member. Funerals are not the time for crisis intervention. Nor are racist murders of black men the time for black-on-black crime debates. It's disrespectful to the deceased. Furthermore, it only functions as a way to silence our voice and shift the narrative. This tactic has often been deployed in the face of black brutality. Prior to the 1950s, the majority of violent crimes in the black community were hate crimes perpetrated by white men--sometimes arriving by police escort. The term black-on-black crime was popularized by the white mainstream media to divert attention from the root problem and place blacks under the microscope to be scrutinized. The term white-on-white crime is never used, despite 82 percent of all murders of white people are by another white person, per FBI statistics [1].
For racist white supremacist and police sympathizers, black-on-black crime rhetoric is simply a defense mechanism. However, it's beyond comprehension why you help perpetrate this blatant bait and switch. No matter how many times people attempt to draw the false equivalence, blacks killing blacks and white police killing blacks will never be the same. They are in fact apples to oranges. For one, black men who commit murder go to jail (Black men who fight dogs go to jail. Black men who are behind on child support go to jail. Black men who jaywalk go to jail). Secondly, police officers are sworn in, under oath, to protect and serve the public. With that, they operate under impunity that protects their actions on duty. White officers suspected to have used unlawful deadly force are rarely indicted, let alone found guilty. The only characteristic blacks killing blacks and white police killing blacks have in common is oppression. Black communities turn violent out of a sense of hopelessness and desperation; white police turn violent towards black men out of a sense of power and denigration--both byproducts of black oppression.
America's dark history caused black oppression, but it's America's dark present that's perpetuating it--the deep rooted institutionalized racism that fortifies the underbelly of this nation. To be clear, us, black folks, who are furious, are not waging war with police. We wrestle not against law enforcement, but systemic persecution, against powers, against the rulers of the darkness of this country, against spiritual wickedness in high places. Those are the catalysts that enable lawful police brutality against black people. As callous as the murders are, it's the burden of a biased justice system that produces the most pain. The outrage displayed by us, in the wake of these tragedies, is not isolated to one incident or another. This anger has been years in the making. What you're witnessing is the rage, frustration and long suffering of a down pressed people, not the hypocrisy of a community saturated in blood that screams foul play when more blood splatters.
Black men (boys) are being lawfully executed at an alarming rate. There is no time for dissension within the community. We have enough attacks from the outside. The last thing we need is friendly fire. We need unity. There is no sugarcoating the uphill battle we have in our own communities. But contrary to popular belief, there are many individuals and organizations working tirelessly, on a daily basis, to combat the problems. You'll never know the half of it, because the media is not interested. They'd rather continuously loop images of a white officer blasting holes through a black man's chest for ratings. Sadly, the exploitation of black folks extends postmortem. While I appreciate your sincere concern for the community, don't aid and abet a criminal. Every time you speak out in opposition, you're shifting the focus. You're muddying the waters, and indirectly condoning the persecution of fellow blacks. Ask yourself, if it was your loved one on the other end of a police firearm, would you fight for justice or fight black-on-black crime?
Popular in the Community