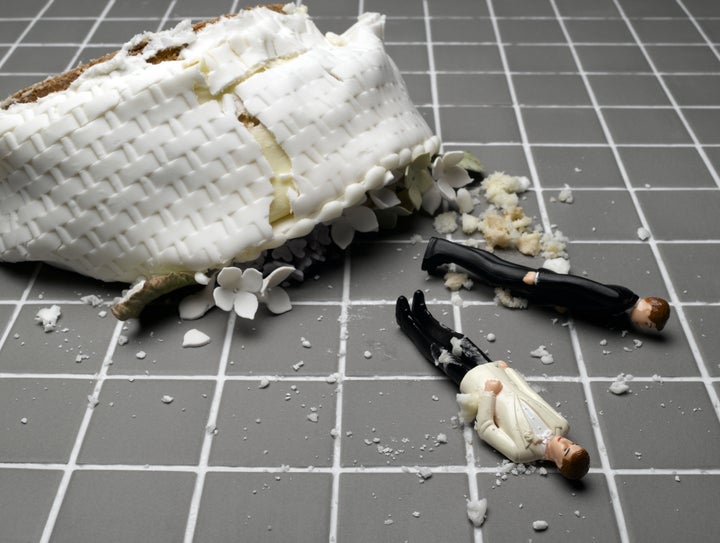 The media has been increasingly focused on the legal circumstances of same-sex marriage while overlooking the even more complex situation of same-sex divorce.
Counting the number of same-sex couples is difficult, but trying to count the number of dissolutions is even more difficult. The best report with the most current data was developed by Gates, Badgett and Ho in 2008, in which they report that about 2 percent of same-sex couples dissolve their marriages and/or unions on an annual basis. This is similar to the rate of divorce among opposite-sex couples.
The scientists begin their review by reminding us that "pathways to dissolution for same-sex couples depend on the point of relationship entry," and at present, this depends on where the couple lives. Couples may marry in some states, form legal unions in other states and form other partnerships in a few other states. In many states, there are no legal ways to form these unions. Since the legal circumstances of same sex couples vary by state, it comes as no surprise that the legal, and ultimately the personal, pathways through these systems for couples varies widely.
Many of the factors that contribute to the dissolution of opposite-sex relationships seem to operate in same-sex relationships. In studies completed in the 1990s, same-sex couples dissolved their relationships for reasons that seem similar to opposite-sex couples, including nonresponsiveness, substance abuse and sexual issues. Likewise, they reported a range of emotional reactions -- both positive and negative. The one area in which there seems to be differences between same- and opposite-sex couples is in negotiating infidelity. Eeden-Moorefield and colleagues conclude, "romantic affairs outside of the primary relationship seem to constitute infidelity in same-sex as well as heterosexual couples, having sex outside of the relationship is not considered a breach of trust by all couples." Same-sex couples, particularly gay couples, are more likely to negotiate sex outside of the relationship and in many cases, this does not seem to be destabilizing to the relationship.
One of the key challenges for same-sex couples is managing the pressure created by the stigma against homosexuality. Those couples that have similar feelings about their identity are more likely to report higher satisfaction with their relationships.
The scientists also summarize the legal challenges faced by couples seeking to end their relationships, noting that the laws formalizing same-sex relationships "complicate situations for couples who decide to dissolve their relationship." The complications and confusions around handling assets and custody of children can be especially stressful and troubling to couples. Colleen Ramais provides an analysis of these legal difficulties in an article in the Illinois Law Review that suggests some legal methods that states could use to resolve these challenges even without recognizing or legalizing same-sex marriages. These policy options would benefit couples and their children.
The scientists conclude their review by reminding us that understanding same-sex relationships will require us to look more carefully at gay and lesbian couples directly and not compare them to opposite-sex couples. In short, they need to be understood on their own terms. Likewise, the context of same-sex marriage continues to change. Although fundamental relationship processes within couples are unlikely to change, the increased acceptance and legalization of same-sex marriage will alter the pressures on these couples and create a more supportive community for these couples. This will undoubtedly provide more support for these couples.