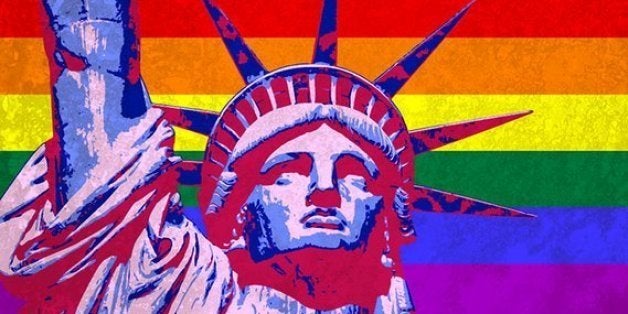 A line in a recent Christian Science Monitor article asks, "Are children fleeing Central American violence refugees who need asylum or illegal gold-diggers who need to go home?"
Politicians, talking heads, policymakers, and those of us interested in immigration have been transfixed by the surge of unaccompanied minors at our southern border. Whether these children are refugees worthy of asylum will eventually be determined by immigration courts, if and when their cases finally get there.
Another group fleeing violence but not getting as much press -- if any at all -- are lesbian, gay, bisexual, and transgender (LGBT) refugees. In a report prepared for the U.S. Department of Health and Human Services' Office for Refugee Resettlement (ORR), the Heartland Alliance estimates that around 3,500 LGBT refugees arrive in the country annually. Another 1,250 are granted asylum every year.
Arriving in small numbers, they tend to fly under the public's radar. Some also choose to remain in the shadows, due in part to the conservatism of their own ethnic communities. LGBT refugees might enjoy more freedoms here, but they often live among fellow immigrants, who tend to be more socially and religiously conservative than native-born Americans.
Queer women and men flee their homelands because of the oppression they suffer based on their sexual orientation or gender identity. They are routinely subject to human rights abuses, including sexual assault and corrective rape, physical violence, torture, imprisonment, and murder. In Iran, Mauritania, Saudi Arabia, Sudan, Yemen, and parts of Nigeria and Somalia, people can be put to death for same-sex conduct. In an additional 76 countries, LGBTs can be imprisoned for living openly. While gay and transgender people are still subject to discrimination in some parts of the United States, their rights are generally and increasingly protected.
In a post for Urban Institute's MetroTrends Blog, I discussed the crucial role immigrant organizations play in the lives of immigrants. These community-based nonprofits are community centers, social service providers, advocates, and network builders. They prop up the immigrant safety net. However, there are not enough to serve the needs of immigrant communities.
There are far fewer organizations for refugees. In 2012, over 58,179 refugees were admitted into the country and 29,484 individuals were granted asylum. A quick search on the National Center for Charitable Statistics database reveals a mere 128 community-based organizations dedicated to refugee relief.
Aside from limited capacities, these organizations are rarely equipped to deal with the housing, employment, medical, mental health, safety, and legal needs of LGBT refugees. While gay and transgender refugees avail of the same services as other refugees, they benefit from a sensitivity resulting from an awareness of queer concerns and realities. In 2011, ORR Director Eskinder Negash expressed concern for the lack of resource materials tailored for LGBT refugees, which are critical to their successful resettlement and integration: "The current resettlement network has limited understanding of the LGBT community."
A lot of work is left to be done, from advancing international and domestic policies protecting queer refugees to increasing the number and capacities of refugee relief and resettlement organizations. But it all begins with education and storytelling. A trickle of LGBT refugees, however, simply isn't as compelling as a tsunami of undocumented child migrants.
Popular in the Community