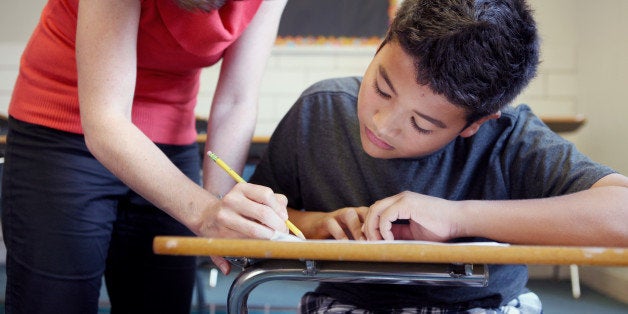 Based on last year in District 15, where we live in Brooklyn, one of two things will happen. My kid will be "matched" with one of six schools we listed on the application form or he will be "matched" with a school we aren't interested in. Either way, there will disappointment, anger and an appeals process. Maybe not for him, but for a friend, neighbor or classmate.
With no zoned middle schools in a large district and a complex algorithm for matching kids to schools - which includes parents ranking schools and schools ranking kids - the DOE will assign some students to schools not of their choosing. Across the river in Manhattan, the policy is different. In District 2 for example, students who live in the zone for Simon Baruch Middle School, are guaranteed a seat there.
No such guarantee exists in our district, which stretches from Cobble Hill to Sunset Park. Same city, same Department of Education, different policy. This is only one of the many problems with the middle school process in New York City.
With the Notification Letter coming home any day now, way I'm reflecting on this past year of navigating the middle school process in our family.
SPRING 2014. My son is almost done with 4th grade. Since the beginning of the year, the school's Parent Coordinator told parents there is nothing to do in preparation for the middle school process this year, except to keep grades up and watch absences and tardiness. Attendance is a big factor for middle schools. This is not the year to take an extra week in Disney World or France. She says the middle school process begins next year - even though some 4th grade parents are already going on tours. A friend with a 5th grader tells me, "Gear up for next year, it's quite a ride". My son asks me, "What does it mean when people say, a good middle school?"
SEPTEMBER 2014. 5th grade is underway and middle school is the main topic of conversation among parents. Worrying seems to be an Olympic sport but I'm trying not to compete. I tell myself, "My kid is a good student, he'll be fine". But he also talks too much in class and is among the youngest in the grade. Last year a girl in our building wasn't fine. She was matched with a school on the State Education Department's list of failing schools -- a school they didn't tour or list on the application. The family went through a rough few months of appeals, anxiety, and a costly, non-refundable deposit on private school. In mid-July she got a seat at a school she ranked on her application.
OCTOBER 2014. Tour season. Even signing up for the slots online is competitive. If I don't log on as soon as the dates come available I won't get one. At least I have computer access all day. What about parents who work in hospitals, schools and on construction sites that can't log on the minute the tour dates go live? Or those without computer access at all? The process is unfair in many ways, this is just one. The system at New Voices in South Park Slope is refreshingly old school. All I do is call, request a tour and they call back with a date. I went to see five schools. One friend toured 13 middle schools. One mom told me, "These tours are killing me, if I get to work one more time at 11 a.m., I literally think I'm going to lose my job."
NOVEMBER 2014. Remember Senior Spring? When you didn't care much about grades or homework because you were graduating and already got into college? My son, not even 10 years old has figured out this concept, "so Mom, now that reports cards are done, school doesn't really matter, right? Middle schools only care about the first marking period."
DECEMBER 2014. Things are quiet. We handed in our application, which is not really an application. It's a pre-populated form with my kids' name, address, attendance record and Math/ELA test scores. There is a space for teachers to add information on general academic achievement, work habits and behavior. The only thing parents do is rank the schools pre-printed on the back of the form. It's done and I feel good about our choices. I know it's better not to talk about it around my child, but I still do. He hears me on the subway asking a neighbor, "What middle school do you go to? Do you like it?"
JANUARY 2015. It's 7:20 a.m. on a Saturday. Bitter, freezing cold. My son, his friend and I are in a taxi going to Coney Island for the Mark Twain test. This is a Gifted and Talented school that anyone in the city can apply to if they test or audition in math, science, music, art, writing or athletics. The auditorium is a scene, packed with families -- lots of younger siblings, some asleep in strollers or in their parent's arms. I hear English, Mandarin, Spanish, French and Arabic spoken. All kinds of outfits and styles. The room becomes pretty quiet once the kids go into their testing rooms. Some folks talk, many are on their devices killing time - their kids will be gone for up to four hours in two testing subjects. I get a coffee and read my book. I look around and see a few people I recognize, but I'm not in a chatty mood. I see a woman speaking Russian into an iPhone with pink rhinestones on the cover. I look for the $400 fur-lined clog boots that are all over Brownstone Brooklyn, but don't see any. In the bathroom, I hear a girl hunched over a toilet dry heaving. The mom says, "I don't think you're going to throw up. Your stomach is just in knots. Lets go to the car."
FEBRUARY 2015. My father asks when we will know about middle school. My own parents went through the same public school system I did outside Boston. We had eight K-8th grade neighborhood schools that fed into one big high school. No middle school match process. But it was a suburb close to a city, not the largest public school system in the country. There is no way to compare. He says, "I'm not worried, if you're not worried". But I know he's a little worried, because I am too.
MARCH 2015. Something called the New Middle School Application is due. It's optional and gives my kid the opportunity for an additional "match". I don't want to deal with it, but can't hurt so I fill it out. I ask my son if he's heard about the two new options, "Mom, no one is even talking about middle school anymore. That's over."
APRIL 2015. I'm following a conversation online among Brooklyn parents on how to navigate the appeals process. At first it seems pre-mature, but then I realize people are just getting prepared. Last year there were so many stories of disappointment and anger about the process. One parent whose kids got a "bad match" explains that the appeals process worked for many families, but others moved to the suburbs, District 2 or out of state. Some scrambled for seats in parochial schools and took out loans for private school or homeschooled. Her twins weren't placed in a school they were satisfied with until the end of September.
TODAY: Here we are. The DOE website says Notification Letters will be sent this week. Soon it will all be over. Or just starting, depending what the letter says.
Calling all HuffPost superfans!
Sign up for membership to become a founding member and help shape HuffPost's next chapter