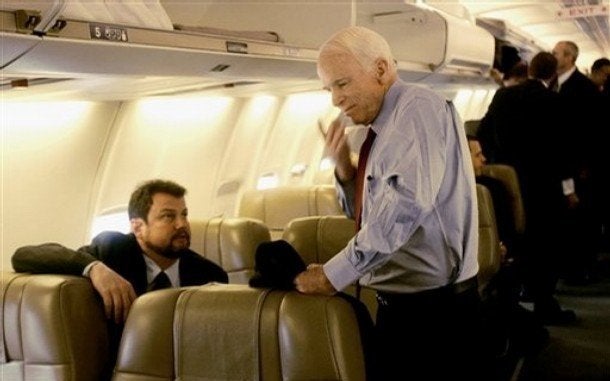 In the wake of John McCain's forceful rebuke of Russia for sending invading forces into Georgia, scrutiny has been placed on the role McCain's chief foreign policy guru, Randy Scheunemann, played lobbying on behalf of the former Soviet country.
Asked whether Scheunemann's financial ties have influenced his hard anti-Russian stance, McCain deployed a curious form of political self-defense. I am pleased, he told USA Today, to have friends "who also believe in freedom and democracy." Earlier, McCain spokeswoman Nichole Wallace took an even more grandiose approach, declaring of Scheunemann: "We're proud of anyone who has worked on the side of angels in fledgling democracies."
The defense, as Jonathan Martin wrote for Politico, amounts to: "He was supporting the good guys." And while, in this instance, McCain may on the side of public opinion, such a line of defense puts his campaign in a tough spot when it comes to the lobbying work of other aides and campaign financiers. After all, if it's acceptable for Scheunemann to represent Georgia because Georgia is "the side of angels," it would seem that by McCain's own standards, the Senator frowns upon the work his associates have done on behalf of Russia or major Russian institutions.
According to lobbying records, several of McCain's top strategists and fundraisers have been paid good money to advance Russian interests in the United States. For instance, The Washington Group, a firm that employees several associates of the Arizona Senator, has lobbied the United States Congress on behalf of Russia through a subcontractor called Integrated Solutions Group.
Susan Molinari, a former New York Congresswoman who serves on the Women For McCain Steering Committee, is the Chairman and CEO of the firm. McCain's former economic adviser, Carlos Bonilla, is a lobbyist with them. So is Melissa Edwards, a big-time fundraiser for the presumptive Republican nominee. Indeed Edwards, according to a Department of Justice filing, traveled to Moscow for a U.S.-Russia Business Council meeting in October 2007. That trip was directed by the PR firm Ketchum, which owns The Washington Group.
The Washington Group is not the only lobbyist shop with McCain connections that has worked on behalf of Russian interests. In June, the New York Times reported that the firm owned by McCain campaign chief Rick Davis had worked to prop up Ukrainian politico Viktor Yanukovich, who was opposed by the Bush administration but backed by then Russian president Vladimir Putin. McCain's aides denied that Davis was involved on that issue, but the Times wrote that officials with the National Security Council went so far as to confront McCain about concern that Davis was undermining U.S. interests.
In June 2003, meanwhile, McCain campaign strategist Charlie Black's firm, BKSH, signed a contract to lobby on behalf of the Russian Information Agency (the state's major news vehicle) through Hannaford Enterprises, a public relations firm. Black personally signed the contract, which stated that BKHS would "provide HEI with counsel regarding RIGA's communications strategy relating to the United States Congress, the Executive branch of the U.S. government and U.S. political entities." The deal lasted half a year and earned BKHS $65,000.
Then there is Charles Ryan, the CEO of Deutsche Bank Russia. A member of the Senator's London Finance Committee, Ryan co-hosted a $25,000-per-head fundraiser with Cindy McCain in late June of this year. He is also a major backer of Vladimir Putin. In July 2006, Ryan penned an International Herald Tribune op-ed assuaging concerns over the then-prime minister. Years earlier, he said the Kremlin wasn't too powerful but rather too weak. When Putin left office, Ryan called him a patriot and said only minor changes were needed for the country.
To be sure, McCain has been a consistent, if not adamant, critic of Russia. And the work his advisers did on behalf of that country seemed to have little influence on him during the recent outbreak of hostilities in Georgia. But if McCain defends the work of Scheunemann by saying he was on the side of good, it would be nice to know his feelings about the lobbying done by aides on the other side of the fight.

The McCain campaign did not immediately return requests for comment.
Popular in the Community