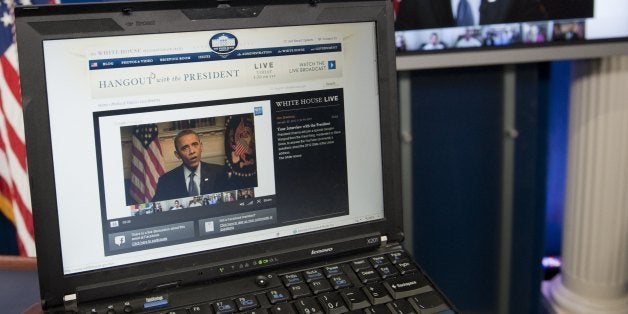 Ever since Harry Truman made the first televised presidential address in 1947, TV has been the White House's go-to medium for speaking to the American people, unparalleled in reach and credibility. But in the past few months, the Obama White House has forgone interviews with talking heads on traditional TV news networks in favor of digital-media organizations like Youtube, Vox, Buzzfeed and The Huffington Post. This represents a major shift in thinking.
With NewFronts on the horizon, these interviews with President Barack Obama confirm that media's center of gravity has shifted. In the past, TV news outlets counted on digital publishers to extend their reach by posting clips. But now, online publishers are landing their own exclusives, and material from these online interviews is finding its way onto TV rather than the reverse.
For politicians, the message is clear: making the rounds on the Sunday morning news programs is no longer good enough. The lesson is no less clear for advertisers who rely on the same eyeballs. The advertising industry should take this as a sign that online video is a worthy investment.
A year ago, Pew Research called news video on the web "a growing, if uncertain, part of news." Pew reported that 36 percent of U.S. adults were watching news videos online. The number is even higher among younger audiences: almost half of 18- to 29-year-olds and 30- to 49-year-olds watch online news videos. As the digital news audience grows, TV cable news channels geared at Millennials like Fusion and Pivot have struggled to find an audience.
The White House recognizes that digital platforms are undeniable in terms of reaching the influencers shaping the opinions of the next generation of Americans, even while some national advertisers are still reluctant. The President embraced digital media from the beginning; it was this digital savviness that helped Obama get elected in the first place, leaving opponents who've been slower to embrace technology in the dust. Tech site Mashable reported on the Obama campaign's digital initiatives in "The Digital Smackdown: Obama 2008 vs. Obama 2012." Some of the digital campaigns included disseminating 14.5 million hours of free video on YouTube, which would have cost $47 million on network television, and participating in a Reddit AMA (Ask Me Anything) thread, which 1.8 million people subscribed to. While Obama was making the rounds on YouTube, Vox, Buzzfeed and HuffPost, Lindsay Graham said on Meet The Press that he's never sent an email.
Perhaps the most valuable lesson national advertisers can take from Obama's digital marketing playbook is customization. Shrewdly, Obama didn't see his digital outreach simply as a means to gain incremental reach, but as a way to better communicate his message. He tailored his message to each publisher's audience, capitalizing on their unique brand voice.
YouTube, which is audience-driven in a way TV is not, enlisted three of its biggest stars for its Obama interview, proving that pitching social influencers online is as important as pitching TV outlets. Obama's interviewers each had very different followings. EcoGeek Hank Green covered drones, Green-lipped comedian Glozell Green talked about cutting her husband's hoodies off and teen queen Bethany Mota tackled college debt. The president was able to hone his message for each personality to connect more deeply their followers. In the interview, Obama himself commented on the importance of online video given that "more and more audiences are turned off by traditional news shows."
Vox used the properties of digital-media storytelling to relay Obama's message to its audience. While it's been a long-standing practice to adapt longer video into digestible clips online, Vox produced its interview with Obama as short clips from the get-go rather thinking about the tactic as a secondary dissemination strategy. The editors also included animated data visualizations in the clips highlighting the president's most important points. For example, as he speaks about why income inequality has skyrocketed, an animated line graph shows how corporate profits have risen even as wages have dropped over the last three decades.
My own employer, HuffPost, was able to leverage its global reach and range of expertise -- from politics to lifestyle (and everything in between) -- to conduct a wide-ranging interview with the President that could then be broken up and packaged for HuffPost's various communities around the world. Obama had the opportunity to cover the budget, Israel, race relations, college sports, being a father, and sleep --which he says he doesn't get enough of but he hopes he'll get in the "post-administration glow" -- all of which was promptly translated across 13 international editions.
I've been working with online video for digital campaigns since the launch of YouTube 10 years ago. Since then, I've seen online video go from being inferior to TV as a desirable media channel, to the shiny new object that everyone wanted to try in order innovate (or at least feign innovation,) and now, among younger audiences, a viable competitor in terms of audience. Obama's digital outreach marked the arrival of online video as a legitimate media channel for influence in politics. As we enter the 2015 NewFronts, I expect a similar awakening among advertisers.
Calling all HuffPost superfans!
Sign up for membership to become a founding member and help shape HuffPost's next chapter