As smartphones become more a part of our daily lives, many parents question how old their kids should be to have a device of their own.
At HuffPost Parents' How To Raise A Kid conference in Brooklyn on Friday, technology and children's media experts discussed what parents should consider before handing over a cellphone to their children.
While many apps have age requirements (for example, Facebook and Instagram are supposed to be for people 13 and up), there's no definitive answer for parents wondering when kids can handle the responsibility and the content that comes with having a personal smartphone.
Our panelists, however, did offer tips on how parents can make this decision at home a bit easier. Check out their advice below.
Jill Murphy, vice president and editor-in-chief at Common Sense Media, which provides reviews and information about family-friendly shows, movies and apps:
At the conference, Murphy noted that the team at Common Sense Media hears three popular concerns from caretakers: how much screen time should kids have, how to deal with YouTube and its content, and when kids should get a smartphone. She explained that different families will have different reasons for giving their kids phones.
"It really does depend on what's going on with your family," she said. "You may be a single parent and you work in the afternoon when your kid is getting out of school, or they're not in after-care and you like them to have a smartphone because that's how you guys connect in the afternoon so they can go home and you feel better about it. There are plenty of positive things that we have with this new technology."
Caretakers should keep in mind, though, that giving a phone to kids who are not emotionally or developmentally ready can create many challenges. Murphy suggested coming up with a family media plan or agreement (Common Sense offers them). Although a contract can seem "cheesy," she said, it's a helpful way for parents to establish any ground rules and how they expect their kids to behave with their phone online and off.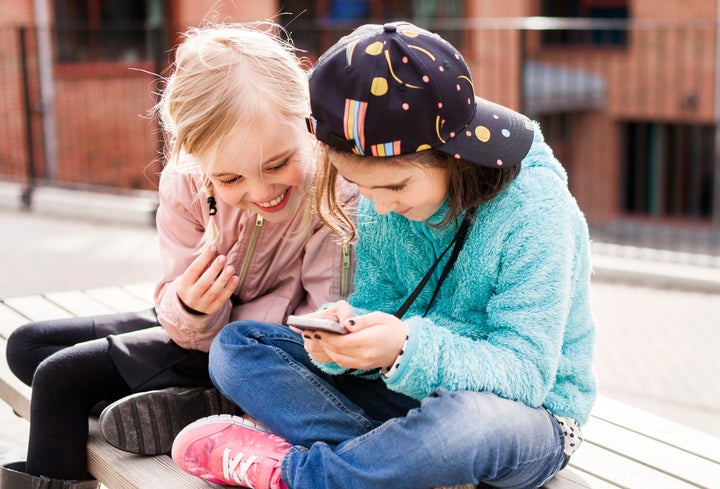 Nicole Dreiske, executive director of the International Children's Media Center and author of The Upside of Digital Devices: How to Make Your Child More Screen Smart, Literate, and Emotionally Intelligent:
Dreiske, who moderated the panel, also encouraged families to consider having a media agreement. Whether you create a plan yourself or turn to one available online, Dreiske stressed the importance of parents using "welcoming" language when discussing these agreements or talking to kids about their phones.
"We're already so emotionally worried about screens that often, the tone we use when we're talking to our kids about how they're using them is less than welcoming, and it does not invite them to confide in us," she said.
Dreiske told HuffPost she especially likes the tech contract from Janell Burley Hofmann, author of iRules: What Every Tech-Healthy Family Needs to Know about Selfies, Sexting, Gaming, and Growing Up. It includes her favorite guideline for kids with phones: "You are not a rude person; do not allow the iPhone to change that."
Sada Malladi, founder and CEO of Vimana, a system that helps parents manage what kids do online:
While discussing what smartphones and similar devices generally accomplish for people, Malladi offered three categories: education, entertainment and communication. For parents struggling to figure out when it's appropriate to get their child a phone, Malladi suggested that they use these categories and ask themselves, "What role do you want this device to play in the child's life?"
"If you ask that question, the answer will be right there for you," he said.
Titania Jordan, chief parenting officer of Bark.us, a parental control phone tracker:
Jordan made it clear that it's less about age and more about what works for your family, because "not every family dynamic is the same and not every child is the same."
"You have to really evaluate what is best for your family, for your family values and for your child's developmental health and needs," she said. "If your child is susceptible to anxiety and depression, really know how that's going to affect them to be looking at everybody's best lives, their filtered lives, and not necessarily seeing real life."
Jordan also stressed the importance of parents modeling the behavior they want their kids to mirror when it comes to their phones.
"If I'm talking to my child from behind a smartphone, that's a lot different than face-to-face and turning it off and putting it on silent at the dinner table and drawing a really firm line in the sand," she said.
While all the information surrounding screen time and smartphones can be overwhelming, Jordan reminded the conference audience that parents today must be open to talking about this relatively new topic without the fear of being judged.
"We are the first generation of parents in the history of parenting, in the history of the world, that is ever having to deal with this," Jordan said. "We are writing the guides as we go. We don't know what we're doing, we're just trying to figure it out."
Before You Go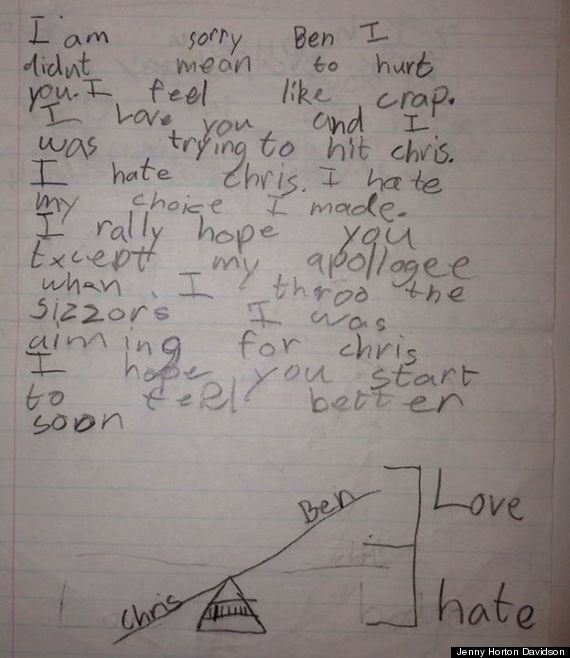 Cute Kid Notes