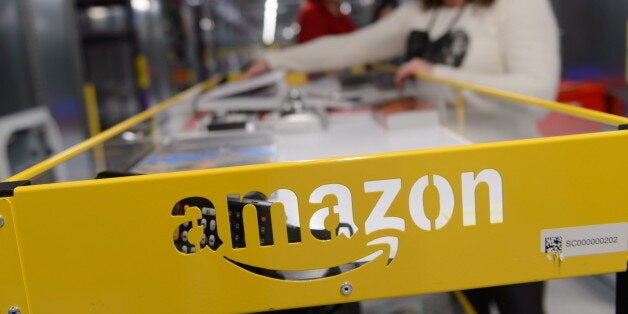 The New York Times' recent expose of working conditions inside Amazon has set off a tsunami of discussion about how far Corporate America is willing to push employees to excel. The piece describes a dystopian universe where Amazon employees are encouraged to anonymously report on each other through the company's Big Brother-esque management software; where people are put on notice that their jobs are on the line when they're distracted by personal crises like cancer or a stillborn child; and steady turnover is characterized as "purposeful Darwinism."
The writers, Jodi Kantor and David Streitfeld, interviewed more than 100 Amazon employees as part of their research, and the piece has stirred up so much reaction that it's since become the most commented upon article in NYT history.
One former employee wrote:
"As someone who worked at Amazon headquarters in Seattle for over 5 years, I can tell you that it is an obscenely stressful place to work. I wouldn't wish a job at Amazon on my worst enemy. Everyone I knew was on drugs for depression, drank too much and had severe sleeping problems -- forget about having any life outside of Amazon, 75-plus hour work weeks are the norm. It's absolutely brutal. I didn't even realize how disgustingly abusive it was until I left."
"At Amazon, you're just a login...a face on a badge...'head count'...a row in a database in a giant air-conditioned room filled with servers, just waiting to have your bit flipped."
Having surpassed Walmart as the most successful retailer in the country, Amazon is a titanic force that has revolutionized consumer culture. But this article made me recoil at a corporate culture that can only be described as a real-life Hunger Games.
Still, this is hardly the first time that Amazon has been accused of exploiting its employees. A prize-winning series for the Allentown, Penn. newspaper, The Morning Call, exposed a 2011 scandal at one of Amazon's fulfillment centers. As widely reported since then, workers were forced to work in the summer heat in an un-air conditioned warehouse, without even the benefit of fresh circulating air from open loading doors, which were kept shut for fear of theft. So many workers collapsed that ambulances were kept stationed at the Amazon centers to take workers suffering from heat stroke to the hospital.
This was only one of many controversies that Amazon has faced through the years from its allegedly "ruthless" and "oppressive" treatment of employees.
As for this most recent flap, not everyone is dismayed by the allegations laid out in the NYT piece. Some (including several Amazon leaders) have criticized the article as a hatchet job that relies too heavily on anecdotes. Others have come to Amazon's defense with "grow up, it's just business" excuses. But here's why I'm not buying the apologists' version of reality. You only have to look at how Amazon is conducting itself as a corporate citizen to recognize that the company is, at best, squandering its unique opportunity to leverage its power to make a tremendous positive impact in the world, and, at worst, shirking its moral responsibility to give back in some faint proportion to its staggering size. A company that sees itself exclusively as an engine of commerce will naturally view its employees as little more than components of this engine.
Less Impact Than Lemonade Stands
Three years ago, the Seattle Times ran a scathing indictment of Amazon as a global giant that feels zero obligation to give back to its hometown community. Titled "Amazon a virtual no-show in hometown philanthropy," the article paints a portrait of a company that sees no ethical compulsion to show generosity to its local community and no business value in engaging with its Seattle neighbors.
In stark contrast to other Seattle giants like Microsoft, where philanthropy and employee engagement initiatives are integrated into the culture, calls to Amazon from local nonprofits go unreturned, the company is a no-show at city events - even when they're the ones being honored, and there's no support for even self-directed employee volunteering and giving.
The article quotes the ED of a civic leadership training program that has trained several Amazon employees who have all had to cover their own costs, unlike employees at most large corporations. Philanthropy consultant Barbara Dingfield refers to Amazon as a "black box:" "I've not seen much from them in terms of sponsorships, matching grants or employee volunteer programs," she notes. Amazon employees who have tried to get the company involved in giving back have been told not to bother - it's a waste of their time.
Jeff Bezos himself has shown generosity as a philanthropist, writing multi-million dollar checks to Seattle's Museum of History & Industry; his alma mater, Princeton; and other organizations. But Bezos has said that he believes that his company can do the most good for the world with its business model, not its philanthropy.
Certainly, this limited worldview is borne out in Amazon's stinginess to its community. A Slate article from 2009 gasped at the company's parsimoniousness with this headline: "The New Scrooge: Are there lemonade stands that devote more to charity than Amazon.com?"
One only need to look at the skimpy community impact page on Amazon's site to understand how the company believes it can be of most service to mankind. Right upfront, it states:
At Amazon, if we do our job right, our greatest contribution to the good of society will come from our core business activities: lowering prices, expanding selection, driving convenience, driving frustration-free packaging, creating Kindle, innovating in web services, and other initiatives we'll work hard on in the future.
Almost as an afterthought, it goes on to note:
We also contribute to the communities where our employees and customers live.
The accomplishments that Amazon trumpets as a part of its philanthropic legacy are more about lending its technology to get others to give back. For example, its disaster relief totals are from customers who donated to Red Cross (and others) on the Amazon site; the implication is that Amazon itself donated little if anything towards these disaster relief campaigns and the company didn't encourage or facilitate employee giving. It's hard to know for sure, since at the very least Amazon isn't doing a good job of getting its "good" story out.
The AmazonSmile program seems like a step in the right direction. But the effort has been criticized as glossy cause marketing that makes "slacktivist" customers feel good without actually doing anything and puts a halo over Amazon while only diverting .5 percent of select purchases to charities. That means that a $10,000 purchase yields $50 to charity; better than nothing, but hardly enough for Amazon to live up to its potential as a meaningful change-maker.
Plenty of corporations are underperforming as philanthropists on the world stage, although rarely does the disparity between size and community impact seem as wide as it is with Amazon. But when a company shows little interest in its communities or employees beyond their business roles, a culture of rampant employee disengagement is sure to follow.
Compassion Can Fuel A Competitive Edge
There's so much that Amazon could be doing to empower its employees as brand ambassadors within their communities, and in the process build up reservoirs of goodwill that would help protect Amazon from the kind of backlash it's experiencing now. Of course, no amount of corporate philanthropy can shield a company from the ramifications of exploiting its workers, but a company that focuses on the humanity of its employees is less likely to exploit them. And a company that sees its communities as people first, customers second, can recognize how employees can connect and serve communities in ways that deepen relationships all around.
All of this ultimately serves a bottom line benefit. Far from sacrificing its competitive edge, Amazon would win even bigger if it learned how to weave a spirit of purpose, philanthropy and civic engagement into its culture.
For starters, how about dispensing with the "Anytime Feedback Tool" that encourages employees to vote each other off of the Amazon island and instead get them united around common causes that are even more resonant than Kindle or Prime shipping? What about bringing people together with skills-based volunteer opportunities that sharpen and expand skills while building teamwork, leadership, camaraderie, and a sense of pride and inspiration - all while making a real impact in communities?
How would this sort of culture - which is now so avidly sought by other corporate giants across the world - undermine Amazon's perch at the top of the retail chain? Even within a competitive, hardworking environment like Amazon's, giving back is not a distraction. It only expands the game.
When companies engage in their communities, employees feel more engaged with their companies. There's more to getting maximum productivity from employees than tagging them with personal satellite navigation computers (true story). Employees who feel valued and are imbued with a greater sense of purpose find more within themselves to give back.
I think that one of the former Amazon employees who commented on the Times piece said it best:
"I wish Jeff Bezos and Company continued success, but I wonder how much more successful they could be if they would only show the same kind of obsessive care about their employees as they do about their customers."
Popular in the Community