It's not monsters under the bed or evil clowns that people in this country most are afraid of. In fact, Americans' fears are based more around non-fictional occurrences related to their security, like identity theft and credit card fraud.
In Chapman University's second annual survey of American fears, respondents answered questions about 88 fears relating to a vast range of subject matters, including the government, aging, sickness, health, natural and man-made disasters, personal anxieties and, yes, clowns. Data was even collected on the paranormal and other occult fears, such as haunted houses.
More than 1,500 adults around the country participated in the survey, rating their level of fear for each question on a scale of 1 (not afraid) to 4 (very afraid). Here are the categories in which Americans' fears fell most heavily:
1. Corruption of government officials: 58 percent
2. Cyber terrorism: 44.8 percent
3. Corporate tracking of personal information: 44.6 percent
4. Terrorist attacks 44.4 percent
5. Government tracking of personal information: 41.4 percent
6. Bio-warfare: 40.9 percent
7. Identity theft: 39.6 percent
8. Economic collapse: 39.2 percent
9. Running out of money in the future: 37.4 percent
10. Credit card fraud: 36.9 percent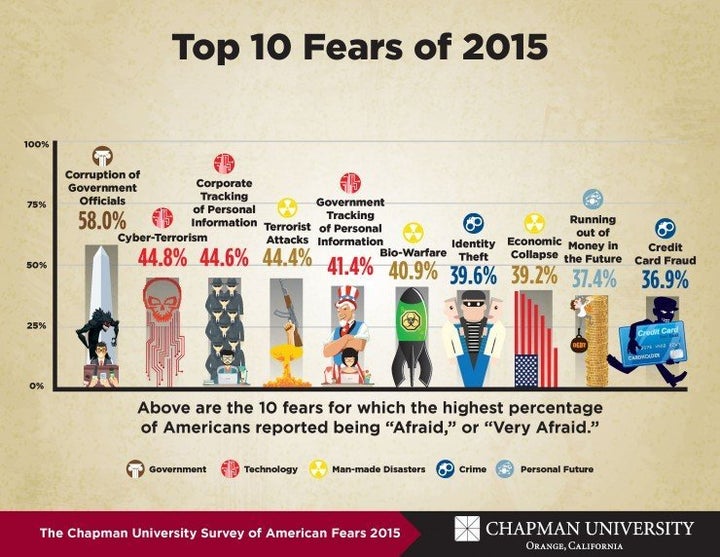 Though they didn't make the chart, it turns out that Bigfoot, haunted houses and psychic powers are all things many Americans believe are real. The survey results show more than 40 percent of Americans believe that places can be haunted by spirits and 20 percent believe that aliens have visited earth in the past and dreams can predict the future. More than 25 percent believe that the dead and living can communicate.
A second section of the survey queried participants about their response to certain fears, asking if they have acted in certain ways "because of your fears."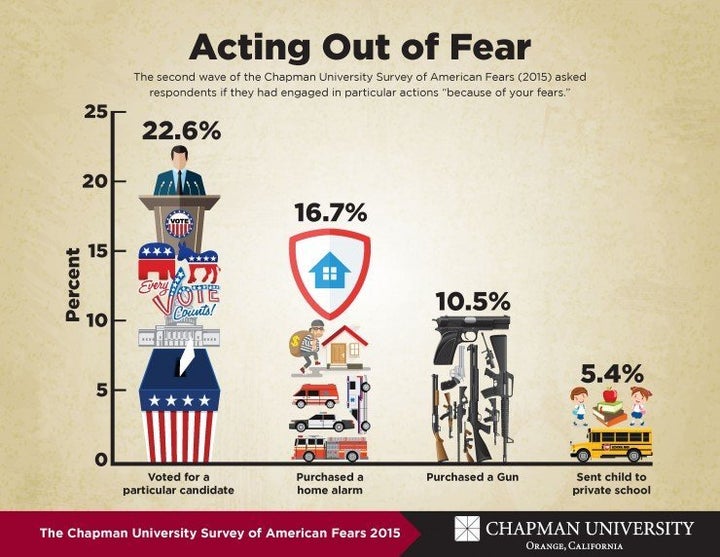 As illustrated in the chart above, more than 10 percent respondents reported having bought a gun out of fear, and eight percent of those with an above average fear of the government reported sending their children to private schools as a result. Nearly a quarter said they'd voted for a particular political candidate in response to their personal fears. Which, frankly, is pretty scary.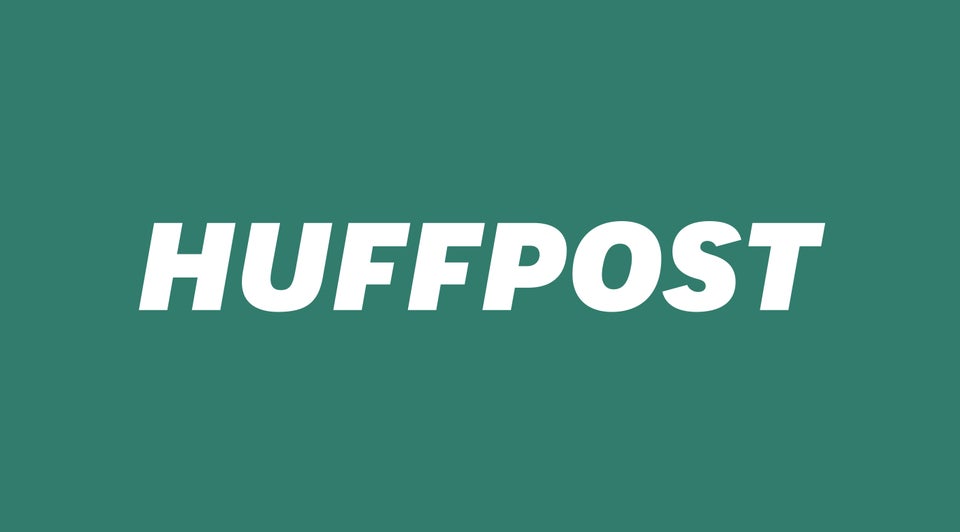 Horror Movies You Need To See