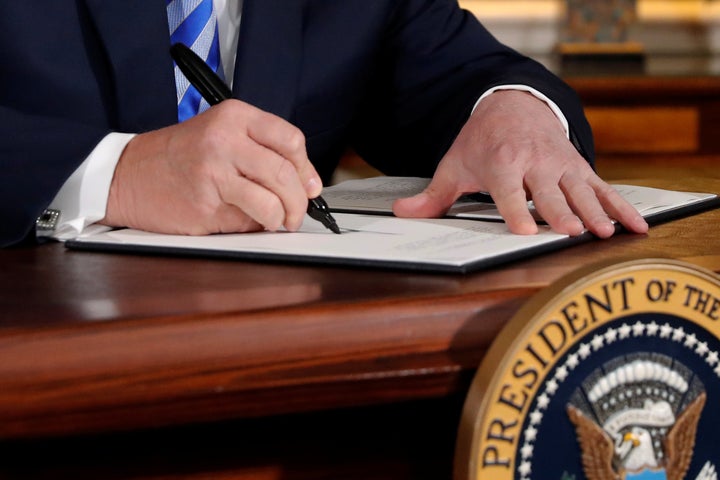 Depending on how you ask about it, Americans are either split over or modestly supportive of the Iran nuclear agreement that the U.S. will no longer be complying with, a new poll finds. And much of the U.S. public appears not to have any deeply held convictions about the deal.
But as the rest of the survey shows, it really seems to matter how the questions are worded. When half the people polled were simply asked what they thought of "the international nuclear deal with Iran," they were about evenly split, with one-third of respondents approving, 35 percent disapproving and another 32 percent unsure.
The other half of respondents were asked a slightly more descriptive question about "the international nuclear deal aimed at preventing Iran from developing nuclear weapons." Those respondents said they approved of the deal by a 10-percentage-point margin, 39 percent to 29 percent, with one-third unsure.
However, that variation pales in comparison to that in other surveys conducted the week before Trump announced the U.S. withdrawal from the deal. 
A CNN/SSRS poll stated, "the United States and five other countries entered an agreement with Iran aimed at preventing Iran from developing nuclear weapons," and then asked respondents their opinions of the deal. They said by a 34-point margin that the U.S. should not withdraw from the agreement.
In a Pew survey, respondents said by an 8-point margin that they disapproved of "the agreement on Iran's nuclear program between Iran, the United States and other nations." And in a CBS poll that gave respondents the option to punt by saying they didn't know enough about the topic to have an opinion, nearly 60 percent opted for that choice.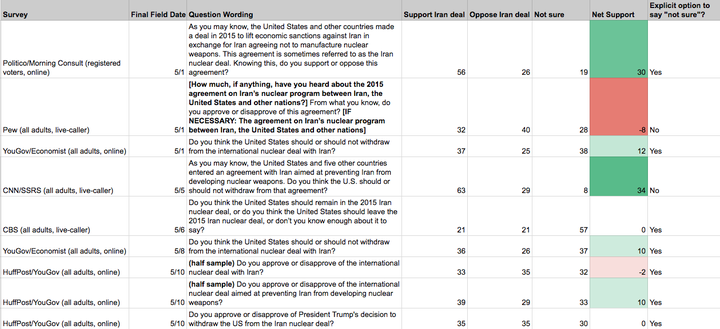 How surveys are worded, of course, always matters ― but that's especially true when pollsters ask people to weigh in on issues they may not have given much thought to previously.
That often drives respondents to look to the questions for cues on how to respond. Most Americans, for instance, tend to distrust Iran ― in another recent survey, nearly three-quarters called the nation unfriendly or an enemy ― but they may be more inclined to think favorably of the agreement when they're explicitly informed (or reminded) that its objective is to prevent Iran from manufacturing weapons.
Partisan cues matter as well, with people tending to back policies supported by their political allies. In all three HuffPost/YouGov questions, Trump voters were opposed to the Iran deal, while voters who backed Hillary Clinton in the last election supported it. The gap between the two camps grew significantly after they were reminded that Trump had just decided to withdraw from the agreement.
There's not necessarily a "correct" amount of context for a survey to provide. But just because polls on a specific topic are highly divergent doesn't make them uninformative. Rather, that's a pretty good sign that opinions on an issue still happen to be pretty malleable.
As other questions on the HuffPost/YouGov poll also find, the majority of the public isn't deeply tuned into the debate over the nuclear agreement. Just 36 percent of Americans said they'd heard a lot about Trump's decision to withdraw from the deal, while 40 percent had heard only a little, and 24 percent said they'd heard nothing at all. And asked directly whether they had any strong feelings about the Iran deal, only 41 percent said they did. 
The HuffPost/YouGov poll consisted of 1,000 completed interviews conducted May 8-10 among U.S. adults using a sample selected from YouGov's opt-in online panel to match the demographics and other characteristics of the adult U.S. population.
HuffPost has teamed up with YouGov to conduct daily opinion polls. You can learn more about this project and take part in YouGov's nationally representative opinion polling. More details on the polls' methodology are available here.
Most surveys report a margin of error that represents some, but not all, potential survey errors. YouGov's reports include a model-based margin of error, which rests on a specific set of statistical assumptions about the selected sample rather than the standard methodology for random probability sampling. If these assumptions are wrong, the model-based margin of error may also be inaccurate. Click here for a more detailed explanation of the model-based margin of error.
REAL LIFE. REAL NEWS. REAL VOICES.
Help us tell more of the stories that matter from voices that too often remain unheard.