I cried on Saturday. They were not tears due to personal tragedy. They were not tears due to sadness. They were not even tears of joy. They were tears born of courage; courage so innocently displayed that some may have missed it. Not me, I didn't miss a thing.
On Saturday May 3, 2014, I was both privileged and blessed. Seeking an impactful activity for our entire family to enjoy, we signed up to help the Special Olympics Spring Games for the Texas Gulf Coast. A family of assigned stopwatch-timer volunteers, I was asked if I would also be willing to sign autographs, award medals and just mingle with the athletes as part of my duties.
On this day I was not the hero. Oh sure, my title and accomplishments might have labeled me one, but I think somehow the roles were reversed -- for the better. The true heroes wore the blazing orange colors of the Bulldogs, the camouflage green of the Stings and the royal blue of the Falcons to name a few. These were the athletes of the 2014 Special Olympics. Full of innocence and enthusiasm, grit and determination, the day's heroes made a significant impact on this American astronaut.
These athletes -- I loved the fact that this was exactly how they were referred to all day, as athletes -- were natural and genuine in their emotion. Many were exactly that; highly tuned athletes with extreme talents and abilities. But many were not. Yet no matter their ability, there was no false drama, only pure joy and elation erupting in the thrill of each and every moment.
Watching a race in the 100-yard dash (a formidable distance for anyone trying to run it full tilt), I was captivated by the efforts of Olympic athletes Quincy and Drew. The only two contestants in the heat, the gun sounded to "push" them from the starting line. Drew, who broke to an early lead, was destined to win the heat easily, running -- for the most part -- straight and true in lane number four to cross the finish line as a champion. Quincy, less athletic than Drew, but no less a champion, struggled to pick up speed from the starting line, working hard with legs that simply didn't want to cooperate. Yet he charged forth nonetheless, chasing Drew with the intensity of Usain Bolt, building up speed before having to pull back as his balance became a bit shaky. Then, regaining his "normal" stride, he'd accelerate once again, in a valiant attempt to catch his would-be foe; in actuality a colleague and friend.
As Quincy continued to chew up yards over what many might consider a meager distance, his determination grew stride-for-stride, as did the roar of the adoring crowd. Crossing the finish line, Quincy didn't wear the frown of defeat; he wore the smile of victory. His brow creased with beads of sweat, he breathed in huge gulps of air, standing tall in the adulation of the fans, timers and "greeters" who jumped and cheered as his biggest fans; near-equal shareholders in his success.
The day contained valuable lessons for me. I learned that while blessed with the love of a wonderful family and the success of a truly unique career, there is so much more to life. I learned not to sweat the small obstacles we sometimes allow too much attention in our day-to-day lives. Moved beyond belief by the day's events, I learned the true meaning of courage and love; that wasn't just displayed by the athletes. It emanated from the volunteers, who give of their time and emotion to make the day a success.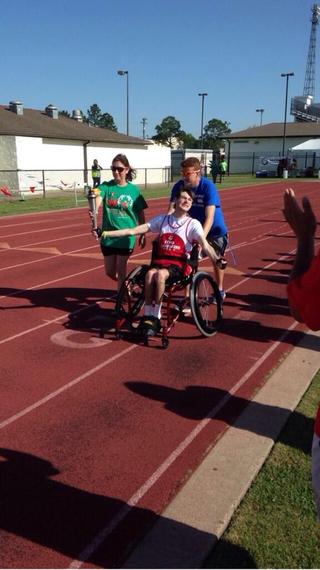 And it simply radiated from the parents and families of these true heroes. These parents -- whose smiles and cheers display a love and patience we could all learn from -- exhibit the very same courage every single day of every single year. Hearing the emotion-laced voice of an athlete's mother who said, "... you didn't have to be here today, but we thank you because you are. I am the mother of an athlete and he looks forward to this all year," was our gift for lessons well-learned.
So yes; the steely-eyed Astronaut with all the "right stuff" cried. And those tears cleared my eyes and allowed me to see more clearly. And I liked what I saw. The motto of the Special Olympics is simple: "Let me win, but if I cannot win, let me be brave in the attempt." Not all of the athletes received Gold medals that day. But they were all winners, and they were beyond brave in the attempt.
Related
Popular in the Community