We sat in a room in Conakry packed with religious leaders from most faiths in Guinea. I had grumbled earlier to a colleague that, while the outside world was finally paying attention to the Ebola outbreak that had been raging for eight months, my photos would be of someone standing in front of a power point in a dark, backlit meeting room. Then Mariam, UNICEF's Community mobilizer, took the floor.
Her slides showing gruesome photographs of Ebola victims living and dead right here in Guinea got my attention. As she spoke her cadence was as deliberate as a politician on the campaign trail -- full of highs and lows and great pauses for effect. "This is how we bury the dead now," she said in French, "Even if this is your brother; even if this is your mother or your child," almost shouting as she changed the slide. "This is how we must bury the dead now, to protect the living! C'est ça!" She repeated "C'est ça" over and over again, bringing her volume down almost to a whisper.
Some religious leaders admitted to me that they didn't believe Ebola was real, but Mariam and her powerful presentation convinced them.
Throughout the outbreak, Mariam would speak to many groups using varying degrees of shock, anger, comfort and poetry to convince them to change their behavior. She tailored her messages to each audience. When she spoke to musicians, she connected fighting Ebola to art. When speaking to the taxi drivers' union, she explained why transporting corpses was bad for business.
From the beginning, it was clear that a medical response alone was not going to stop Ebola. And while doctors were rightly lauded for their incredibly heroic work, community mobilizers like Mariam were in the background laboring in the hot zones, changing minds almost one Guinean at a time, all the while exposing themselves to potential infection and violence. Through Mariam's messages people changed the burial practice of washing bodies; people started washing their hands and reporting the sick to the authorities. The mobilizers were slowly closing the tap of the stream of infections heading to the Ebola Treatment Centers.
I ran into Mariam again in Forecariah, near the border with Sierra Leone, where she left for the rural villages every morning at 6 a.m. to join the teams tracing contact cases. We drove for hours on terrible roads to find communities often not on the maps. As we arrived in each village, I could tell that Mariam had been there before. Her signature "End Ebola" information stickers decorated the huts and homes.
In one community, relatives were hiding a sick woman. Our job was to convince the woman and her family that she should go to the hospital. The daughter and the mother, both contact cases, were wailing when Mariam approached them. With the comforting tone of a loving mother, she said, "Don't you want Mama to get better? We will take her to the doctor. If she is sick, we will treat her, if she is not, she will come home right away." It worked. The family agreed. The woman tested positive, but survived and came home. An important victory for a village that was convinced that if she got into an ambulance, she would certainly be murdered. Addressing such rumors is a major part of Mariam's work.
Mariam's reputation extends deep into the rural communities. "If humanitarians come to our village, we go and hide in the field, but if it's Madame Toure, we know she's special and we must come. We ask is it Madame Toure? If it is, we come, if not we don't come," one man told me.
Recently, the outbreak flared up again in Conakry. Mariam was there. I caught up with her in another dark, backlit meeting room where the same gruesome power point flickered on the wall. She was training police officers.
Despite having been on the frontline, for months she shows none of the signs of exhaustion and frustration the rest of us complain about over powdered coffee every morning.
"It's my conviction. When I work, I work with my mind and my heart. I take my strength from my heart because I am convinced by what I do, and I like what I do. The difficulty is when I see someone who has died, because I know I did not succeed. But then I regain my motivation when I say, 'I will not let this happen again'."
Mariam is one of the many social mobilizers fighting Ebola on the frontlines. Their work is dangerous, painstaking, heartbreaking and essential. Most people outside of West Africa don't know these Ebola fighters. Their work is not very visual. How do you photograph someone's opinion changing? The success is often only measurable months later. But Mariam and I are convinced that direct community engagement is what will end the outbreak before any vaccine is ready for wide distribution.
The case numbers will slowly reach zero. Impossible to count are those who did not get infected. I've been there with Mariam and we've met the people that, because of her and her colleagues, did not end up in a report.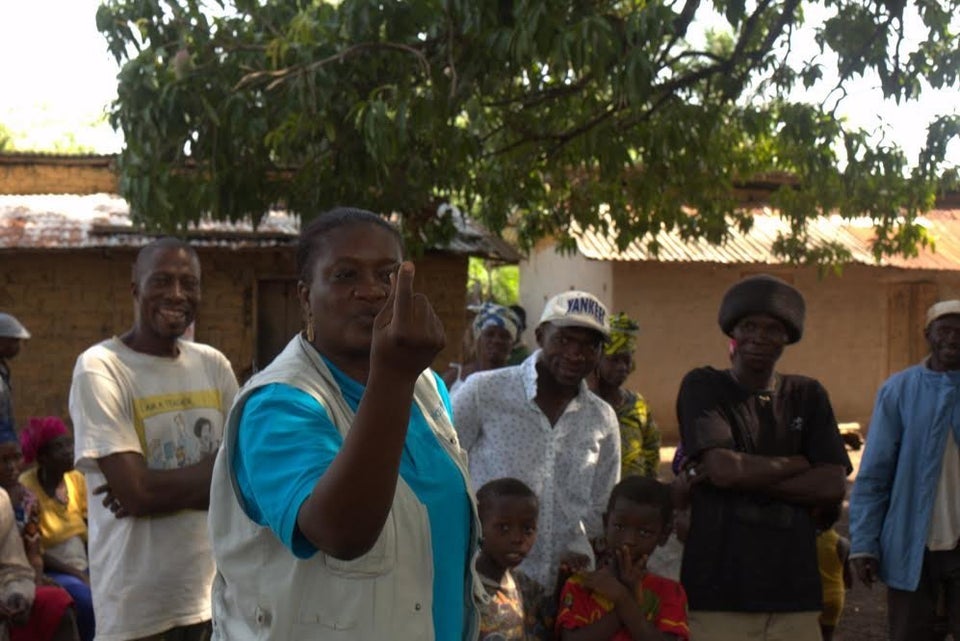 This post is part of a series produced by The Huffington Post and the NGO alliance InterAction around World Humanitarian Day, August 19. This series highlights the inspiring and heroic stories behind the Ebola crisis response in West Africa. Click here for more posts from the series, follow along on Twitter with #WHD2015 and #ShareHumanity.