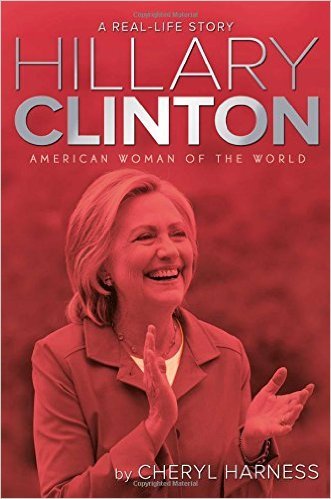 Hillary Clinton is old enough to have lived through a lot of American history. A biography of Hillary Clinton will make no sense to children without some of this historical background. But not to worry. A new biography for middle school kids, Hillary Clinton: American Woman of the World (A Real-Life Story) by Cheryl Harness, does a seamless job of integrating history into Hillary's life story. For example, the Cold War and the Civil Rights Movement had a profound impact on Hillary's childhood. Harness treats these topics sidebar style, with a different font, precisely when they are needed for deeper comprehension of issues. Throughout the engaging narrative of her event-filled life there are explanations of Black Power, Watergate, William Jefferson Clinton, the War Room, the role of First Ladies, the workings of the government and more.

Harness does not shrink from mentioning the Clinton's "troubled marriage," including her husband's impeachment trial. But she does not go into unnecessary specifics. She also includes the areas of Hillary's life that involved investigations. What emerges from this portrait is a very human, imperfect, brilliant, focused, tough, and hard-working woman that has accomplished a great deal. Harness' book turns Hillary's life into a story of what it takes to become a presidential candidate--the highs, the lows and, if you read between the lines, the amount of time-consuming work. All of this, including sources and an index, is shaped and polished in 182 pages!
If you know any curious kids in grades 4-8, who might be wondering what all the fuss of an election is about, Harness' Hillary Clinton: American Woman of the World is a good place to start.
REAL LIFE. REAL NEWS. REAL VOICES.
Help us tell more of the stories that matter from voices that too often remain unheard.