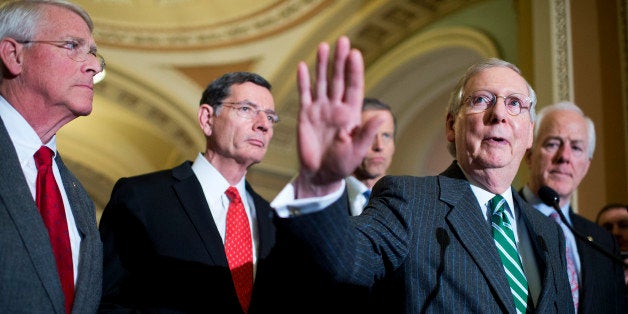 In filling the Supreme Court vacancy, Senate Republicans seem to be afraid of, well, everything.
They are afraid of voting on a nominee.
They are afraid of a Committee hearing on a nominee.
They are afraid of even meeting a nominee.
And this is before they even know who that nominee will be.
Today, Senate Republicans showed that they are even afraid of having to explain themselves--and for good reason, as they don't have the history, arguments, or public opinion on their side.
This morning, the Senate Judiciary Committee was scheduled to have a public executive business meeting--its first since the untimely death of Justice Scalia. It would have been the first opportunity for the entire Judiciary Committee to openly debate its role in filling the Supreme Court vacancy--the Committee's highest responsibility--but instead, the meeting was abruptly cancelled.
Maybe Senate Republicans are afraid that a public, bipartisan meeting would be a sharp contrast to their closed door meeting last week in which 11 Republican Senators decided that a President's pending Supreme Court nominee would not receive a hearing for the first time since Committee hearings began in 1916 (except for nine nominees who were confirmed within eleven days).
Maybe they are afraid of this flip flop by now-Chairman Grassley, who said in 2006: "A Supreme Court nomination is not a forum to fight any election. It is the time to perform one of our most important constitutional duties and decide whether a nominee is qualified to serve on the nation's highest court."
Maybe they are afraid that the three or four Judiciary Republicans whom Senator Grassley has said "had some reluctance" (3:40 in this video) before taking this extreme position would realize that they were right all along.
Whatever the reason, it is time for Senate Republicans to overcome their fears and do their job.
They must conduct open Judiciary Committee meetings so that the 11 Republican Senators, representing nine states, can be held accountable for denying the entire Senate--and the entire nation--the right to hear from a Supreme Court nominee, for the first time in history.
And then they must have the courage of their convictions to vote on the nominee.
If Senate Republicans are so sure they are right, what is there to be afraid of?
Popular in the Community