This question originally appeared on Quora.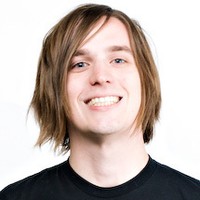 Answer by Cameron Daigle, Football Enthusiast Extraordinaire

1) Don't overestimate big-name players.
Just because somebody is on the cover of Madden or in a Pepsi commercial doesn't mean they'll produce for you. Some of those guys are were total flash-in-the-pan flukes (Hey-o, Peyton Hillis) and others are just on the decline in terms of raw fantasy output due to age or circumstance (Roddy White is now second to Julio Jones, Miles Austin is second to Dez Bryant, Brandon Lloyd had one good year, Willis McGahee is past his prime, etc. etc.). Rosters change every year, and it only takes one draft class for a Julio Jones to pop up and make a former top-tier asset fall to mid-tier.
2) Don't stress out about bye weeks.
This is a personal philosophy of mine. There's enough going on in drafts that bye weeks are just one more thing to complicate matters. Worst case scenario, you'll end up with one week where you field a team of scrubs, whereas if you draft a lesser player just because you already have 3 guys off on week 6, you're stuck with that lesser player for all of the OTHER weeks. I'd personally rather take the week 6 loss if it means my team is more consistent for the rest of the season.
3) Start the season patient with players and impatient with defense.
There's enough roster- and coach-shuffling going on in the offseason that some teams become dramatically different as a team in a way that only becomes clear when the season starts: the Chiefs and Saints are pretty good defenses, and the Giants and Steelers are the two worst teams in my league. Don't just keep the Steelers because they're the Steelers - bail on 'em. There will always be a good defensive matchup to exploit, grab somebody who's good THIS year.
The opposite goes for players. Just because your 9th-round rookie RB isn't getting the ball doesn't mean he was a mistake to draft; it might just mean he has to get in the coaches' good graces. Stevan Ridley took a while to be a top rusher for the Pats, but last year he hit 1200 yards. Le'Veon Bell started injured this year but looks like he's the guy from here on out for the Steelers. Same with David Wilson, whose arrow is pointing up (I think). I grabbed Bell and Wilson off the wire this year after they were dropped by impatient owners, and I think it'll work out to my benefit.
Calling all HuffPost superfans!
Sign up for membership to become a founding member and help shape HuffPost's next chapter