"So? What are we doing to day?" they ask eyes turned toward mine.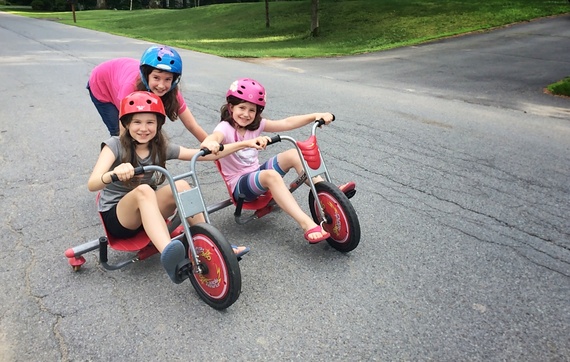 It's a question I hear, often before the girls are even dressed. Their gangly legs poke out from beneath t-shirts. Sometime over the last year they shifted from their dad's shirts to mine. The hems aren't as long as before, the v-neck dips and are yanked up by still-modest hands.
This question is different than other questions, this one they want answered, others are almost forgotten before I've finished answering. That's one of the most significant changes between this summer with a 7, 9, and almost 11 year old and last summer with a 6,8, and 9 and ¾ year old.
"I was thinking we'd do a couple of projects and take Beso for a walk," I answer looking at our hopeful cocker spaniel.
"Oooh, what kind of project?" Three sets of blue eyes look at me eagerly.
"Writing assignments," I say simply. They race to the table and I rise to grab notebooks, marveling at how quickly they leap at the chance to do things off line. It shouldn't surprise me, Finley has always preferred exploring to watching, my guilt about work sometimes obscures my ability to see the way they enjoy it.
"Give me ten minutes," I said as I sat down to write. They talked quietly at the table, wondering aloud what they'd be asked to do. My shoulders lowered as I felt their anticipation not as judgment, but as very real excitement. I begin to chide myself about how it takes so little, but then shake it off--just do this. I create the assignments.
For Briar, who loves fashion, has taken illustration and sewing classes. (age 10)
Create & name a 5-page catalog.
Can be fashion, food, or travel.
Illustrate 3 products per page.
Use at least 3 adjectives to describe each product.
Use page numbers.
Include contact information for buying.
For Avery, who loves comics, aspires to be an author, photographer, and actress. (9)
Create a 5-page book.
Include at least 1 sentence written in pictures and a map.
Use the words: exercise, kindness, funny, river
For Finley, who had a particularly inspirational 1st grade teacher. (7)


Create 5 pages of lesson plans for a kindergarten class
Include 1 snack menu.
Describe morning work.
Explain 2 outdoor activities.
Draw the teacher's desk.
As I hand them their assignments they squeal and read out loud. I set tins of crayons, colored pencils, and markers in front of them.
"Five pages? Do I really have to?" Avery asks.
"Nope, if you don't want to you can--" she gently cuts me off.
"No, no, I want to do it." They begin jotting things down. Briar's catalog is called EDGGE, "I wanted it to be kind of like bizarre, with the 2 rs, you know? So I gave it to gs" I nod. The first product is a visor:
Our visor headband soaks up sweat, washes, and can fold up!
She illustrates how you can climb mountains wearing the visor and eventually you'll feel like Pocahontas. It is not without some measure of pride that I take in how she chose active wear and a strong, female role model.
Checking on Ave, I see that her story is about a Corgi and a squirrel, complete with a Venn diagram showing their only similarities are that their mom feeds them bacon and that Ave draws them the same except for the size of their ears. Finley is the most studious, face close to the pages and a line of pencils and crayons at the top of her page in the order that she needs to use them.
"Then I do yellow, then blue, then, of course I..Wait, where's the grey? I need grey. Oh, phew, there it is." We all smile; her enjoyment is without fail an infectious energy that we happily draw upon as we go. I smile at her description of "the field chrip" that the students will take.
We sat at the table for more than an hour. I ferried drinks and snacks to the table as they grew more and more engrossed in their projects. None of this is intended as a judgment on screen time or working, rather it is a reminder, largely for myself, but if it works for you please enjoy it, that chunks of time spent offline, outside, or simply stoking our imagination can be a good thing. It doesn't have to be fancy or super structured. I picked five pages to keep it even, knowing that Finley needs more than one page and that her sisters would be more engaged by something with a beginning middle and end, and that if it were lop-sided we'd devolve into a dispute over what is fair or what isn't.
I don't describe the tins of writing utensils, but I can tell you I saw more than one stale goldfish peeking at me. Beneath crayons there were hair ties with hair knotted on them and jumbo crayons left over from when we had tiny, toddler hands in the house. Unplugged doesn't mean perfect, creative doesn't mean picture-perfect. We don't need to be following a playbook, but we can carve out our own little pockets of special time, whatever that means to each of us.