Just like every cocktail party peopled with artists, we ask the inevitable question "What are you working on right now? What are you making?" The artist answers.
Sandow Birk
Artist
Long Beach, CA
My most recent exhibit is the sixth installment of an ongoing project to hand-transcribe and illuminate the entire English-language text of the Holy Qur'an. The show consists of 36 new pages from the project, which, when completed, will include some 220 pages. The project is 90 percent completed and has been exhibited in several versions, including at the Andy Warhol Museum in Pittsburgh, as well as galleries in New York, Los Angeles and San Francisco. I have been working on the project for six years and it will be completed in 2014, at which time it will be published in book form. The works are done on paper, using traditional techniques and materials from historical Qur'anic manuscripts, and the texts to each of the 114 suras are illuminated with scenes of contemporary life in America.
The exhibit is currently on display at P.P.O.W. Gallery in Chelsea, at 535 West 22nd St, New York, NY, and runs through October 12.
Annie Buckley
Artist/Writer
Los Angeles
www.anniebuckley.com
I have been working on "The People's Tarot" for about two years. It includes a set of collages, a tarot deck and book, prints, and readings. The 22 collages are made with a combination of my own photographs, gouache, cut paper, and magazine imagery turned backwards to use the opposite side. I made the rest of the collages in the deck (there are 78 cards total) as digital collages. This project grows out of my interest in interdisciplinary work that blurs lines between visual art and writing. Also, I wanted to make something that people could hold in their hands and use. This fall, "The People's Tarot" will be part of "Tapping the Third Realm", a group exhibition at Ben Maltz Gallery, Otis College of Art and Design and the Laband Art Gallery, LMU, opening September 22 and closing December 8. I will be doing a short talk and readings at the closing event from noon to 4:00.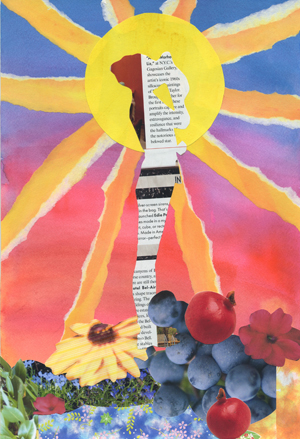 I began this project with a desire to integrate intuition into what felt like an increasingly analytical practice. I chose the Tarot because I have always been interested in it and wanted to learn more; also I liked that it inspires contemplative viewing and interpretation, something I am interested in as a writer and teacher, too. At first, I didn't feel totally capable of making a deck and thought maybe I would just use the structure and archetypes of the picture cards, the Major Arcana, as the basis for a series of collages. But as I began working on these, reading in depth about each card and meditating on the meaning and imagery before making my own version, I felt more confident and decided to go ahead and make a deck. As I worked on the project, it opened up and began to flow into my life in unexpected ways. I like that I was able to bring meditation, intuition, and the unexpected to my art practice.
Alicia Beach
Artist
Los Angeles, CA
After more than twenty years of maintaining a studio life devoted to painterly painting and abstraction, I studied acting in Hollywood for a year. I started making satiric videos and posting them on youtube. I write, videotape, edit, sing, record, compose music and play all the roles myself. I have made nine videos since the beginning of the year, and now have my own youtube channel and subscribers.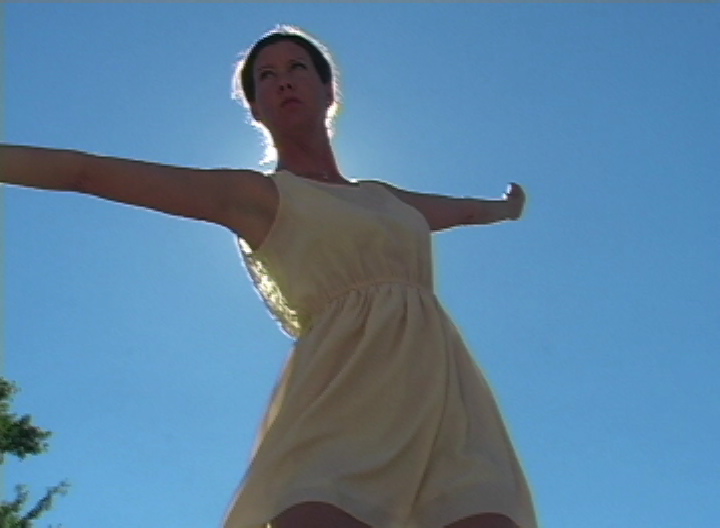 My aim is to honor Nature and the divine feminine. In so doing, I question societal assumptions and the influence of consumerism, materialism and the media, while keeping the tone light, fun, positive, and spiritually open. I want my viewers to have a good time and enjoy watching my videos as much as I enjoy making them.

I make my videos with a video camera on loan for Time Dollars through the Arroyo S.E.C.O. Network of Time Banks.
David Shane Smith
Artist/Musician
New York
Lately I have been putting the finishing touches on a new 3 song release due out on Oct 13 via www.everythingischemical.com . Its inspired by the character Dionysus and sways from emotive dub-ish beats to glitchy rap and shrieking disco. I experimented with altering the pitch of my voice much higher and much lower in order to evoke different characters while still trying to capture the performance. Much of the sounds in the music are bent up audio samples from the internet that I collaged together to create the impression of a murky band.
When this is finished I will make a new album that I hope to have finished in the winter.
My other project right now is image manipulation of stills and animations derived from videos of game shows where the host looks ambiguously like a televangelist. I've become completely captivated by this idea that they could look so interchangeable. The notion that people might become so enraptured by winning money and prizes brings the images to life for me. I am exploring ways to display this eventually but for now the animations work best as .gifs on my website.
If you'd like to keep track of these releases or my previous work you can link to it all at www.davidshanesmith.com

Related
Popular in the Community