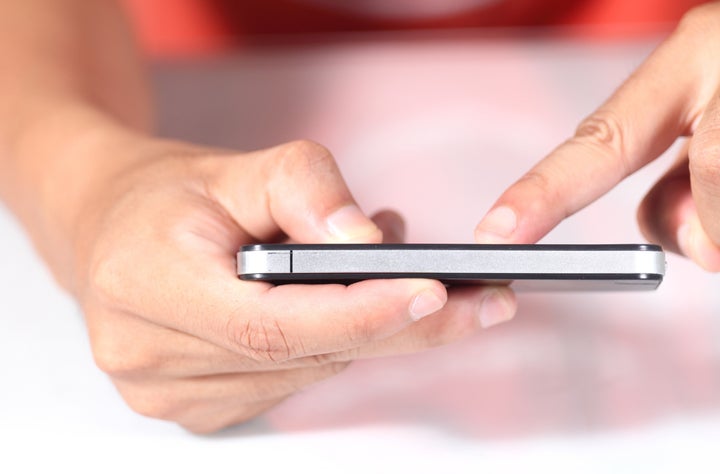 "Mom, when can I have a cell phone? I need a cell phone! Everyone has one!!"
How many us of have fought this battle with our kids? How many of us have given in and handed over a mobile device that gives our children, at the youngest ages, complete access to the world -- with all of its lures and dangers, with access to predators and opportunities to bully? Many of us feel helpless when faced with both the youthful demand for technology and our own inability to understand how it works and how it can be used -- or misused.
The ever-increasing immersion of social media and its emphasis on creating "connections," coupled with easier access to smart phones, has changed the way the world communicates. It isn't a fad or something we can expect to shield our children from forever. When it comes to making technology-based decisions with children, every parent needs to be smart, make age-appropriate choices and be ever-vigilant in order to prevent all of the good technology brings from turning into a family's nightmare. As a district attorney and mother of three, I experienced these challenges and their consequences first-hand both as a mom and in the court of law. In recognition of April being Child Abuse Prevention Month, here is a primer of what every parent needs to know:
At first, the thought of providing your child with a cell phone elicits questions of responsibility -- will they lose this expensive device? Will they use too many minutes? Responsibility gives way to fears of abuse of the privilege. Will they communicate in ways that are not appropriate? Does my child know what is acceptable and what would be considered inappropriate, in text or images?
With the prevalence of smart phones, the world rests in the palm of your children's hands. But think of it as a trip to a major city. There are places where we can walk safely among its crowds and wonders, and yet it can be all too easy to quickly and unexpectedly run into danger by taking the wrong turn.
Smart phones provide a medium for kids to share lewd or inappropriate messages and pictures. These devices are all too often the platforms used to harass and bully others. Facebook, for instance, has been in the cyber-safety spotlight for years (eliciting concerns of bullying, inappropriate posts and messages, pedophiles, etc). In recent months, a new generation of applications (apps) has been created that are both appealing and dangerous for children. These apps include features such as "self-destructing" messages, encrypted messages, free text and group messages, and GSP location services to connect you with potential friends and dates close by.
Some of the applications used most frequently, as well as the newer ones appearing almost every day, include names such as Facebook, Twitter, Instagram, Skype, Snapchat, Wickr, Kik, Oovoo, Omegle, Chatroulette, Imeetzu and Chatgig.
There are three general areas where children get themselves into trouble with their electronic footprints, these include sexting, cyber-bullying and meeting with strangers they connect with online, and they each represent the cyber-equivalent of taking the wrong turn.
Sexting has been a rising phenomenon among teens for the past few years. Among teens aged 12-17 surveyed on their cell phone use, 15% said they had received a "sext" from someone they knew personally; and 4% of that group reported having sent "sexually suggestive nude or nearly nude images or videos of themselves to someone else via text messaging" (Pew Research Center, December 2009). Of the 14-19 year olds surveyed, 28% said they have "sent a naked picture of themselves through text or email" (Pediatrics & Adolescent Medicine, July 2012).
The newer cell phone applications provide a platform for children and teens to send and share lewd photos, videos, texts and drawings to a "controlled" list of recipients. SnapChat makes teen sexting easy. The application's main demographic is a user between 13 years to 24 years of age. It is the 4th most popular iPhone app: Up to 1,000 photos sent per second. SnapChat creates the illusion of security for teens to engage in sexting because they can choose the recipients and the pictures and videos are advertised as disappearing immediately with no permanent record. This also prevents parents from monitoring. However, this is a false sense of security, because the recipient can take a screenshot of the content and share with anyone else. Once the sender hits send, the image cannot be recovered and there is no way to prevent a recipient from saving and sharing it with others. The sender is notified if a screenshot is taken, but the permanent evidence is still out there.
When searching Twitter for the term "SnapChat," numerous tweets for people to sext through the app are revealed such as "hit me up with the cleavage on SnapChat."
Wickr allows anyone to send encrypted text messages, videos, pictures, PDFs, etc. to anyone else with the app. It creates the appearance that it is a safe outlet for teens to share lewd images and other content. Just like SnapChat, however, nothing prevents the recipient from saving the content and sharing it with others later. Even though the messages are advertised as self-destructing, there is nothing within the application that prevents a recipient from storing a message and sharing it with another person.
Kik is being used by some teens to send and receive nude pictures, which can be seen in the user reviews with posts of sexual invitations and advertisements. Kik can connect you with people you do not know through other social media sites. Since a Kik profile is independent, one can never be sure of who is actually on the other end. Information sent via Kik is not secure because, like both SnapChat and Wickr, nothing prevents the recipient from saving, storing and sharing something you send hoping for privacy.
While the issue of bullying is nothing new, bullying over the Internet or electronic platforms, often referred to as "Cyber-bullying," has brought the conduct to a new level of destructiveness. These social media applications provide a far-reaching medium for cyber-bullying to occur. These platforms are used to widely share everything from nasty messages to embarrassing photographs or videos. Often, compromising photos and videos are taken and shared by a victim who trusted the original recipient, only to be betrayed later when that trusted recipient shares the embarrassing content with others, all to harass or hurt the sender.
Cyber-bullying has become the way teens gang up on one another, either by sending taunting pictures and messages or using more "under the radar" spheres to spread rumors about a victim, tease or embarrass another person. The impact of the internet on this conduct is that it extends the reach of this teenage nastiness far beyond the walls of a local school or community. Cyber-bullying allows a bully to spread gossip and embarrassment of a victim exponentially, maximizing the amount of damage inflicted on a victim.
The same platforms teens are using for sexting are being used to cyber-bully. Using Wickr, bullying text messages are both encrypted and can be set to self-destruct. This creates the illusion of no traceable evidence. Photos and messages a sender thinks are secure and/or deleted can be saved and shared with unintended recipients through other mediums (like a screenshot or outside photo) -- leaving the possibility of this evidence being used against them and/or to embarrass them.
The single most prolific social media site used today by cyber-bullies is Facebook. Whether posting embarrassing information, spreading rumors or gossip or sharing photographs of a victim, bullies use this medium to spread embarrassing and hurtful content about other kids.
Using SnapChat, photos can be sent with drawings and notes and then set to self-delete. These images are designed to ridicule or embarrass a victim in the hopes that no one will save the message. Kik allows group messaging where texts, photos, videos and other content can be shared with select group of people. It is a perfect venue from mocking a victim who may be excluded from the group. It provides a vehicle for spreading rumors and embarrassing images. Some of the other platforms are often used by individuals masquerading as someone else to bully, harass, or stalk a victim. Through these platforms, some bullies have created fake relationships and used them to gather personal information designed to embarrass a victim.
Apart from what teens do to each other, these platforms offer predators a new place to catch their prey. Predators can create fake profiles that provide misleading information to lure victims to meet them. Many of these applications connect you with people within a close proximity to your location. In doing so they create easy opportunities for teens to meet these "new friends."
Investigators call these apps a "predators dream" because they allow creeps to create accounts portraying themselves as teens and immediately access profiles for hundreds of actual teens. Courthouses across the United States are filled with cases involving adults who meet teens online, often for predatory purposes. The lucky ones are the teens wise enough to report this conduct before they go out to meet the predator, allowing law enforcement to catch the criminal before something bad happens. Those who meet first are often hurt before a report can be made and must then live with the consequences of the predator's actions.
Another gruesome practice is the predator using social media to collect potentially embarrassing information about a teen, whether personal information or sexting images, and then using extortion techniques to force the child to share more contact or risk exposure. Across the country, there have been too many cases of teenagers falling victim to these predators and continuing to share more and more sexual communications for fear of their secrets being revealed.
What is a parent to do? It is easy to raise concerns. Not so easy to figure out the best way to handle technology and teens. Here are six tips for parents trying to navigate the treacherous waters of giving teens access to technology and guiding them to use it safely.
1.) Create Ground Rules
If you provide the phone, you make the rules. Start when your child is young and set limits and enforce them. If your child breaks your rules, you can impose consequences. If the violation is severe, you can take away the privilege of having the device.
2.) Communication
You need to talk openly and honestly with your child about the public nature of any information shared via social media and the Internet. You need to address the ways that information can be compromised and how any person can become a victim. You need to teach your child about how to protect personal information to avoid being compromised. At the same time, you need to talk to your child about their own conduct online and what to avoid, like the practice of using technology to bully another person. And keep the lines of communication open. Don't just talk at your children; talk to them. You have to be willing to listen to their concerns and problems. They need to know that you will listen and not just lecture, judge or criticize.
3.) Review Applications and Content
You can review the apps on your child's smart phones, tablets and computers. Your level of review and involvement will depend on the age of your child. If you give a cell phone to a younger child, one of the conditions can be that you have complete access to the device. Your child should know that you are monitoring his or her activities. And you need to call them on things they do that are not appropriate and use those teaching moments. Create similar accounts on the same social media sites as your child. Have them "friend" you so you can not only monitor what they're doing but what their friends are saying and posting.
4.) Parental Features or Monitoring Software
Some devices allow you to adjust application-rating restrictions to prevent the download of adult-oriented apps. You should explore the device. As the parent, you need to decide what an appropriate level of intervention is for you and your child. Monitoring software is available to keep track of a child's cell phone activity such as My Watchdog. iRecovery allows all deleted pictures, texts and other data to be recovered from iPhones, iPods and iPads. If you choose to employ monitoring software, you should be honest and up front with your child. Your child should know that you might conduct random "checks." You should not hide your actions from them. Contact your cell phone carrier to determine what monitoring features they offer. Learn how your carrier can help you and what services they offer in the event your child is victimized. Be proactive about your level of cyber-education. Learn about the apps your child is using. See how the apps work, what's involved, what are the potential dangers.
5.) Balance Trust and Accountability
Every parent must find the balance between trust and accountability with their child. We need to teach our children how to use technology responsibly so that they do not get themselves into trouble. Constant monitoring and oversight will likely cause a parent to violate their child's privacy and fail to teach lessons of personal responsibility. This is a tough balance for most parents and it is critical that we find the right balance for each child.
6.) Once you hit send, you can never get it back
This is the toughest lesson for most children to comprehend. They think that only their friends can see what they post. They believe, mistakenly, that the public will never be able to access their "private" posts. They are wrong. They have no conception that what they post can impact them later in life. Colleges, scholarships, employers and even prospective dates scour the Internet to learn about someone and to decide if that person is worthy of trust. If you do not want something out in the world, don't hit send. A good rule of thumb is, if you do not want your grandmother to see something, do not post it.
There are no easy answers for parents struggling to navigate this new cyber-world. I believe that it is most important that we educate ourselves about the technology our children will be able to access and have open communication about the risks and dangers that can flow from them. By educating our kids and ourselves, we can minimize the risks of negative consequences from the use of technology and maintain all of its benefits.
Improve Your App IQ

It seems that every day there is a new app. Once we (the adults) know about it, the kids are in search of the next best thing to hide from us. Here is a list of the most current applications being used by kids:
Chatgig
Chatgig is a site that allows users to engage in anonymous chats with total strangers. Chats take place through texting. According to their website, it is advertised as "the best place to make new friends from all around the world." Your child's identity can be anonymous and they only need an email address to get started. Chatgig is an app through Android and can be downloaded for free.
Chatroulette
Chatroulette is another website for anonymous chatting with strangers. Your child can initiate a chat with anyone either through video, text or both. The other user is chosen by random by the program. However, once a profile is created, the program can choose the other chatter based on similar interests as your child. The chat can be terminated at any time. Video chats can be recorded by either user.
Facebook
Facebook is the leading social networking site with over one billion users worldwide, more than one-half of whom access the site via a mobile device. Facebook allows anyone who declares they are at least 13 years old to become registered users of the site. According to a May 2011 Consumer Reports survey, there are 7.5 million children under 13 with accounts and 5 million under 10.
Grindr (rated 18+)
Grindr is a social networking site for gay or bisexual males. The application uses location services to connect you with other Grindr guys near you and gives users the ability to browse profiles, chat online and connect in person.
Imeetzu
Imeetzu is a site which combines the idea of chatting with total strangers with social networking and online dating. On this site, your child can still engage in chats with strangers with the added ability to view the other user's profile information. The advantage of using this forum is the users can learn more about each other without divulging their real name or other private information as they would with Facebook.
Instagram
Instagram is an online photo sharing site. The user takes photos with their Smartphone then posts them to Instagram. The photos can be shared through Facebook, Twitter and Tumblr as well. Photos can be manipulated and altered by the original user who posted them. Others who view the photos can post comments and encourage others to comment as well. Photos posted on Instagram can be copied and saved and if deleted by the original user, can be re-posted, thus never truly deleted.
Kik (rated 17+)
Kik is a free texting application. It is a Smartphone messenger that connects you to everyone you want to talk to, even if you don't have their telephone numbers. Your identity is your Kik username, not your phone number, which allows you to have better privacy control. Kik connects with other social media applications to allow users to share videos, sketches and pictures.
Let's Date (rated 17+)
Using Facebook, a user can create a Dater card and then browse other Dater cards and click "Let's Date" on daters you like. If the other person also clicks "Let's Date," a chat will open up, allowing you to discuss the details of your date. After the date, daters can leave feedback and earn badges.
Meet Me (rated 12+)
Works with Kik to search for other guys and girls available to meet. Meet Me is the fastest way to find new people to talk to on Kik messenger. It shows you who is nearby and ready to chat, Kik and meet. Using features like Live Feed, Match and Photoboard, you can find local people to meet in real life.
Omegle
Omegle is website that allows users to have a one-on-one chats with each other. The website picks the other user at random and will use information entered by the user to match them up with someone with similar interests. The chat can be anonymous and the users can disconnect at any time. However, there are no safeguards in place to stop users for revealing personal details and information. This program is available for iPhones and through the AppStore.
Oovoo
Oovoo is an instant messaging and video chat site that allows users to chat with up to 12 people at once. This free app can be used on computers, Smartphones, tablets and Facebook. These chats are usually with other known users, not necessarily strangers. Chats can be terminated at any time however, either user can record any or all of the communication.
Skout (rated 12+)
Skout is used to meet people by preference or proximity. You can chat, see who checked you out, get updates from nearby users, browse profiles and pictures, and promote your profile with in-app features. Skout does not provide exact location and personal information without permission.
SnapChat (rated 12+)
SnapChat is one of the most popular apps teens are using right now. It is a real-time picture chatting application that allows you to send a picture or video to a friend and control how long they view it before it "disappears forever." It is deleted from the recipient's device and company's server. However, a recipient can take a screenshot of the image and save it.
Tinder (rated 12+)
Tinder is an application that makes introductions between users. It anonymously finds out who likes you nearby and connects you with that person if you are interested. Tinder will show you someone nearby. If someone you like happens to like you back, Tinder makes an introduction and lets you chat within the application.
Twitter
Twitter allows users to send and read text-based messages of up to 140 characters known as "tweets". As of 2012, Twitter had over 500 million registered users and is increasing in popularity, with over 340 million tweets daily and handling over 1.6 billions searches each day.
Wickr (rated 4+)
Wickr is a free app that can be used to send self-destructing messages to other Wickr users. One can send and receive text, photos, videos, voice and PDFs that are: controlled (the sender decides who sees what, where and for how long), secure (it claims to have military grade encryption), private (it deletes location, time, identification and edits), anonymous (no personal info required and no personal data collected), and shredded (Secure File Shredder forensically erases unwanted files you delete from your device).
Popular in the Community