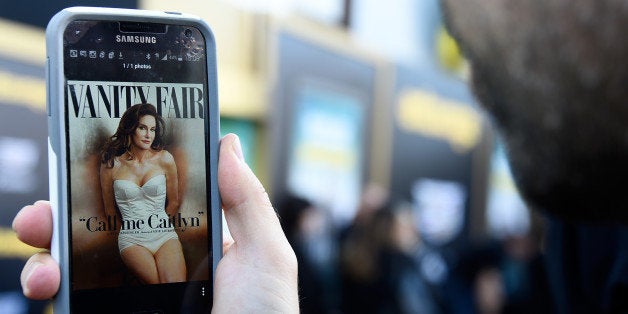 I, and probably every other transgender person who's open about their identity, have been asked this question dozens of times. When asked, I would generally smile and gently change the subject, simply because I knew I couldn't honestly say what they wanted to hear.
The first time I gave a slightly honest answer was with my doctor, with whom I have a fairly casual relationship. As I walked into her office a few days after Jenner appeared on the cover of Vanity Fair, my doctor could barely contain herself. She was on the edge of her seat with an eager smile stretched across her face.
"So did you see the Vanity Fair cover?" she asked.
"Yep," I said shortly. "So how does my blood work look?"
Her smile dropped. "That was not the reaction I was expecting," she admitted.
I explained that while I thought it was great that Caitlyn has this wonderful opportunity to start a conversation about what it means to be transgender, the magazine cover hasn't really changed anything for trans people.
As someone who is turning 26 in a few months and will soon be scouring the healthcare marketplace for adequate insurance, my focus is on whether or not I will be able to afford hormones rather than on whether or not people are discussing what it means to be transgender.
Some people see physical transition as a purely cosmetic issue. For me, it is literally life-saving. For most of my life, I have suffered from severe depression, which has included multiple trips to the psychiatric unit and more therapists that I can count. Honestly, there has not been one medication that has singlehandedly curbed my depression as much as testosterone has. For the first time in my life, I no longer had suicidal ideations (or homicidal ones, for that matter).
Unfortunately, this is just one of many issues plaguing the transgender community that take more than Caitlyn gracing the cover of Vanity Fair to solve, including job protections and rampant hate crimes.
While I am thrilled that Caitlyn finally has the opportunity to unapologetically be herself, her photo shoot has done little to deal with these issues. However, Caitlyn's coming out has started a national dialogue, but my fear is that it will start and stop there. How can you help? Listen to transgender people when they talk about their needs, help pass legislation that protects transgender people, and of course, continue the conversation that Caitlyn's photo shoot has initiated.
If even one of these major issues gets resolved thanks to Caitlyn bravely transitioning in front of the world, I will proudly return to my doctor's office with the genuine grin she was hoping for when I was first asked about Ms. Jenner.
Calling all HuffPost superfans!
Sign up for membership to become a founding member and help shape HuffPost's next chapter