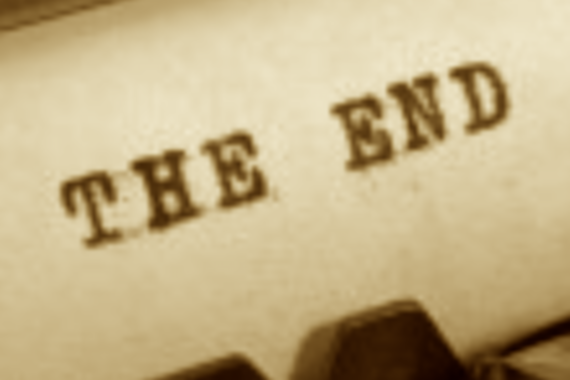 Despite the fact that three act structures are out of fashion these days, my second act--my current career as a composer and my life as a man and father--clearly represents my mother's third, and final act.
The morning in 1976 after she dumped her dreams of being a fine artist (in the form of her Royal typewriter, art supplies, and manuscripts) in the garbage was a hell of a dramatic act break--a tableaux in which a young mother commanded the son looking on--in whose arms she would in six short years die--to "let it go" as the rain fell straight down and her discarded manuscripts were reduced to pulp.
What became, then, of Gwen Hagen, the "Rosebud" of my article exploring why I compose music, and why the career I have as a composer of concert music and opera has assumed the shape that it does?
Well, the next day she took a job cleaning toilets and changing bedding at a Ramada Inn hotel managed by her brother Garth.
In "My Lost City," F. Scott Fitzgerald observed that we all live suspended between past and present, and carry the burdens of both. Proust reminds us that when we think we recognize something essential in someone we are, in fact, reaffirming our primal impression of them--an ultimately self-serving exercise that transforms them, in memory, into the person we need them to have been. Accordingly, when I limn the astonishingly quick climb up the "Mad Men" ladder Mother made during her second act, it is not from the point of view of the child I was then but of the man I've become.
In truth, money forced Mother to get a job just as it compelled her sensitive visual artist brother to set aside his artistic aspirations to draw women in their underwear as art director for the Chicago Tribune.
Father had left the service and earned a law degree, while fiercely courting Mother. Newly-minted a member of the bar, he had hit the lecture circuit for the American Bar Association, in Mother's words, "part Atticus Finch, part Clarence Darrow," admonishing nascent lawyers to remember their ethical responsibilities. He had also hit the bottle.
When he left the Bar Association and entered private practice, our comfortable upper middle class lifestyle collapsed. Although my brothers and I were able to continue to attend the superb Elmbrook schools in which my folks had moved west of Milwaukee to enable us to enroll, our Frank Lloyd Wright-style modernist cedar home, situated at the end of a cul-de-sac (and smack-dab in the middle of a flood plain), became a financial Albatross around my parents' necks. The dishing of Mother's artistic ambitions coincided with Father's return home from Chicago (where he had for years been living weekdays) full time. His sons, whom he disciplined brutally, didn't like him much.
After a few months changing linens, Mother landed a job at an advertising agency; she began a six-year hopscotch from one employer to another--paste-up artist to copywriter, layout designer to graphic artist, account manager to art director. In time, she landed a job as Art Director at a glossy regional ad-driven magazine called Exclusively Yours.
With Mother in the financial driver's seat, my brothers and I watched Father gradually corroded by a toxic stew of narcissistic frustration and alcohol. The booze robbed him of moral authority with his children; our increasing size took domination through physical intimidation off the table. We were lost to him. Mother had long been the only reason any of us interacted: she became the only reason we ever interacted at all with Father, whose loopy orbit, as far as we were concerned, was taking him out beyond Pluto.
She was by all accounts great at an incredibly stressful job. She took immense satisfaction in her career. That doesn't change the fact that, like many children of folks who worked in advertising during the 60s-70s, I find the television series "Mad Men" excruciating to watch. It is, of course, dead spot on. If Father's drug of choice was alcohol, hers was, alas, physician-prescribed Valium. That, and three packs of Pall Mall cigarettes a day at the office.
Like my brothers, I encouraged Mother to divorce Father. Unfortunately, Wisconsin law at that time made it next to impossible for her to extricate herself financially from him. She was trapped.
I am grateful to her for insisting, whether it was true or not, that she had not remained with Father during my high school years for my sake. I am aware of how fortunate I am to have come to know her for the wise, wry, brilliant woman she was. During those years, she and a treasured High School teacher named Diane Doerfler together molded me in such a way that, to this day, not only do I adhere strictly to the way of "the examined life," but I still collaborate far more easily with powerful women than with powerful men.
Ned Rorem invited me to study with him at the Curtis Institute of Music. I was, for better or worse, securely launched on the coast as a serious composer. Mother engaged a lawyer and prepared at last to leave Father. She even discussed with Ned plans to move to Paris and to begin painting and writing again--a third act!
A month later, five years after the Royal typewriter and the manuscripts went into the garbage, she was diagnosed with lung cancer. A year later, in 1982, she died in my arms. The opera composer in me recognizes that as being one hell of a second act curtain.
Calling all HuffPost superfans!
Sign up for membership to become a founding member and help shape HuffPost's next chapter