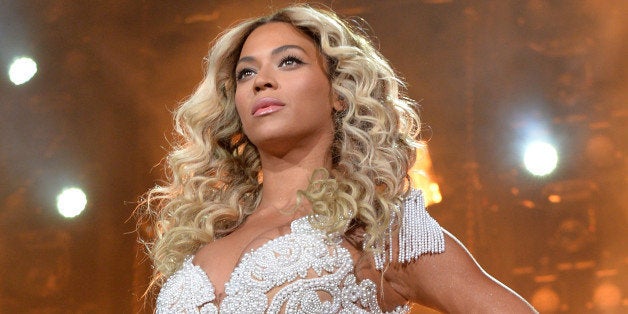 Before I begin, I must preface this by telling all royal worshipers of King Beyoncé Giselle Knowles-Carter that my critique has nothing to do about the substance of her new album. It is a remarkable piece of art, created with great taste and relevance. It is one of the most appealing albums of the year and I without a doubt was impressed.
However, despite my critical acclaim for the album itself, I feel the discussion about her "non-marketing" must be revisited. To the media and fans alike who have been praising the superstar for her ability to release an album with no marketing at all must not have been living in 2013.
Sure, she did not release an official album date for release. And no, she did not have an "official" single. But if you had the privilege to perform (or lip-sync) at the Presidential Inauguration, the Super Bowl, a full run (and re-run) of a sold out world tour, and had your music and face on repeat Pepsi commercials year round (with an HBO documentary and H&M catalog following)...would you actually need to promote a new album?
No, because that is the promotion.
What an artist at Beyoncé's caliber did was not bold or risky, but just clever. After building an extreme level of anticipation all year round by taking over headlines and billboards, the results of her rapid sales should not really be that much of a surprise. After two years of fans seeing her face everywhere without any new music, the pressure was on. The wait was overdue and once she had reached the pinnacle of public visibility and deity, she dropped the album during the holiday season. And the constant overflow of sales followed...as expected.
What has been even more discouraging is the comparison of other artists and their sales in comparison to Mrs. Carter's. Sure, there has been a very stubborn way of conventional promotion. Yes, the typical television spots and initial singles are not doing enough to sell records as much anymore. Artists like Katy Perry and Lady Gaga are not pulling in the numbers that match the level of their very extreme traditional promotion. But perhaps this speaks more about the quality of the music itself, rather than the marketing being done instead.
What Beyoncé did was make her album promotion a year round event. She basically launched an entire marketing campaign surrounding her brand (herself) and spent millions of dollars to reconnect with her old fans and develop a new generation of "Bey-Hivers" who were not old enough to purchase her 2003 debut Dangerously in Love. As a result, her visibility made anyone who was not aware of her before now unable to escape her presence and music.
Given her reputation of flawless talent in a generation where auto-tune has reigned supreme, it was no shock that new fans were flocking to see her at such a rapid rate. Why else would anyone pay for a tour ticket for an artist with no new music? Such a thing could not happen in the 90s given the fierce talent of Ms. Dion, Ms. Houston, Ms. Carey, Ms. Jackson and Madonna. But since most of today's pop stars lack the ability to build momentum, such an easy crown has been given to Beyoncé.
With the absence of new music from Taylor Swift and Adele this year (whose presence stand to rival a few of Mrs. Carter's records), the stage was set for Beyoncé to have a year to dominate. From Vogue covers to Pepsi cans...she was everywhere.
Which goes to show that in many ways, the music industry and all of us alike, must rethink what it means to market music and branding over time. An album release date means nothing if you do not have any excitement or anticipation. Seasoned sale projections and award predictions have skewed the success of many talented artists and that is a shame. We are becoming a generation that has been plagued with so much lackluster talent that we cannot notice the schemes of those who are better. Undoubtedly, Beyoncé's recent success with her fifth album speaks more about the decline of the music industry rather than that of her own actual talent.
The fact that she can take over an entire year of promotion, drop an album whenever she pleases, and have enormous projected sales tells us that pop stars as of right now are fading. Could she have done this in the 90s or even the 80s? Absolutely not.
Whitney Houston would have had her going back to the drawing board. Mariah Carey would have had her release a debut single. Madonna would have had her make an edgy music video. And Janet Jackson would have had her booking the first run of live television performances. The various levels of creative competition and talent are what fueled album sales and made the music industry stronger in the past. Not one artist's campaign to monopolize for the year's most anticipated album.
Beyoncé's buzz proves that it is not that people are no longer buying music (actually Adele reminded us of this first) but just that we need to feel compelled to. With raw talent and a fresh new way of appealing audiences, better artistry should promoted and encouraged across the industry overall. Otherwise, expect for the continuation of one big superstar taking over a year of promotion and having major sales amongst a sea of mediocre talent.
Hopefully, that is something we all can agree not to "bow down" to.
Popular in the Community