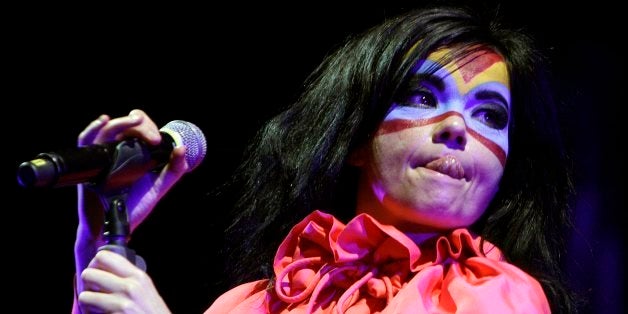 But it couldn't be that bad, could it? I mean, how could an exhibition dedicated to one of the most original and unpredictable musicians of the modern era, she of the egg-and-all swan dress, possibly be described as "boring?" As a long-time Björk fan and a curious journalist, I had to find out.
During a recent visit to New York, I made it a point to dedicate a few hours to viewing the show and, I have to say, the critics were correct. As many others have pointed out, the show felt slapped together and superficial, with little consideration for the incredible breadth of the Icelandic singer's accomplished career. It felt poorly laid out in its physical space, which limited its ability to connect in its emotional space, leaving even a sympathetic viewer cold. And, most importantly, it failed to rise to the occasion of the artist to whom it was dedicated, an artist whose work, undoubtedly, deserved the showcase.
I got to thinking about what "Bowie" got so, so right and where MoMA's Björk stumbled, envisioning the missed opportunity of what could have been. Hopefully MoMA will, as it says it intends to, learn from that missed opportunity as it looks to future similar exhibitions, such as Yoko Ono's later this year.
These are the stray impressions of a music fan and a non-arts critic:
Early work, childhood drawings and the like provide crucial grounding for understanding an artist's craft in a setting like this.
In its Chicago staging, the first room of David Bowie Is features a surprisingly wide array of artifacts from Bowie's early days, from doodles he created as a youngster, to early gig posters, to a replica of a plastic alto saxophone his mother gave him for Christmas one year when he was young boy.
Instead, the "Songlines" component of the Björk show opened with work from "Debut," her first album as a solo artist and offered little in the way of early ephemera before moving on, full speed ahead, through the rest of her solo catalog. Her work with the Sugarcubes, or anything prior to that, was nowhere to be found, doing a disservice to fans by skipping over an important part of her evolution as a young artist influenced heavily by disparate genres including punk, jazz and house music. The Bowie show also acknowledged the impact of a range of musical acts like the Beatles, Little Richard and Eartha Kitt.
So, too, does, in the case of a musician, the acknowledgement of non-musical influences.
David Bowie Is was an especially rich experience for its viewers thanks in no small part to the presence of influences from outside the world of music, such as dancer and mime artist Lindsey Kemp, Stanley Kubrick films (including 2001: A Space Odyssey and A Clockwork Orange), George Orwell's Nineteen Eighty-Four and Japanese Kabuki performance. The political message of some of Björk's work, particularly a song like "Declare Independence," also could have benefited from some context.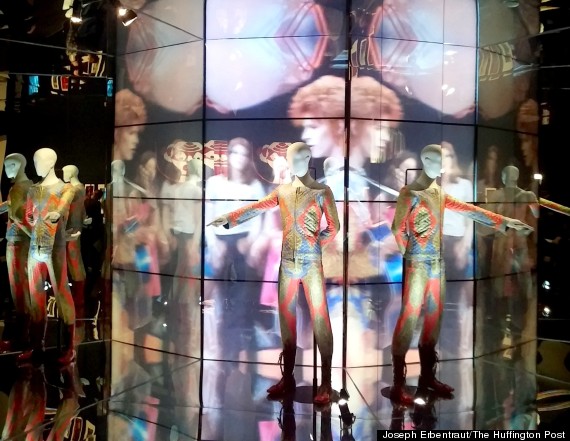 David Bowie's "Ziggy Stardust" costumes were among the highlights of his traveling exhibition. This and other looks from the era, the show explained, were partially inspired by the singer's fascination with Kubrick's A Clockwork Orange.
For artists as multi-faceted and established as Bowie and Björk, their careers as musicians cannot be presented in such a siloed fashion separate from other interests and projects.
In an even bigger disservice to the Björk, her film work (Dancer in the Dark, its incredible soundtrack, 1990s The Juniper Tree and her collaboration with her ex Matthew Barney) is omitted entirely. The Bowie show, conversely, delves deep into his film and theater work, even some of his less critically-acclaimed, fully-realized works and the music videos and live performances were interwoven throughout the show. All of these projects get at more of the "how" than simply the "what" element of the artist's work -- and the "how" was sorely missing from the MoMA exhibition.
Please, don't excerpt the songs themselves!
In my trip through Björk's "Songlines," the clear highlight was the dramatic placement of the stunning Alexander McQueen dress the singer wore for her "Pagan Poetry," with a bench in front of it allowing the viewer to take it all in while the anthemic and deeply emotional song off "Vespertine" came through the headset. It was totally enveloping in a way that other parts of the exhibition were not. And then, jarringly, the song changed mid-swell in what could have been a technological issue or may have been by design. The seamless sound design of the Bowie show, by comparison, allowed viewers to stay put with a song through to its completion, if they so chose.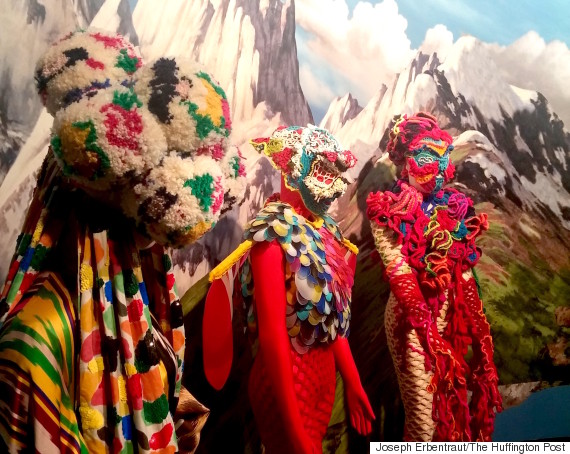 Björk's "Volta" period came with some incredible costumes. But little information was offered to lend context to how these and other beautiful pieces of wearable art related to the music or to the artist wearing them.
The physical space must do justice to the work.
The vast physical footprint of the Bowie show, also being laid out entirely on one floor instead of breaking the experience up between two, greatly benefited it. The intelligent layout allowed for viewers to take their time more naturally, feeling less rushed along through the space thanks to the nature of there simply being more space to take up (as well as more items taking up that space, but that's a whole other issue). At MoMA, Björk fans view the costumes, journals and listen to the distracting, semi-autobiographical narration separately from all the music videos that are played -- with the exception of the two new "Vulnicura" videos -- only on a two-hour loop on the separate floor.
One has to wonder how different the Björk show would have been had the work been allowed to intermingle and simmer together, doing justice to the often-brilliant way that Bjork's work marries audio and visual, colors and textures. Perhaps had the David Bowie Is curators had a crack at the material, it could have been a different show entirely.
Calling all HuffPost superfans!
Sign up for membership to become a founding member and help shape HuffPost's next chapter